'Good Trouble': Everything We Know About the Show's Holiday Special
Halloween is over. Which means it's time to put away all things dark and spooky and trade them in for some holiday cheer. Of course, Thanksgiving is the next holiday that's up, but that doesn't mean it's too early for yuletide carols.
One of the best things about the season is tv holiday specials. There is something truly magical about watching all of your favorite characters celebrate the holidays at the same time as you are.
This year, Freeform's Good Trouble will return for a healthy dose of Christmas magic.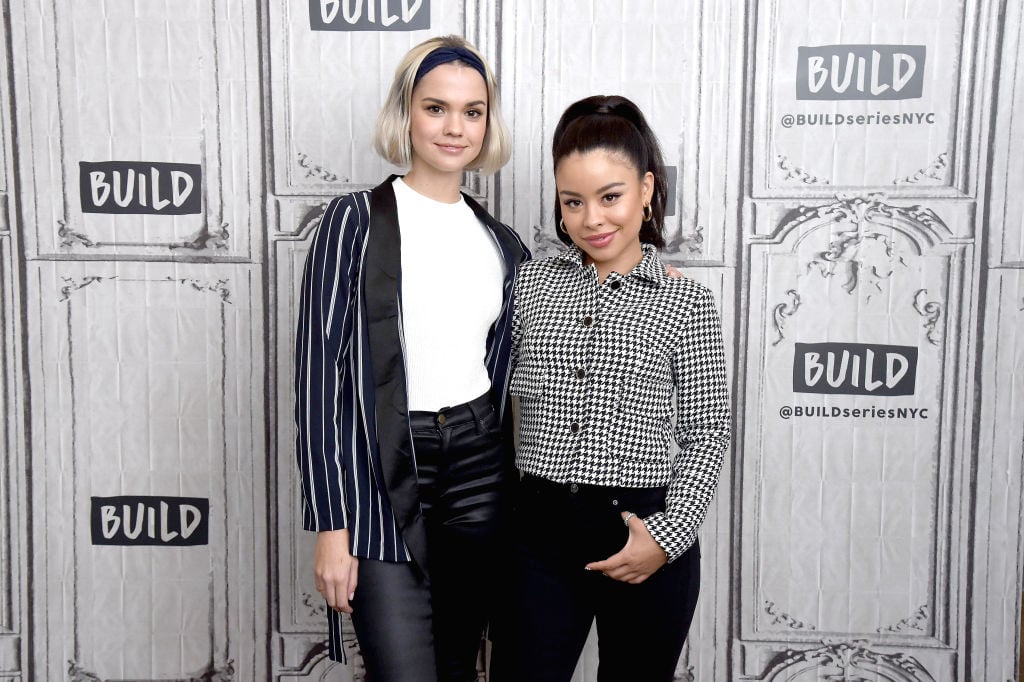 Who will be on the 'Good Trouble' holiday special?
As fans of Good Trouble know, the show is a spin-off of The Fosters. Occasionally certain members of the Adams-Foster family will make an appearance in Callie and Mariana's lives on Good Trouble, but this holiday special is taking it up a notch.
The entire family will be reunited, which means we will be seeing Noah Centineo of To All the Boys I've Loved Before and The Perfect Date, along with the rest of the Fosters cast.
What will the 'Good Trouble' holiday special be about?
Though we still have a little time until the special airs, Freeform has already released a description of the two-part episode.
"Good Trouble will reunite the cast of The Fosters when the Adams-Foster clan comes to the Coterie to spend Christmas with Callie and Mariana (Cierra Ramirez)," the description reads.
In Hour 1 'Nochebuena,' the Fosters visit the Coterie for Christmas and Callie struggles to tell her moms about quitting her clerkship, while Mariana agrees to volunteer for a holiday festival for the underprivileged. Alice (Sherry Cola) is hiding a secret from the Coterie, and Davia (Emma Hunton) strolls down memory lane with Dennis (Josh Pence), opening old wounds."
"In Hour 2 'A Very Coterie Christmas,' the Fosters and the Hunters help out with the impromptu volunteer Christmas event. Stef (Polo) agrees to be a part of Mariana's plan to avoid a major catastrophe, all while Gael (Tommy Martinez) and Jazmine (Hailie Sahar) deal with a painful family decision. Jamie (Beau Mirchoff) is eager to ask Callie a very important question."
When will the special air?
Fans will have to wait over a month to see how things turn out for the Adams-Foster family as the special does not air until Dec. 16.
Freeform's Kickoff to Christmas
If you just can't wait until December to get your first doses of yuletide cheer, don't worry, Freeform has got you covered. Their Kickoff to Christmas programming will be happening all throughout November. The lineup includes some holiday classics like Home Alone, I Saw Mommy Kissing Santa Claus, and Santa, Who? It also features some newer films like Tia Mowry and Tori Spelling's The Mistle-Tones and Christina Milian in Snowglobe.
In addition to the Good Trouble holiday special, The Bold Type is also getting a special of sorts. Aisha Dee who plays Kat will be the lead in the new Christmas movie, Ghosting: The Spirit of Christmas, which follows Jess (Dee) after she goes on a great first date but accidentally ghosts her new beau after dying in a car accident on the way home.
The network is also continuing their 25 Days of Christmas holiday programming, which means that you can continue snuggling up by a fire to Christmas films well through the holiday.