Gosling & Bale Join Pitt's Future Awards Contender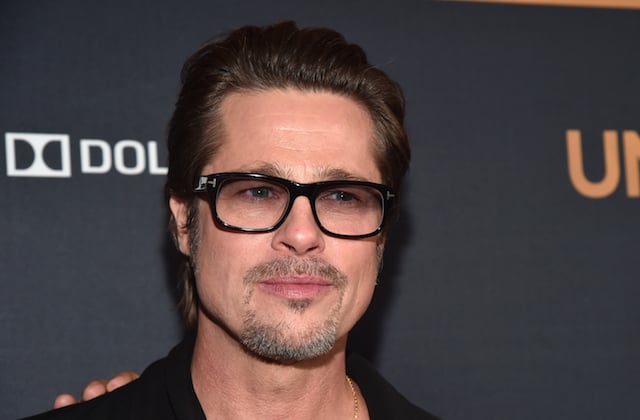 Brad Pitt's production company Plan B has made a big splash since it was formed, producing big-budget movies with strong social messages like last year's Oscar winner 12 Years a Slave and this year's awards contender Selma. Now Pitt has lined up an all-star cast for his next project, an adaptation of Michael Lewis's best-selling book The Big Short: Inside the Doomsday Machine. Variety reports that Ryan Gosling and Christian Bale have both signed on to star in the film.
The publication reports that the movie will have "several" top stars in similarly sized roles, so more casting news regarding The Big Short is sure to come. Pitt has certainly gotten a good start nabbing Gosling and Bale, both of whom have a significant amount of critical credibility as well as box office draw. Variety didn't confirm whether Pitt himself would take a starring role in the movie or just act as a producer, but did say that all three actors are in talks to star in the movie.
Pitt has previously adapted Michael Lewis, who is known for writing nonfiction bestsellers. The movie Moneyball was based on one of his books as well and the film adaptation saw Pitt playing the Oakland A's general manager Billy Beane. Moneyball received critical raves and was nominated for six Academy Awards. A Michael Lewis book is also the source of the movie The Blind Side, which saw Sandra Bullock win an Oscar for Best Actress. The success of those films was good reason for Pitt to return to Lewis for another adaptation.
The Big Short is about the building of the housing and credit bubble in the U.S. economy leading up to the financial collapse between 2007 and 2010. The book follows several key players in the financial world who bet against the market, contributed to, and profited from the massive economic collapse that destroyed the lives of so many Americans. It also looks at the experts who tried to warn that the bubble would burst, fruitlessly attempting to prevent catastrophe. The book was on the New York Times Nonfiction Bestseller list for 28 weeks and was awarded the Robert F. Kennedy Center for Justice and Human Rights book award.
The subject matter makes it sound like The Big Short could be a more moral version of The Wolf of Wall Street. Talking about the U.S. economy and stock trading on paper can seem dry to those not knowledgeable about the topic, but Hollywood has shown it can make the stock market look like a glamorous, and dangerous, place.
Pitt will definitely need that movie magic to spice up this story. While the book got great reviews and Lewis is certainly a gifted storyteller, it is also filled with very complicated stock market and economics jargon as some of the figures Lewis profiles come to find various very serious issues inherent in the U.S. stock market. These people make a huge amount of money betting against the system, but some also suffer the feelings of enormous guilt related to their discoveries. Some even try going to journalists and regulators to point out the obvious flaws, but get nowhere. The stakes are so high there's plenty of opportunity for thrills, the film will just have to be careful with how it handles the economic material.
Boasting stars like Pitt, Gosling, and Bale as well as a true story with a social message from Michael Lewis, The Big Short is certainly Plan B looking ahead to next awards season.
Follow Jacqueline on Twitter @Jacqui_WSCS
More from Entertainment Cheat Sheet:
Want more great content like this? Sign up here to receive the best of Cheat Sheet delivered daily. No spam; just tailored content straight to your inbox.