'Gotham': What Other Villains Will Appear This Season?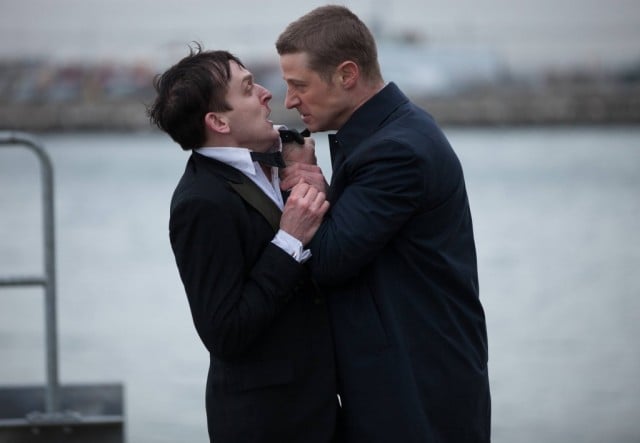 Fox's Gotham has already proven to be one of the most successful new shows on TV this fall, and now it looks like fans can expect to see plenty more of the freshman drama series. Just a few weeks after its premiere, the network has picked up a full season of the Batman prequel, adding another six episodes to its initial 16-episode order. The news comes just after New York Comic Con, during which director Danny Cannon and several cast members revealed more details about the season's future, including the introduction of several major new characters.
So far, Jim Gordon (Ben McKenzie) has already encountered several familiar villainous characters, such as Selina "Cat" Kyle (Camren Bicondova) and Oswald Cobblepot/The Penguin (Robin Lord Taylor). Viewers can expect to see more of them in coming episodes, with the show delving further into the characters' personalities — particularly Cobblepot, who recently returned to Gotham against Gordon's order to stay away. Though his reappearance won't go over smoothly with Gordon initially, it won't be long before Cobblepot uses his powers of manipulation to again gain Gordon's trust.
"If [Oswald] had a superpower, it would be that he's able to endear himself to a lot of people," Taylor explained of his character, per The Hollywood Reporter. "He works his way into situations, and then he's able to play people off of people and emerge triumphantly between them."
In addition to new drama with old characters, the show is also planning on throwing several more villains-to-be into the mix. Producers have already confirmed that both Harvey Dent (played by Masters of Sex Nicholas D'Agosto) and Victor Zsasz (Anthony Carrigan) will become recurring characters this season.
Specific details about their introductions to the show and interactions with Gordon have been kept under wraps. What we do know is that Dent will first appear in episode nine, starting out — as fans of the comics know — as a bright Assistant District Attorney who, like Gordon, seeks to eradicate crime and corruption in Gotham. Eventually, he becomes the hideous villain we know as Two-Face. Meanwhile, serial killer Zsasz, who was featured in a preview trailer last month, will be making his first appearance in episode seven.
While the show may have been expanded to 22 episodes, it'd be unrealistic — and overwhelming — to introduce too many villains, as evidenced by Cannon's response to the possibility of appearances by Harley Quinn and the Court of Owls. "We'll get there," he responded, later adding that there's no end to what viewers might see should the show get greenlit for a second season. Already, the show is planting hints as to who may appear in the future, with actor Sean Pertwee (who plays Alfred Pennyworth) recently telling IGN that fans should look out for an Easter egg regarding Tommy Elliot, otherwise known as the villain Hush.
But it's not only villains who will be introduced this season. Cannon also recently confirmed that the character Leslie Tompkins will soon appear on the show, with casting for the role expected to be announced in the next week. In the comics, Tompkins is a friend and colleague of Bruce's father who becomes a parental figure and guardian to the young hero.
New characters aside, fans can also expect to see tension between several of the current members of the show. Per IGN, Gordon will cope with relationship pressure in addition to professional drama. The love triangle between him, girlfriend Barbara (Erin Richards), and Montoya (Victoria Cartagena) is only set to get more complicated, with Barbara realizing that her relationship with Gordon isn't as flawless as she thinks. Meanwhile, Cat and Bruce (David Mazouz) will finally interact. Though Cat witnessed the murder of Bruce's parents, the two have yet to actually meet on the show.
Clearly, Gotham fans are in for plenty of more twists and turns in the upcoming episodes. Whether that — and the promise of appearances from more well-known characters — will be enough to continue drawing good ratings (and eventually warrant a second season) remains to be seen.
Gotham airs Mondays at 8 p.m. EDT on Fox.
More from Entertainment Cheat Sheet:
Want more great content like this? Sign up here to receive the best of Cheat Sheet delivered daily. No spam; just tailored content straight to your inbox.