'Grace and Frankie': Inside Jane Fonda and Lily Tomlin's Real-Life Friendship
Perhaps you can place Netflix's Grace and Frankie as one of the neglected shows on streaming you should be watching. Some audiences might have passed it over in the last few years thinking it's only designed or marketed toward older women. In truth, it has numerous life lessons for everybody, not including the brilliant comedic chemistry of Jane Fonda and Lily Tomlin.
Anyone old enough to remember when 9 to 5 was in theaters knows they already nurtured their acting chemistry through that film, alongside Dolly Parton. While many want all three to reunite in a 9 to 5 sequel, the fun Fonda and Tomlin have on Grace and Frankie goes beyond the cameras.
If you think they're like their bickering characters, have a second think.
Jane Fonda and Lily Tomlin are friends outside of work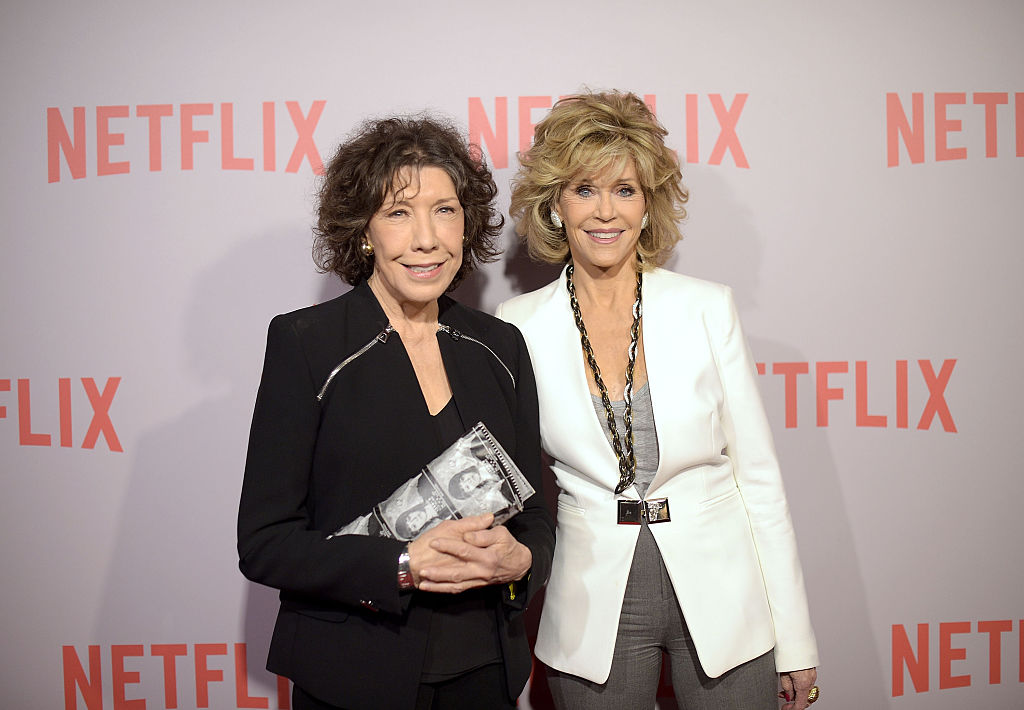 Before 1980, you never saw Fonda or Tomlin in anything together, probably because both were essentially competing for the same roles. Both had already made names for themselves in movies and TV. Fonda was one of the most celebrated dramatic actresses of the 1970s. Tomlin was riding a wave of popularity after being on the classic NBC comedy Laugh-In, then carving out a movie career in dramas and comedies.
The bond created on the set of 9 to 5 was one made to last a lifetime. According to Town & Country, Fonda was co-producer of the film and specifically asked for Tomlin after seeing her one-woman stage show. No surprise since Tomlin is great in holding an audience captive. Apparently, Tomlin didn't want to do 9 to 5 initially due to a desire to focus more on dramas.
Their comedic performances ultimately showed us a true alliance was built. Even before Grace and Frankie began, Tomlin and Fonda had stayed in contact, especially for specific social causes.
Jane Fonda and Lily Tomlin are serious activists
Any fan of Fonda who's seen her career since the beginning knows she's one of the most controversial celebrities of all time. As the daughter of legendary Henry Fonda, Jane Fonda still receives ire from Vietnam War vets who thought she slighted them during the war. The old derogatory phrase "Hanoi Jane" continues to receive mention by vets who never want to forgive. Due to her anti-war activism then and becoming a warrior for women's rights afterward, Fonda hasn't gone through life without paying dues for her beliefs.
Tomlin has been much the same way if being more subtle about it. With women's rights being more of a center focus lately, we're seeing Tomlin be more open about standing up to protest. Part of this is upholding women's rights after revealing she'd been in a same-sex relationship for years.
It's this sense of brave activism inexorably linking Fonda and Tomlin. Plus, they admit to admiring each other's personality as a marker of what they look for in friends.
How Jane Fonda and Lily Tomlin turned their relationship into 'friendship goals'
Fonda and Tomlin have grown into such good pals that they figured others could learn from them after almost 40 years. They decided to put together a TED Talk a while back to discuss female friendships in general.
Even if this sounds overly niche, anyone can watch and learn much about how friendships work in today's time. Most enduring friendships are usually fueled by a common cause of transcending personality traits or even working together.
Considering Fonda and Tomlin are fighting for some of the biggest issues of our time, they have a dual vision fueling their admiration for one another.
Despite their Grace and Frankie personas not always getting along, they're ironically applying the same mechanics of friendship Fonda and Tomlin's TED Talk taught everyone.