'Grey's Anatomy': A Calzona Reunion Is Now More Possible Than Ever Before—What Is Callie (Sara Ramirez) up to Since Leaving?
One of the most talked-about couples in Grey's Anatomy history is Arizona Robbins (Jessica Capshaw) and Calliope "Callie" Torres (Sara Ramirez). Calzona, as fans call the pair, broke up in season 11, to viewers dismay. At the end of the season, Callie moves to New York with her girlfriend, Penny, and daughter Sofia. 
Viewers would like to know if there is an underlying reason why Ramirez left the show. They also want to know if ABC will ever give us a Callie and Arizona episode where the two are shown back together. Let's take a look.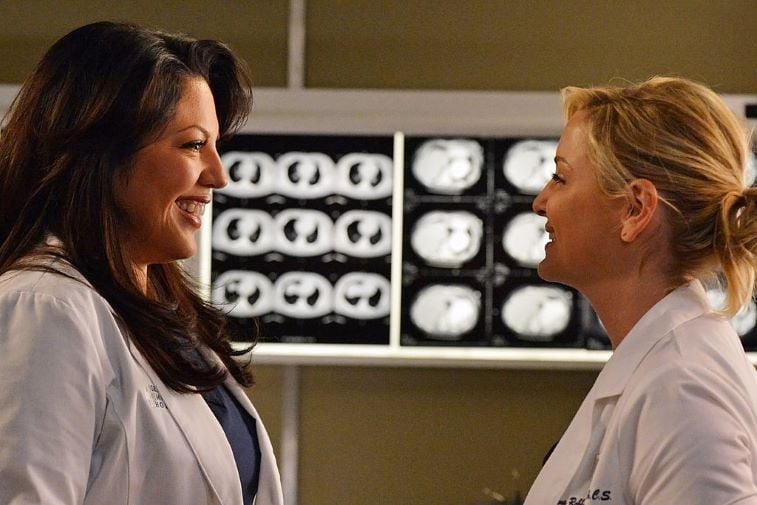 Why did Sara Ramirez leave ABC's 'Grey's Anatomy,' and was it her choice?
Ramirez ended her ten-year run on Grey's Anatomy in May of 2016, after the season 12 finale. It was her choice to leave, and there were no hard feelings from any party.
"I'm deeply grateful to have spent the last 10 years with my family at Grey's Anatomy and ABC," Ramirez wrote on social media, "but for now, I'm taking some welcome time off. Shonda's been so incredible to work for, and we will definitely continue our conversations! I send my love to Ellen [Pompeo], the rest of the cast and crew, and I look forward to always being a part of the Shondaland family!"
"Dr. Callie Torres came into our lives dancing it out in her underwear almost a decade ago, and I could not be happier or more proud of her journey," commented creator and showrunner, Shonda Rhimes. "Sara Ramirez's performance inspired me as well as millions of fans each week. We wish her the best on her well-deserved time off. I will miss Callie tremendously, but am excited for what the future holds for Sara. She will always have a home at Shondaland." 
What is Ramirez doing since leaving 'Grey's Anatomy'?
After her time on Grey's Anatomy, Ramirez spent time off-screen working on a Human Rights Campaign to end LGBTQ youth homelessness. She also recorded a single with other broadway stars to benefit the LGBT Center of Central Florida.
In September of 2016, Ramirez hosted a TedTalk for PBS. She also produced her first feature film as a producer, titled Loserville. The film was primarily about lessons they do not teach in high school.
On Nov. 19, 2017, Ramirez premiered as Kat Sandoval on the CBS series, Madam Secretary. She played the role of chief of staff to the UN Ambassador during season four of the show. Her character then became a strategic advisor to Elizabeth "Bess" Adams McCord (Tea Leoni).
"I know there's a lot going on in the world," Ramirez wrote on Twitter. "So much. And for just a quick moment, I want to wish everyone at @MadamSecretary a fantastic final Season 6 @CBS! It was an honor to bring Kat Sandoval into your universe!"
She concluded her time on the show during the fifth season and will not go on to be apart of the sixth and final season of the series. Ramirez has not shared what she will be working on next.
Will we ever see a Callie and Arizona reunion episode of 'Grey's Anatomy'?
Since Ramirez left Grey's Anatomy over three years ago, fans continually beg her to come back. Now that her time with CBS is over, they might get their wish.
"I hope you enjoy your time off-screen," wrote one fan on Instagram, "but please come back to Grey's Anatomy soon so that Callie & Arizona can get back together! They are my favorite TV couple! Their love was such an inspiration to many! It just can't be over!!"
Arizona moved to New York when she left the show at the end of season 14. Fans are hopeful that the pair reunited after the move since that was where Callie was. Since there is no bad blood between Capshaw, Ramirez, or Rhimes, it is plausible that the pair could return.
The pair's on-screen wedding was one of the first same-sex unions in primetime. The Calzona storyline helped Grey's Anatomy earn praise for its inclusive representation from many groups, including GLAAD.
We will know more about whether the pair will return to Grey's Anatomy when the show comes back from winter break on Jan. 23, 2020.