'Grey's Anatomy' Alum Sandra Oh Said This Line From The Show Meant The Most To Her
Oh how we miss Cristina. Starring on ABC's hit show Grey's Anatomy for 10 seasons as the fierce Dr. Cristina Yang, Sandra Oh remains in the hearts of diehard fans of the medical drama in the hopes of her return.
After her departure from the series in 2014, Oh spoke to the Hollywood Reporter about her exit, her final scenes, and the line from the show that impacted her the most.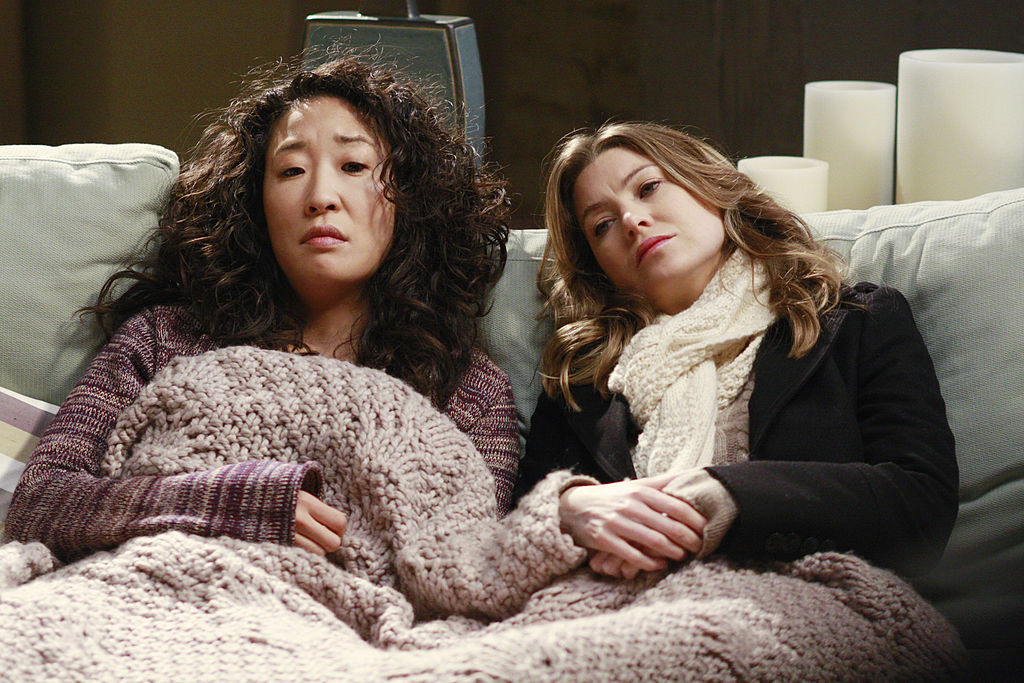 Making the decision
Leaving Grey's was a major move for Oh. According to Good Housekeeping, the actress started thinking about exiting the show in 2012, and even sought out therapy before solidifying her decision. Once she made up her mind, she knew it was time. "Creatively, I really feel like I gave it my all, and I feel ready to let her go," Oh told the Hollywood Reporter in 2013.
When asked by the publication a year later if she had any doubts during the filming of the last season, Oh admitted that while it was a struggle, she knew it was the right choice. "I would definitely get flashes of fear, but I know that that's my fear talking. I've been given such a bountiful gift of the past 10 years and, at this point in my life, I choose not to live my life from fear," Oh said. "But as quickly as it does, I feel like I have built up a reserve to remind myself that I don't want to make decisions from that place because a lot in this town is based on fear, and I don't want to be a part of it anymore."
Final scenes
Oh shared that her very final scene of shooting was with her onscreen husband Dr. Owen Hunt, played by Kevin McKidd. The actress described how important the scene was in representing the status of the couple's relationship. "My very final moment of shooting was with Kevin, and it was the final moment where Cristina says goodbye to Owen. It was a beautiful image of Cristina in the gallery, basically behind glass and tapping on the OR theater below," she said. "Symbolically, with that distance, it cinematically tells the story of where they are and also puts a distance that they don't want between them. It felt right because it was tough shooting that… It was very full and rich — even in the way we wanted to be closer to each other, which is exactly like how Cristina and Owen are: They just want to be closer to each other. It's just not the time now."
The Grey's alum also discussed her last scene with Cristina's 'person,' Dr. Meredith Grey, played by Ellen Pompeo. At first, Oh wasn't happy with the scene. "In the finale, Scene 44 was an extremely important scene between Meredith and Cristina. I remember reading it and I hated the scene. It made no sense to me and I couldn't connect to it," she said. Oh went on to explain that somehow, despite her initial reaction, the scene fell into place. "But sometimes the place that is the most resistant is, a lot of the times, the place to mine. It was deeply emotional. It was the last scene that Ellen and I shot. I can't speak for how it was for her to shoot that, but at the very end, I remember feeling for our chests embracing. I'm holding her and I can hear that she's tearing up. I was holding her and it felt like we were one body," Oh said in the interview.
A memorable line
After 10 seasons on the hit medical drama, Oh had said and heard countless lines of dialogue. One in particular stuck with her in a profound way. "I think back to Scene 44 — the last scene that I shot with Ellen — and this one line that had tremendous specific meaning to me," she shared. "It's Ellen's line where she says, 'I am not finished.' In the context of the scene, it means something else because Cristina is trying to leave and can't because she doesn't feel finished. What was challenging for me was, I was finishing. I spent the past year finishing to get the character to this moment. But for me, it was the specific interpretation I had of Cristina saying, 'I am not finished.' That speech fills me now. That speech is about how she is not finished. Anyway, I wish I said that more eloquently because I cannot tell you how much that line means to me."
While there are no plans for Oh to return to Grey's, especially with her success on the BBC show Killing Eve, fans are still hoping that one day Cristina will get to dance it out with Meredith one more time!