'Grey's Anatomy': Kevin McKidd Wants to Call Up Sandra Oh for Owen and Cristina's Reunion
On Grey's Anatomy, Meredith Grey (Ellen Pompeo) might be the sun. But Cristina Yang (Sandra Oh) is the universe. As any longtime fan will tell you, the hit ABC drama hasn't been quite the same since Cristina left the series in the tenth season finale for Switzerland. So naturally, Grey's Anatomy fans are always hoping for Oh's return as Cristina — even the man who plays Owen Hunt (Kevin McKidd). And following the 350th episode of the Shondaland show, where Cristina made a "cameo," it appears McKidd is on board to call up his old co-star so that their onscreen alter egos, Cristina and Owen, can have their own reunion.
How Cristina Yang returned in the 350th episode of 'Grey's Anatomy'
In the eighth episode of Grey's Anatomy Season 16, titled "My Shot," ABC delivered the 350th episode in true Grey's fashion. Meredith had her hearing, and fans were met with a whirlwind of emotions with one throwback after another. From old patients to wild moments to the return of the man who killed Derek Shepherd (Patrick Dempsey), "My Shot" reminded fans why they fell in love with the show in the first place.
But aside from a killer speech delivered by Meredith, one moment stuck out for every Grey's Anatomy fan, especially to those who have missed MerTina since season 10. Towards the end of the episode, a cover of Tegan and Sarah's "Where Does the Good Go" — the song that Meredith and Cristina danced out to for the very last time — played in the background. Then Grey's Anatomy brought Cristina back in the form of a letter, pulling at the hearts of fans nationwide.
In front of the hearing panel, Alex Karev (Justin Chambers) — aka Meredith's current "person" — read Cristina's letter. It said:
People who know me would describe me as selfish to a fault. After that, they'd say honest. I can honestly tell you that if I were dying and a surgery stood between me and death, Dr. Grey's hands are the only ones that I'd want inside my body. Taking away her license is signing the death certificates of countless future patients. She's the light in a broken system that she'll fix, whether you want her to or not. She is the sun, and she is unstoppable. Sincerely, Dr. Cristina Yang.
Kevin McKidd says he'll call Sandra Oh about Owen Hunt and Cristina Yang's reunion on 'Grey's Anatomy'
Now, the 350th episode isn't Cristina's first "return" in Grey's Anatomy Season 16. Earlier this season, in the episode titled "It's Raining Men," Meredith received a text message from Cristina. And with Cristina's heartfelt letter in "My Shot," it's pretty clear the friendship between the Twisted Sisters lives on. But does Cristina keep in touch with the other doctors at Grey Sloan Memorial, such as Owen? It looks like McKidd would also like to know.
"I often wonder. Meredith seems to be in contact with Cristina all the time. So does Owen? Do they just not text each other?" McKidd said in an interview with BUILD.
Nevertheless, the actor proposed his own theories about Cristina and Owen. And McKidd believes the two surgeons are still in contact after all these years.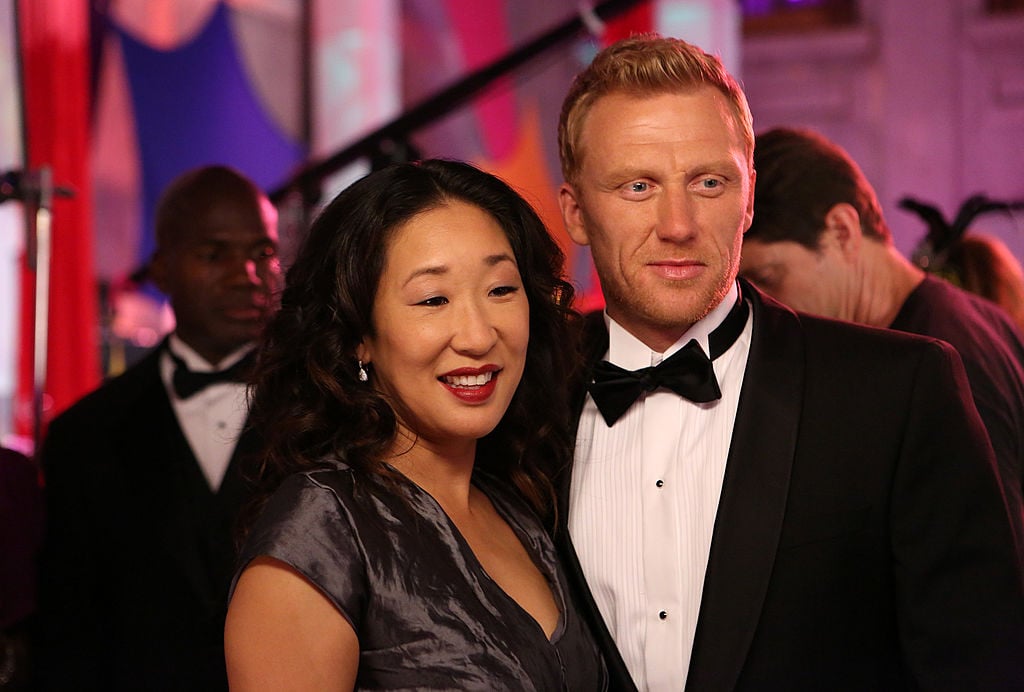 "I mean, they must direct message each other sometimes … or call each other," he said. "They didn't exactly leave each other on bad terms. They were still in love with each other when she left."
But ultimately, McKidd wants to see an interaction between Owen and Cristina on Grey's Anatomy. "I would like that," he said. "For Owen and Cristina to have some conversation."
McKidd then revealed that he is still close friends with Oh. He also hinted he might tell the Killing Eve actress about his plans for Cristina and Owen on Grey's Anatomy during their next talk.
"I'm going to call Sandra," McKidd said. "I just called Sandra last week and we're still best friends. So I'll call her and suggest that."
Will Sandra Oh return to 'Grey's Anatomy' to reunite Cristina Yang and Owen Hunt?
Quite frankly, Oh's return as Cristina would be a sight to see. And if anyone from the Grey's Anatomy team is going to convince her, it's McKidd. But as of now, the chances of a new cameo from Oh feels slim. In 2018, Oh began playing Eve Polastri on BBC America's Killing Eve, and she has been rocking her role ever since.
When speaking with Entertainment Weekly in March 2018, Oh revealed she wasn't sure if she wanted to come back to Grey's Anatomy. But she hinted she might change her mind in the future.
"I guess I can't really answer it either way where I'm sitting right now, because I'm so committed to Eve," she said. "The idea of stepping back into the Cristina shoes, it doesn't feel right to me right now. But honestly, who knows how long Grey's is gonna go?"
Then in April 2019, Oh confirmed she has settled into her Killing Eve role and doesn't plan on returning to Grey's Anatomy anytime soon.
"No," Oh told Extra when asked if she would make a cameo as Cristina. "Creatively, you have moved on and while I know, and I deeply appreciate, because I can feel it from the fans, how much they love Cristina and how the show keeps Cristina alive, for me, [Killing Eve] is my home now. This is where I am… I am Eve and that's where I plan to stay as long as the show will have me, and that's really where I want to be."
Check out Showbiz Cheat Sheet on Facebook!