'Grey's Anatomy:' Meredith Wears Something Very Different in the Season 16 Premiere Trailer
Fans of Grey's Anatomy are counting down the days til the season 16 premiere on September 26. To give viewers a glimpse of what's in store, ABC released the trailer for the upcoming episode, where Dr. Meredith Grey (played by Ellen Pompeo) is sporting a very unique fashion accessory.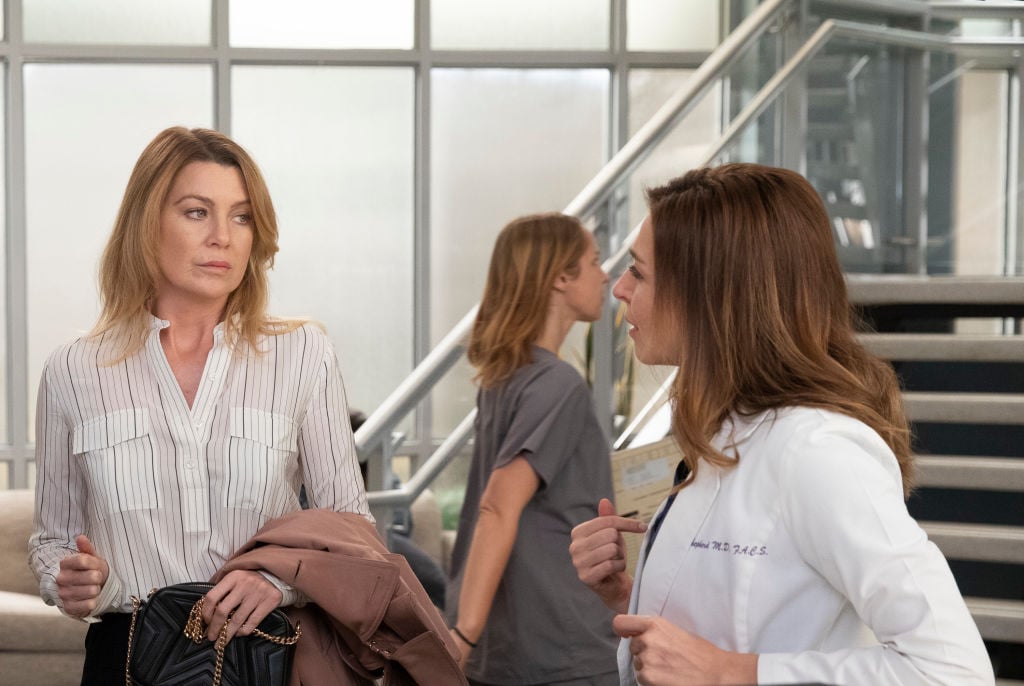 Where we left off
In the season 15 finale, Grey's Anatomy ended with several of their trademark cliffhangers, ensuring that viewers will be chomping at the bit throughout the summer to find out the fate of their favorite characters until the fall premiere.
On the Merluca front, Dr. Andrew DeLuca ended the season being led off in handcuffs after taking the rap for Meredith's insurance fraud, which she committed to help an immigrant family. Inspired by DeLuca's selfless act, Meredith says "I love you" to him, saying those three words for the first time since her longtime love Dr. Derek 'McDreamy' Shepherd died. Other casualties of the insurance scandal are Dr. Alex Karev and Dr. Richard Webber, both of whom were fired along with Meredith by Dr. Miranda Bailey for their actions.
Jo Karev said goodbye to husband Alex so she could admit herself in a treatment center after struggling with depression and the trauma she was dealing with from her birth mother and her past. Also in question is couple Jackson Avery and Maggie Pierce, who were last seen stuck behind a multi-car pileup after their camping trip, where Jackson gets out of the car and vanishes.
Add to that the birth of Teddy Altman and Owen Hunt's baby girl, where Owen declares his love to his longtime friend, despite the fact that Dr. Thomas Koracick is back home setting up Teddy's baby furniture, and Amelia Shepherd still is somewhat holding out hope for her ex-husband Owen.
What's with the orange vest?
In the season premiere trailer, Meredith is seen outside picking up garbage in an orange reflective vest. When someone recognizes her, Meredith tries to pass off her work as volunteering, but her cover gets blown when a supervising officer calls her out, clearly revealing she's there as part of her legally enforced community service.
The preview also shows Bailey telling the staff that Meredith, Alex, and Richard were fired due to criminal activity, and Jackson's fate is left to speculation when Maggie is seen directing the paramedics to where he was headed. No peeks at Jo's status at the rehab or how that love triangle (or is it a square?) with Teddy, Owen, Amelia, and Koracick is working out.
Almost time for answers
Showrunner Krista Vernoff recently revealed that many of the season 15 cliffhangers will be swiftly addressed. "I don't have a theme for the season but we are doing a really good job of paying off the finale from last season," she told the Hollywood Reporter. "We are doing a direct pickup [from when the finale ended]. We are playing through the consequences of Meredith's decision and playing through the consequences of Bailey's decision, of Catherine's decision, of Teddy and Owen's decision. We didn't do a reset; we already shook it up."
Vernoff shared that while Grey's will continue its dramatic edge, the series will also keep it's playful side. "Everything has high stakes and high consequences and yet we are keeping alive the sense of humor, the sense of fun, the sense of joy that we've been doing the last couple of years," she said.
Watch the premiere of ABC's Grey's Anatomy on September 26!