'Grey's Anatomy': Ortho Team Link or Team Callie—Who is the fan-favorite?
When new character Atticus "Link" Lincoln (Chris Carmack) arrived at Grey-Sloan Memorial Hospital in season 15, fans went wild over his good looks and charm. We weren't sure for a minute whether to root for him or Andrew DeLuca (Giacomo Gianniotti) as Meredith's (Ellen Pompeo) new love interest.
We are happy that she ended up with Andrew. Amelia and Linc seem perfect together also, so all is well in the relationship aspect. However, when Grey's Anatomy shared a video of Link and Nico (Alex Landi), referring to the pair as the "ortho team," some fans went wild missing former Orthopedic surgeon, Callie Torres (Sara Ramirez). This post sparked a discussion over who is the fan-favorite Orthopedic doctor, Callie or Link? Read on to see how fans weighed in.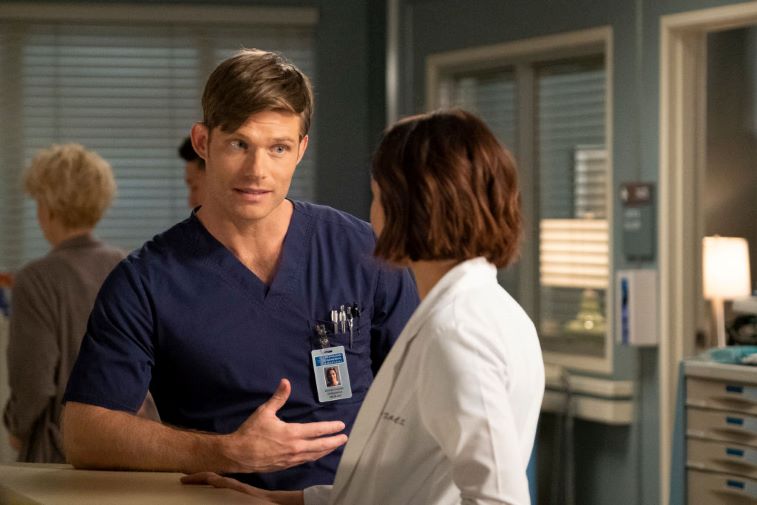 The 'Grey's Anatomy' video of Link and Nico received some harsh feedback 
"Our ortho team is very serious," read a caption on the Grey's Anatomy social media account. The video portrayed Link and Nico scrubbing in for surgery with a little fooling around. 
The very first reply to the tweet was a GIF of Callie Torres with a shocked look on her face and the caption, "Real ortho queen."
Fans began to weigh in, "as much as I've grown to like Link, no one will ever replace Callie."
"The new team is great, but. They don't match up to Callie. I miss your old team," wrote another diehard Callie fan.
Callie was last seen on Grey's Anatomy in season 10 when she moved to New York to be her then-girlfriend, Penny (Samantha Sloyan). In the season 14 finale, Arizona (Jessica Capshaw) also moved to New York to be with their daughter, together. Fans would love to see Callie and Arizona back together again as a couple in New York. 
Some fans came to Link's defense
Not everyone is a diehard Callie fan. Chris Carmack has quite a following of Link fans on social media. Fans of the show may not have liked him at first, be he has grown on everyone.
"I used to hate this guy last season, but I don't remember how and when I fell in love with him. [I] love you, Link," tweeted one fan. 
"Omg, how long are Chris Carmack's eyelashes!?" wrote a true Link fan on the video.
When Chris Carmack took over the Grey's Anatomy Instagram account, fans were excited. One fan wrote that it was, "The best news I've heard all week."
Now that Link's character is dating Amelia (Caterina Scorsone), viewers are falling head over heels for him. He told her that he would support her decision, whatever it may be, regarding her pregnancy and fans melted. Link is here to stay, and it sounds like some fans are pretty happy about it.
Will Sara Ramirez ever return to 'Grey's Anatomy' to continue Callie's storyline?
After leaving Grey's Anatomy, Ramirez became a series regular on CBS' Madam Secretary in October 2017. The CBS show shoots in New York, while NBC's Grey's films in Hollywood. 
Although it seems like a stretch to fly back and forth across the country, Ramirez said she would love to return to Grey's Anatomy. 
"For the record, @CBS has been nothing but gracious and generous to me. They are open to Callie coming back! The ball is in @ABCNetwork's court," Ramirez wrote on Twitter in September of 2018.
Show creator Shonda Rhimes also said in a statement at the time of her departure that Ramirez will "always have a home at Shondaland."
While some fans hope and pray that Callie returns to Grey's Anatomy, others are happy to have orthopedic surgeon Link as their eye-candy weekly. You can catch new episodes of Grey's Anatomy on NBC, Thursday nights at 8 p.m.