'Grey's Anatomy' Relationship Swaps: Fans Want to See Teddy Altman with Tom Koracick and Owen Hunt with Amelia Shepherd
The love triangles are strong on Grey's Anatomy. Sometimes we feel like there are too many to keep track. At one point, Teddy Altman (Kim Raver) was with Tom Koracick (Greg Germann), but then she found out she was having Owen Hunt's (Kevin McKidd) baby. That news prompted her to get back with Owen so they could raise their daughter together. 
However, now fans believe Teddy should end up with Koracick in the end, after some news about Amelia Shepherd's (Caterina Scorsone) pregnancy. Let's take a look at this crazy love triangle. Warning: Season 16 spoilers.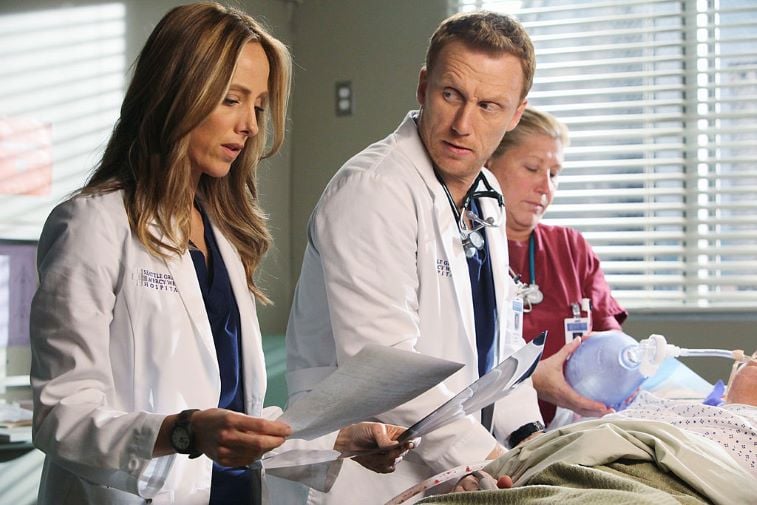 Fans Feel that Teddy is better off with Koracek than Owen
The turn of events in Grey's Anatomy's fall finale has fans debating the relationship situations of our favorite characters. We found out that Amelia is likely having Owen's baby, not Linc's (Chris Carmack). Then, towards the end of the show, Koracick professes his love for Teddy. These two moments are causing a lot of discussions among viewers.
"Holy sh*t wow," wrote one Reddit user. "Didn't see that coming. But to be honest, now that I think about it, Teddy really needs to get with Koracick. He (Koracick) would be a fantastic husband/parent to Teddy and her daughter."
"I don't hate Owen," added another fan. "But I don't love him and teddy together. Maybe Koracick talking to Teddy at the end, and the show showing Owen possibly having interest in someone else is foreshadowing again."
"Teddy needs to get over Hunt," wrote another Redditor, "and get back with Koracick."
"I hope so," agreed another viewer. "I hate this 'Koracick is a jerk' storyline. It doesn't mesh with pre-baby Tom. I hope Teddy is just swept up because of her past love for Owen and having a surprise baby with him/wanting a family. I don't think that Owen will make her happy. Koracick wants to make her happy and be a good partner."
Amelia Shepherd and Owen Hunt should get back together
If Owen and Teddy break up, fans agree that Amelia and Owen should probably get back together. Now that they are having yet another child together, it does seem to make sense. Owen's first baby, Leo, was adopted, but he did raise him mostly with Amelia.
"I feel weird," began one fan, "because whenever Owen wasn't being a McDouche, I actually liked him with Amelia… and yeah, you're right, Teddy does need to get back with Koracick."
"I liked Owen and Amelia in the beginning, too," agreed another Reddit user. "They were a good support for each other when Derek died, but they have A LOT to work through if this is the road they're going down."
If Owen ends up being the birth father of Amelia's baby, the pair will have two children together. It does make sense that they reconcile and raise their growing family under one roof.
Owen was distraught that Amelia was having another man's child
When Amelia finally told Owen that she was pregnant with Linc's baby, Owen was outraged. Fans surmise that it is because he wants to be with her, not Teddy. 
"You didn't want to have kids," Owen yells at Amelia, "but now you are with somebody else. You are perfectly happy having a baby with another man." He is screaming and very angry.
When he finds out that Amelia's baby is his, Owen might be very excited. His primary issue with Amelia when the two were married was that she did not want to have children. Now, they will have two together.
We will find out if fans are right about the love triangles when Grey's Anatomy returns to ABC on Jan. 23, 2020.