'Grey's Anatomy:' What's Next for Jackson and Maggie After Their Breakup?
Fans of ABC's hit series Grey's Anatomy were undoubtedly glued to their TVs/devices this past Thursday night for the kickoff off of Season 16. Several cliffhangers from the Season 15 finale were addressed, including what happened to Jackson when he disappeared into a fog leaving Maggie in the car and the status of their relationship.
Now that the couple has decided to go their separate ways, could there be any hope for a reconciliation, or are the newly parted doctors going to start pursuing other potential romances? Showrunner Krista Vernoff recently commented on where the two may be headed.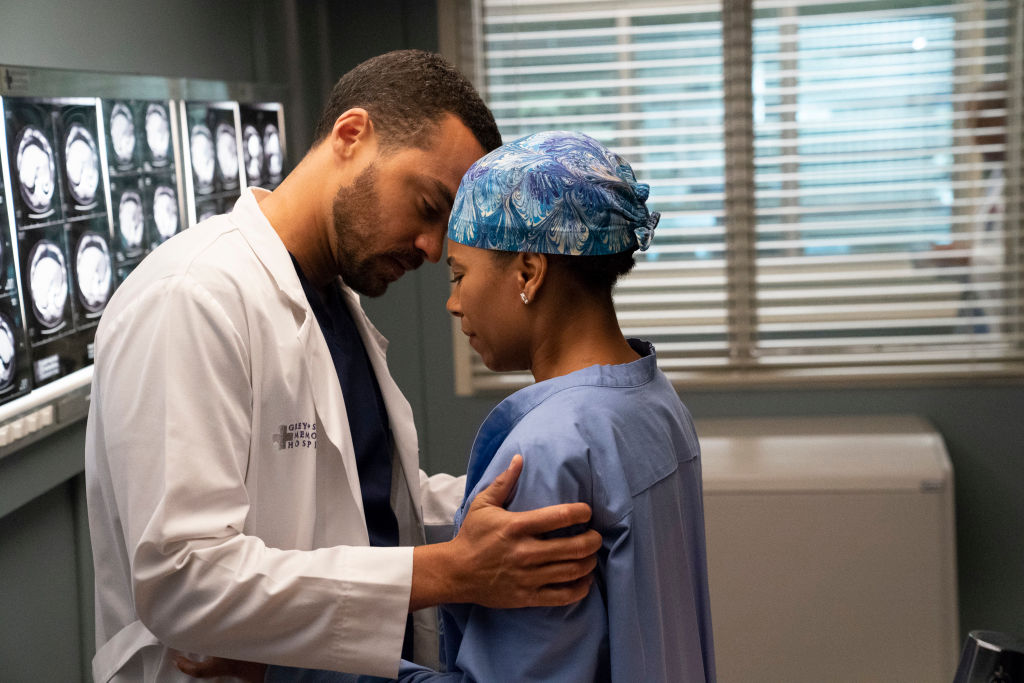 A troubled relationship
Though fans seemed to have differing opinions on the pairing, Jackson (played by Jesse Williams) and Maggie (played by Kelly McCreary) took a while to officially become a couple. Hints were dropped during Season 13, though ex-wife April (played by Sarah Drew) was still a contender to owning Jackson's heart. During the 14th season, Jackson and Maggie made it official, with April marrying former fiancé Matthew (played by justin Bruening) in the season finale and Drew's exit of the show solidifying the Jackson/Maggie relationship.
During Season 15, the couple endured some issues, including Jackson's taking some time away for some spiritual soul searching. The coupling of Jackson and Maggie never seemed to find its footing, with their misunderstandings mounting to a big brawl in the season finale.
Fight in the finale
The couple's problems seemed to come to a head at the end of Season 15, where Jackson accuses Maggie of not respecting him, and she accuses him of not liking her. While Jackson criticizes Maggie's hesitance to 'expand,' she takes shots at his lifetime of affluence, calling him 'Mr. Monopoly.'
Grey's showrunner Krista Vernoff shared that the argument was carefully calculated. "I feel like it was a long time coming. I felt like Maggie and Jackson had a fight that very nearly broke them up in [the seventh] episode [last season]. And so, by the time they were having that fight in [the finale], it felt to me like they were saying things that they couldn't really come back from," Vernoff told Entertainment Tonight.
While Vernoff liked the pairing of the actors from a creative standpoint, she also sees the provocative plot line that could come from the couple's split. "I love both of these actors and I love their work together as a couple, and I'm loving their work together as a couple with a bad and difficult breakup. It's all exciting," she said. They've had a really painful breakup. It is painful to break up period, but when you break up when your parents are married to each other, which means you've got to stay in each other's sphere, and you work together in the same hospital, which means you've got to see each other every day and one of you has jumped immediately into something new, that is not easy. I'm not going to pretend that it gets easy anytime soon."
Enter 'Station 19' …
Fans who saw the Season 16 premiere probably caught that Jackson already seems to be considering romance outside of Grey Sloan Memorial Hospital. Apparently developing a chemistry with Station 19's Vic Hughes (played by Barrett Doss), viewers may be wondering if it's too soon for Jackson to already be moving on.
Vernoff is open to playing with the idea. "I think that it's human behavior. Often we comfort ourselves with something new when we've been through something painful," she told Entertainment Tonight. "I'm interested in exploring people not behaving well all the time. People prioritizing their impulse over someone else's feelings, I think is human and makes great TV."
As for any kind off status between Jackson and Maggie, Vernoff is choosing to take her time with the storyline, seeing a complicated breakup as addictive viewing and the addition of adding in a character from the spinoff show as an added bonus. "It's a little bit of a slow build… I knew that it was time for Maggie and Jackson to break up at the end of last season," she said. "I took over Station 19 and was looking at all the moving pieces and I just had a feeling about these two. And so, we tried it and the whole storyline is exciting to me. The complexity of it all is really interesting. It's been a long time since Grey's had a break-up this messy."
Fans will have to keep tuning in to Grey's Anatomy on Thursdays to see how it all plays out!