'Grey's Anatomy's' Camilla Luddington Is Almost Unrecognizable With This Extreme Hair Style Change
Actress Camilla Luddington has portrayed Dr. Jo Wilson (now Karev) on Grey's Anatomy since joining the series in 2012. Luddington is quite active on social media, with an impressive 3.1 million followers on Instagram and over 600K on Twitter.
The Grey's star recently posted a pic of herself modeling a hair style very different from her usual long brunette locks.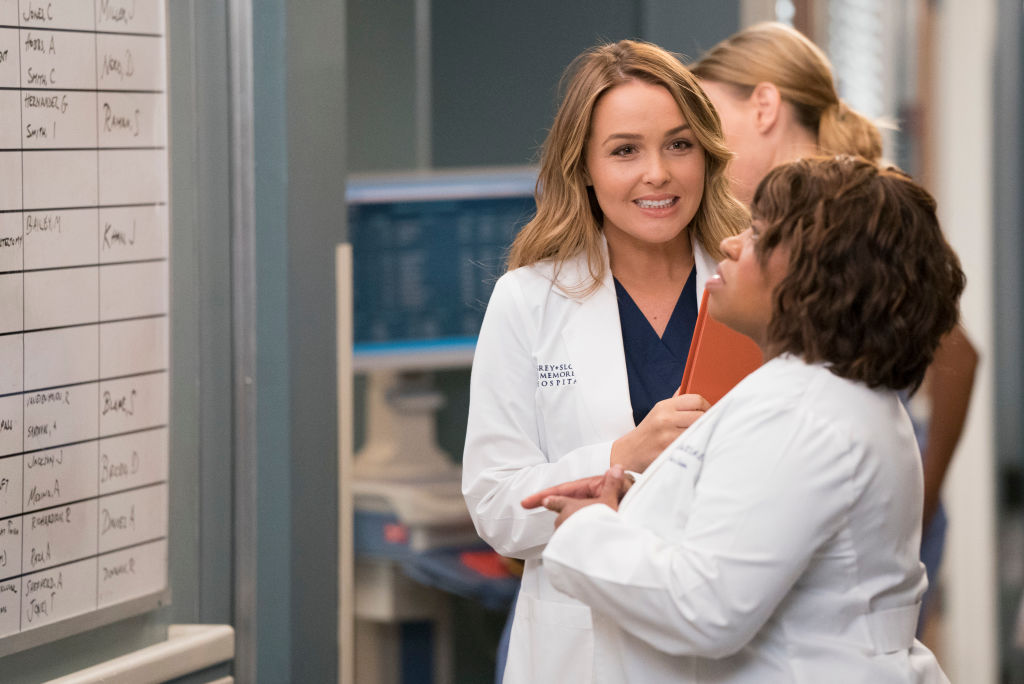 A new look
The actress is apparently a fan of Halloween, which is right around the corner. In celebration of the candy-laden holiday, Luddington decided to try out a new 'do in prep for an upcoming party.
"When Halloween is soon and you can't decide…?? #costumeparty," she posted on Instagram alongside an image of herself with a short blonde messy bob.
Her fans were loving the radical change. "Omg. Can this be like your new real hair??" one fan posted. "I love it!!!" another one wrote. Several followers simply posted, "Beautiful," with heart emojis.
Twitter comments
Luddington posted the new look to Twitter as well, which had fans wondering if the change was permanent. "@camillaluddington would you actually cut your hair and dye it like this??" one follower asked, to which the actress replied, "Yes I get bored of my hair very fast."
One fan was hoping the Grey's star would allow her character to keep the blonde bob, tweeting, "would do anything for jo to have this hair, just saying." Luddington replied, "I personally wouldn't ever want to go blonde for 'Jo'… but ya never know!"
Since the television doc didn't seem to hint that the new coiffure would be hitting the screen on the medical drama, it's a safe bet that Jo will continue to showcase her trademark brunette style while at Grey Sloan Memorial Hospital.
Another Halloween post
Luddington announces many special life events on her social media platforms, including her engagement to actor Matthew Alan, and their nuptials on August 17.
Apparently, Luddington enjoys unique Halloween posts. Utilizing a fall motif, she chose to reveal that she was pregnant on Instagram with a very seasonal prop. "I am SO excited to FINALLY share with you all news that ive managed to keep secret for what seems like forever now… I am pregnant!!!!!! This girl gets to be a 'cool mom' ha!" She captioned the photo of herself with 'Baby arriving spring 2017' spelled out on a pumpkin.
She let her fans know that she would keep them apprised of her growing baby bump, using the pumpkin as a sizable example of what was yet to come. "We are beyond happy ❤️❤️❤️❤️ and i cannot wait to bring you all on this journey with me!!!!" she wrote. "Ill be posting progress pics as the weeks go on but for now i figured id post this pumpkin 🎃 because come spring ill have a belly that size 👍🏼. So much love to you all ❤️ And nods of respect to the few of you who guessed right in the past few months."
She kept her word on posting updates and when her daughter Hayden was born in April 2017, Luddington shared the joyful news with her followers. "We have a new great love in our lives… our sweet baby girl…Hayden," she wrote on Instagram, alongside a very brief video of herself and Alan cradling their newborn.
Fans are sure to stay tuned to Luddington's social media channels to see what she posts next!