'Grey's Anatomy's' Camilla Luddington is Engaged to This Actor
Camilla Luddington, who plays Dr. Jo Karev on ABC's Grey's Anatomy, has a pretty packed agenda between playing a major character on the hit medical drama and parenting her 2-year-old daughter Hayden. But the actress is still making space in her schedule to plan her wedding to this actor.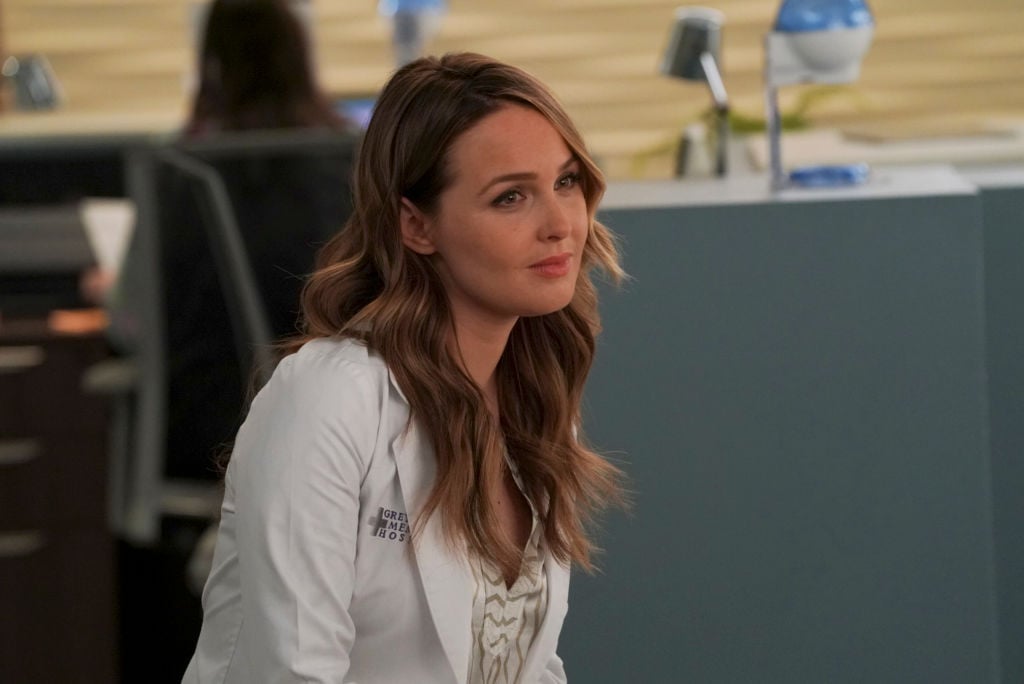 A shady character on a controversial show
Actor Matthew Alan has definitely been working. According to IMDb, he has appeared on several television shows, including Lethal Weapon, Scorpion, Longmire, Veronica Mars, NCIS: New Orleans, The Night Shift, The Mentalist, Murder in the First, Modern Family, and Criminal Minds. Alan has also been in a host of big-screen films, such as Trust Fund, Hidden in the Woods, Summer Snow, The Shifting, Absolute Fear, Red Tails, Walking the Halls, and 2084.
Most notably, Alan was on the high-profile Netflix series 13 Reasons Why. The show is based on the 2007 book of the same name by Jay Asher about a teenager's taking her own life, and received an onslaught of publicity about the series' graphic depiction of suicide. According to the Hollywood Reporter, the show's creators have recently edited the previously planned three-minute suicide scene for the upcoming season due to the controversy. Alan has played the role of Seth (aka 'meth Seth'), a drug dealer and the abusive boyfriend of Justin's mom. 
Alan is also joining the Hulu series Castle Rock for its second season, along with Tim Robbins, Lizzy Caplan and Elsie Fisher.
Jealous groom-to-be
According to Romper, Alan also landed a gig on his fiancé's show. In 2017, he appeared on the Grey's Anatomy episode "Leave it Inside," portraying David Fisher, a father who refuses to let his young son get necessary surgery to remove a tumor since he doesn't believe in medical intervention for his family.
Alan is obviously a fan of Luddington's work on the show, though he did get an attack of the 'green-eyed monster' for the 2018 season finale where Jo and Alex finally tie the knot. "It was weird. I was leaving that morning and he was like, 'Bye! Good luck with your wedding to someone else,'" Luddington told Entertainment Tonight. "It's very weird, [but] he's an actor too so he understands."
The actor ended up coming to the set the day the wedding scene was shot, and was impressed by the venue. "What's funny is we shot our TV wedding at a place called Calamigos Ranch in Malibu, California, and Matt came to visit the set and he stepped on and we were like, 'Damn!'" Luddington said. "Because it was so gorgeous and they do weddings there and he was like, 'We could have done it here, but now you and Alex have taken it!' I mean, we even joked about, 'Hey should we just run down the aisle and just quickly say our vows to the actor priest and be done with it?'" 
Wedding plans
Alan and Luddington are now actually planning on making their wedding very different from that of Jo and Alex. "When we were picking out dresses (for the season finale), I tried to avoid things I wanted in real life," Luddington told Entertainment Tonight in 2018. "Which did work out because I always thought Jo would wear a short wedding dress. So, getting married doesn't feel in any way spoiled or like I've already done it on TV."
Luddington, who got engaged to Alan on New Year's Eve in 2017, knows one particular feature she'd like to include in her wedding. "I think the most important thing I want is food trucks at my wedding," she said. "We have food trucks that come to Grey's every once in a while and the food is just spectacular. So, I've been thinking instead of having a sit-down dinner, having three different food trucks pull up."
Though a date has not been publicly announced, it sounds like the event may be soon approaching!