'Grey's Anatomy's' Camilla Luddington Reveals How She Personally Relates to Jo's Recent Struggles
Fans of ABC's Grey's Anatomy have been following the ups and downs of Dr. Jo Karev, played by actress Camilla Luddington. After entering a rehabilitation center to get treatment for trauma and depression last season, Jo is now taking positive steps toward healing with the help of her husband Alex (played by Justin Chambers) and her therapist. 
Luddington, who has portrayed Jo since 2012, is familiar with some of the issues that her character has been dealing with, and recently shared some personal struggles she's had in the past.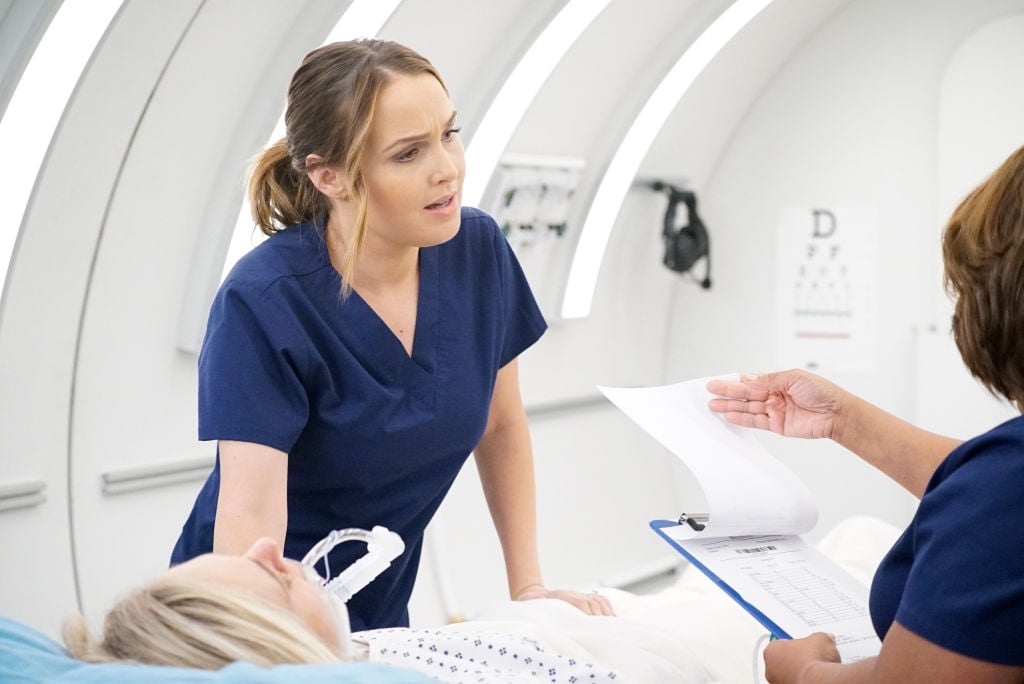 Last season
Season 15 proved to be a quite a rollercoaster for Jo. After tracking down her birth mom and finding out some traumatic details about her father, Jo's spiral led her to separate from everyone, including her husband and friends. She finally sought help at a treatment center, getting the therapy she desperately needed.
According to Bustle, viewers will eventually find out what Jo went through in treatment via flashbacks. "It's something that was really important to us because we didn't want to just rush through like, 'oh, she's out and now she's fine,'" Luddington said. "We wanted to kind of show the progress she made and the setbacks she had,"
The actress shared that they want to portray depression realistically, not as an issue that simply disappears. "Depression is going to be something that Jo is living with, and, as she said in the first episode, it's not something that magically can just go away forever," Luddington explained.
Experiencing loss
Luddington shared in her interview with Bustle that she lost her mom unexpectedly at the age of 19, saying she went through a rough "mourning period" yet continued "trying to move on." When the actress gave birth to her daughter Hayden (with husband Matthew Alan) in April 2017, she began to experience anxiety, which she feels was a product of her mother's sudden passing.
"When I had a child, a lot of my own trauma from losing my mom when I was younger kind of came up with me now being a parent to my own daughter," Luddington told Bustle. "I started to get a lot of anxiety. I was constantly afraid that I was going to die early and leave her."
The Grey's Anatomy star felt she was in unchartered territory, having never experienced anxiety in the past. Luddington soon realized the issue was more than challenging. "I didn't understand that anxiety was so overwhelming because I have never suffered from anxiety before in my life," she said.
The importance of seeking help
Luddington proactively began therapy after her daughter was born so she "could parent in a way without this anxiety that something was going to go wrong." The actress says that though she "continues to deal with" anxiety at times, she found tremendous value in getting help since "there was so much strength and, honestly, release in being able to go and seek out a therapist and speak about it to somebody."
The Grey's star sees the parallels with her character, where Jo continues to get therapy and has tremendous support from husband Alex. "In regards to Jo's mental health, he's in it, like he said, for the long run, and so they're gonna navigate this together," Luddington said. "There's a strength they have in each other, you know?"
With Luddington's character "getting her groove back" this season as the actress puts it, she wants to provide a positive example to the viewing audience on the importance of seeking help. "I think one of the biggest messages that we want to tell everybody is that there's so much strength and power in reaching out and getting yourself the help you need," she said.
Watch ABC's Grey's Anatomy on Thursday nights!