Guy Fieri's Son Cooks His Own Breakfast
Guy Fieri is one of the TV food world's hottest stars, and he has an impressive lineup of programming where he gets to highlight his bold persona across different settings.
He's earned a reputation for being wild and over-the-top, famed for his flame-covered style. In an interview with the host of the podcast The Sporkful, Fieri revealed that his television persona is definitely ramped up from his real-life identity. 
He also shared some details about his personal life, including some insight into how he's passing the torch of responsibility and food on to his own children. 
Guy Fieri has a bold persona on his cooking shows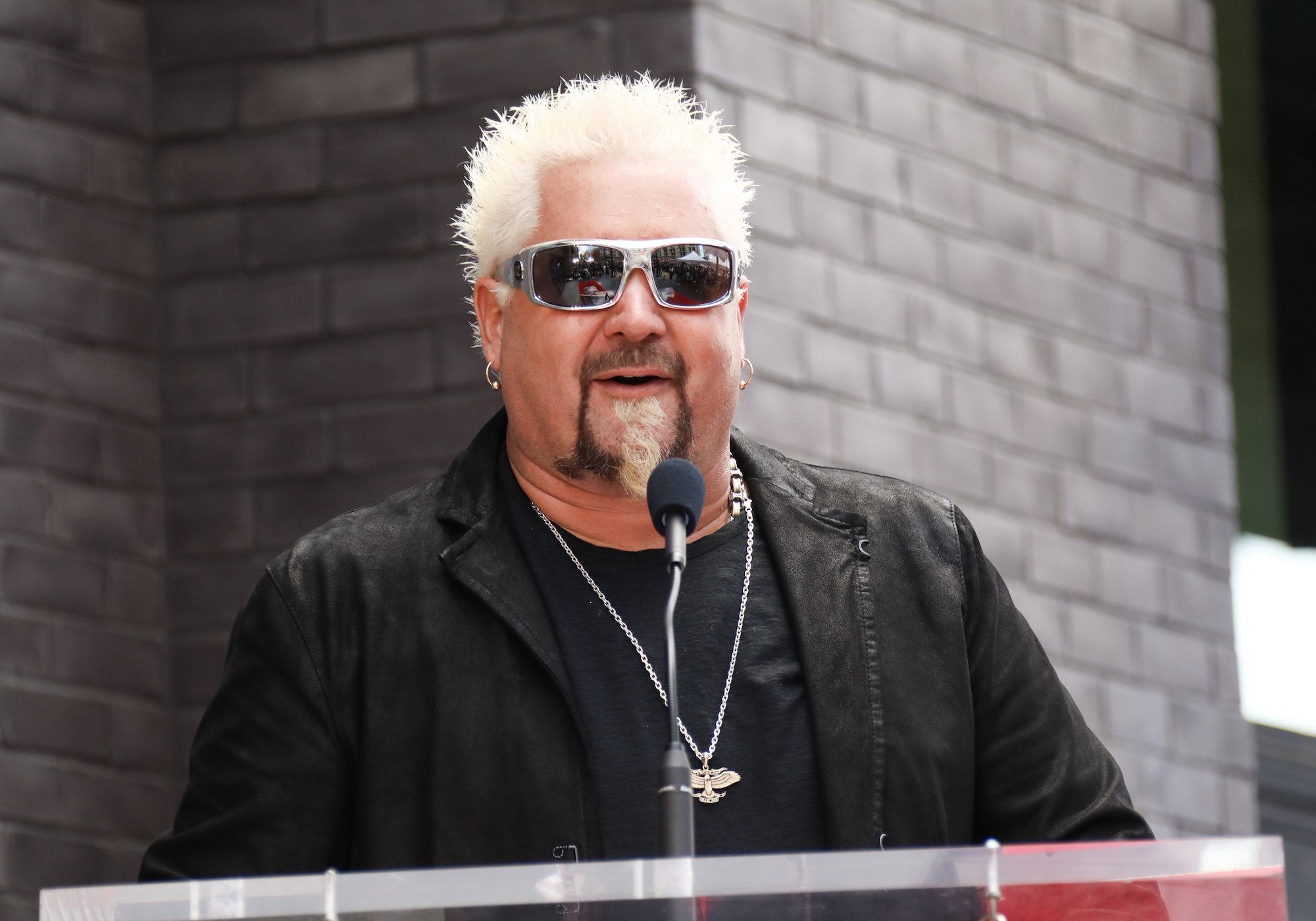 Born in Ohio and raised in California, Guy Fieri rose to become a chef who sits among the top stars on the Food Network. Fieri surprisingly did not attend culinary school. Instead, he developed a passion for cooking in high school but then went into hotel management during his college studies.
In 2006, he entered a cooking competition called The Next Food Network Star, and the prize was his first television show: Guy's Big Bite. 
Since then, Fieri has gone on to make multiple appearances across the TV food world, most notably in his long-running series Diners, Drive-Ins, and Dives and his more recent Guy's Grocery Games. Fans are drawn to Fieri not only for his tremendous cooking talent but also for his bold personality.
Frequently shown with spiky hair, cool shades, and a flame-covered shirt, Fieri is a lively character who fans adore — in small doses. Some see him as too loud and in-your-face, and even those who like watching his shows admit that they have to do so in moderation because of how brash he is. 
Guy Fieri is playing a part on his shows 
In an interview for the podcast The Sporkful, Fieri opens up about the perception that he's always so loud and bold. He comments that people assume his home is covered in flame decor and that he continues to live in the same way they see him on the show.
However, the part that Fieri plays for TV is just that: a part. He says that the person he portrays is not fake, but it is definitely a few key pieces of his personality played up for an on-screen persona. 
In real life, Fieri is just a regular guy trying to raise his kids and live the best he can day to day. He has been married to his wife Lori Fieri since 1995, and they are raising two sons named Hunter and Ryder. One of those kids, Hunter, seems to be following in his dad's footsteps.
Getting to travel the world alongside his famous father, the younger Fieri has been exposed to many different cultures and cuisines. While his on-screen persona is much more muted than his father's, he's already gaining fans. 
Guy Fieri has his young son cook his own breakfast
You would think that one perk of growing up with a chef as a parent would be getting to eat the fruits of their labor, but in Fieri's house, cooking is a shared responsibility. In the podcast, Fieri talks about his typical morning routine and reveals that his young son has to cook his own breakfast. As he's going through his typical day, he first says that he cooks "every morning" for his son, but then he cuts himself off. 
"Well, I make him cook now. He has to cook his own breakfast. That was the new deal — sixth grade, but I cook every night. That's my goal," Fieri explained. Clearly, Fieri is taking steps to make sure that his kids are self-sufficient and capable, but he still provides his family with the delicious dinners he's so famous for creating.