Gwen Stefani Just Sent Blake Shelton Wedding Rumors Into Overdrive With This Subtle Move
Gwen Stefani is shutting down those pesky engagement rumors. The Do Doubt frontwoman, who has been with Blake Shelton for over four years, sparked some intense wedding speculation after she rocked a diamond ring at the People's Choice Awards last weekend. Fans naturally suspected that Stefani was wearing an engagement ring, but she put that talk to rest in a new interview.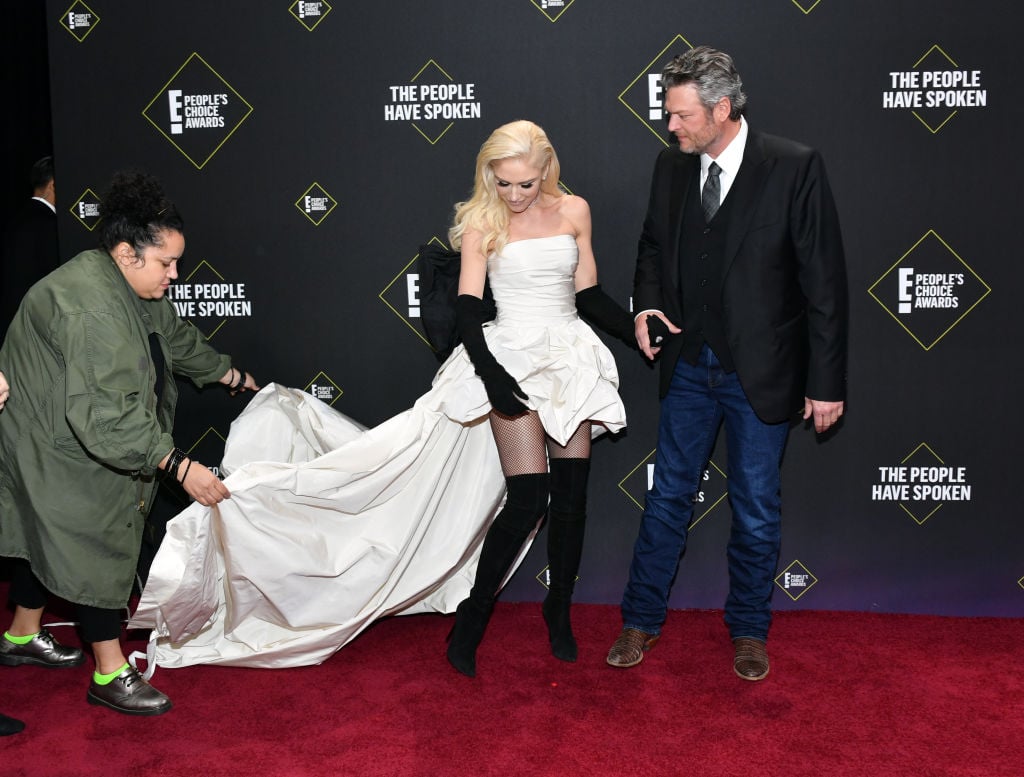 Gwen Stefani talks about her engagement rumors
Shelton and Stefani have faced engagement rumors for years, yet they are clearly not a rush to walk down the aisle.
Those rumors heated up over the weekend after Stefani donned a large diamond ring at the People's Choice Awards on Sunday. Although fans were convinced that Shelton had popped the big question, turns out it was just an ordinary diamond ring.
According to People, Stefani shut down the engagement talk and revealed that she wore it on her wedding finger because it would not fit on her other hand. So much for all that wedding talk.
"It might be a real ring, a real diamond but it's not a wedding ring. No, no," Stefani explained. "It actually doesn't fit over the glove on this hand, so I put it on this hand. But good, right?"
Thankfully, Stefani added that fans will know when she is engaged, which is pretty big news. So until further notice, it looks like things are still status quo for the couple.
Gwen Stefani and Blake Shelton started dating in the fall of 2015 following their respective divorces from Gavin Rossdale and Miranda Lambert. Stefani shares three children with her ex-husband: Kingston, Zuma, and Apollo.
Shelton opens up about Stefani
During an interview on Martina McBride's Vocal Point podcast, Shelton opened up about his romance with Stefani and admitted that even he thinks they are an unlikely pairing.
"If you thought the PEOPLE magazine cover was shocking, mine and Gwen's relationship is probably the biggest head-scratcher," Shelton stated.
Shelton added that he never got the chance to connect with Gwen Stefani on The Voice prior to her divorce from Rossdale. At the time, Stefani had just given birth to her youngest boy, Apollo, so she wasn't able to spend a lot of time on the set.
That all changed when Stefani parted ways with the Bush frontman and the two bonded over their shared heartbreaks. Although going through the divorce was difficult, Shelton is thankful that everything turned out good in the end.
Although they have not tied the knot yet, there is no denying that Shelton's romance with Stefani is going strong. Not only do they share a lot of love but he has also become an amazing stepdad to her three children.
Gwen Stefani and Blake Shelton win big
Stefani and Shelton both had big nights at the 2019 People's Choice Awards. Stefani took home the Fashion Icon Award while Shelton won the award for the Country Artist of 2019.
While they were thrilled to win the awards, the couple really gave fans a show when they gushed about each other on stage.
Shelton, who rocked a casual look for the evening, thanked everyone who has supported him over the years before telling the audience that he loves the "s**t" out of Stefani.
"And I want to say thanks to P!nk because now I know we can cuss on this show and I want to say Gwen Stefani, I love the s**t out of you," Shelton said.
Gwen Stefani also could not help but gush over her lover, telling Shelton that he is a total "babe" during her acceptance speech. Fans, of course, could not get enough of their affection and went crazy cheering for both of them as they accepted their awards.
Shelton jokes about Zendaya
Shelton also lit up social media after poking fun at Zendaya during his speech. After accepting the award, the Voice star mentioned how everyone at his table had already won an award for the evening and that he was starting to get nervous that he would walk away empty-handed.
"I'm really glad I won this, because I was the only person at my table who hasn't won anything tonight, and it was starting to get a little bit embarrassing," Shelton joked. "Zendaya was making fun of me earlier."
Apart from Gwen Stefani, Shelton was sitting with Zendaya and Jimmy Fallon, all of whom took home at least one People's Choice award over the weekend. Fallon won a prize for the best nighttime talk shows while Zendaya was named the favorite movie actress and drama TV star of 2019.
Shelton, meanwhile, has not commented on the recent engagement speculation. Inside sources, however, say that he is planning on tying the knot with Stefani in the near future and that their wedding could happen before the year is out.
We cannot verify this is true, but it sounds like Gwen Stefani will let everyone know when the timing is right.