Gwyneth Paltrow: All the Times Goop Sparked Outrage
Gwyneth Paltrow went from winning an Oscar to building a lifestyle brand. Goop focuses on health, beauty, style, and work. But it has mostly made headlines for its wellness advice. The brand has gotten backlash for promoting very expensive items with questionable benefits.
But what are the biggest controversies? Some led to Goop changing its original posts and others went all the way to court. Here are seven times Goop sparked outrage.
1. The Jade egg is dismissed by OB/GYNs
The lifestyle company promotes the Jade egg, claiming Chinese queens and concubines would use them to "stay in shape for emperors."  The website also claims the egg is used to "harness the power of energy work and crystal healing."
The egg is to be inserted into the vagina. When the writer of the article who tried the Jade egg is asked about the benefits, she answers, "Jade eggs can help cultivate sexual energy, clear chi pathways in the body, intensify femininity, and invigorate our life force. To name a few!"
This sparked a lot of outrage. Goop was even awarded the "Rusty Razor" by The Skeptic Magazine partially because of the promotion of the Jade egg claiming it is "pseudoscientific nonsense." Doctors also publicly dismissed Goop's claims.
Dr. Jen Gunter, a San Francisco OB/GYN told Gizmodo UK multiple reasons why the claims are concerning. "For one, this is a porous rock you're putting in there," explained Gunter. "Not medical-grade silicon, and who knows what bacteria can lodge in those nooks and crannies. Then there's also this magical belief that putting something inside you can do something to your aura or chi."
2. The Body Vibes stickers are refuted by NASA
Again Goop was in the hot seat when it wrote about Body Vibes stickers, which claim to rebalance energy frequency in a person's body. The website claims the body's energy frequency can be thrown off by stress and anxiety so this is to correct that. It also claims there is the side effect of a mark being left on the skin if the sticker is left on for three days.
Body Vibes previously claimed that NASA used it on their "space suit material" to rebalance their bodies. This led to NASA coming forward to say this isn't true. A representative from NASA told Gizmodo they "do not have any conductive carbon material lining the spacesuits."
Goop later had to pull the claim that NASA used their technology on their website.

3. Goop health claims of vagina steaming are refuted
The lifestyle website lists Tikkun Spa as a travel destination, partially because of its Mugworth V-Steam treatment. It's described like this: "You sit on what is essentially a mini-throne, and a combination of infrared and mugwort steam cleanses your uterus, et al. It is an energetic release — not just a steam douche — that balances female hormone levels."
This is another claim that made rounds, and medical professionals went against this advice. OB/GYN Dr. Jen Gunter wrote on her website:
 Steam is probably not good for your vagina. Herbal steam is no better and quite possibly worse. It is most definitely more expensive. Steam isn't going to get into your uterus from your vagina unless you are using an attachment with some kind of pressure and MOST DEFINITELY NEVER EVER DO THAT.
4. Truth in Advertising (TINA) accuses Goop of publishing over 50 instances of dubious claims
The watchdog group advised that California regulators investigate Goop in a complaint letter, due to over 50 instances of claiming products "treat, cure, prevent, alleviate the symptoms of, or reduce the risk of developing a number of ailments," according to Fortune.
A spokesperson of Goop told BuzzFeed the letter is "misleading," and the accusation is "unsubstantiated and unfounded."
5. Goop publishes doctor whose claims about vegetables are later refuted
Goop contributor, Dr. Steven Gundry, M.D.,  who focuses on autoimmunity is published in the article, "Are We Wrong About What Makes Food Healthy?" There, he focuses on lectin, which is found in many foods that are considered healthy. He claims lectin "can have toxic or inflammatory effects," which can lead to weight gain.
The article then asks what foods should be avoided, and the list includes American grains and out-of-season fruit. They also advise to cut back on grains, squashes, beans, and nightshades. But other nutritionists also publicly pushed back on this advice.
"For most people, avoiding the foods that contain lectin is unnecessary," said Dr. Frankie Phillips, of the British Dietetic Association, according to The Daily Mail "we are well-equipped physiologically to manage them." Phillips continued, "In fact, cutting out these foods could lead to a substantial decrease in dietary fibre intake."

6. Goop's food stamp challenge is accused of being unrealistic and insensitive
The company is often seen as out of touch not only because the medical advice has been torn apart by medical professionals, but because the products it promotes are so expensive. So many couldn't believe that Paltrow and others in her office dared to do a "food stamp challenge" and document it on Goop. It was to raise awareness for Food Bank For New York City.
The Oscar winner claimed to try to buy food with just $29 for one week. She posted a picture of the food she got with that budget. Many pointed out that the food pictured couldn't last a person or family for a full week. They were right, and she later gave an update.
Paltrow wrote:
As I suspected, we only made it through about four days when I personally broke and had some chicken and fresh vegetables (and in full transparency, half a bag of black licorice). My perspective has been forever altered by how difficult it was to eat wholesome, nutritious food on that budget, even for just a few days — a challenge that 47 million Americans face every day, week, and year.
Although the challenge was to raise awareness, many called the actress out on social media for attempting to do the challenge and potentially give condescending advice.
7. Goop is accused of ripping off columnist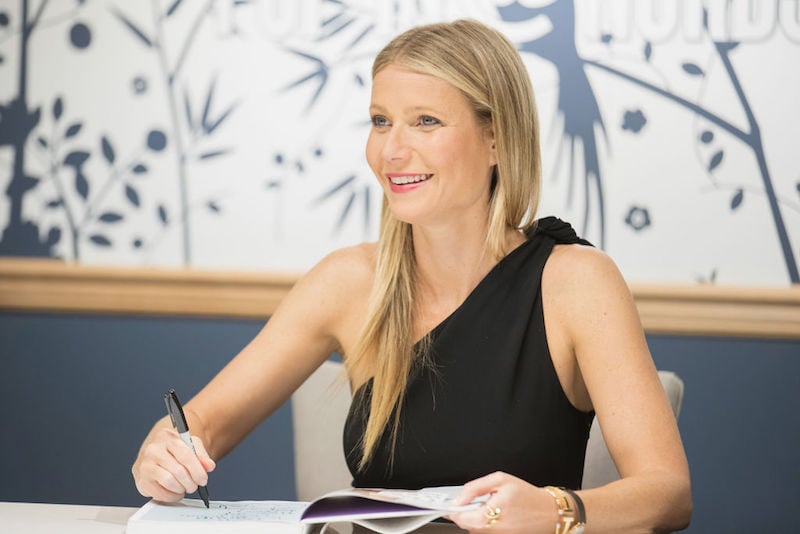 The website didn't just have watchdog groups and medical professionals come after it — but a columnist too! Goop was sued by nutritionist Charles Platkin who claimed the trademark name of his column, The Diet Detective, was being infringed upon by the site.
According to the New York Post, Platkin claimed he reached out to Goop to tell them to stop running their column under the same name, but they didn't. He then claimed his attempt to negotiate was refused. The whole thing was later resolved quietly between the two parties.
Follow Nicole Weaver on Twitter @nikkibernice.
Check out The Cheat Sheet on Facebook!