'Halo: Nightfall' Unveiled at Comic Con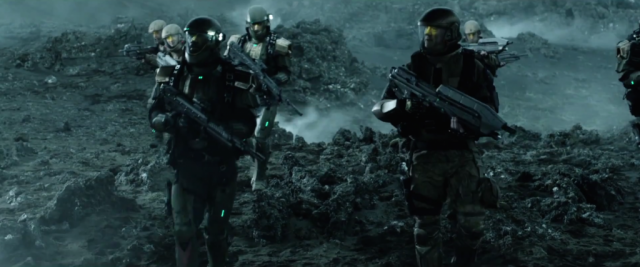 Microsoft (NASDAQ:MSFT) has given fans their first look at the live-action series Halo: Nightfall, based on the hugely popular video game series, at the 2014 San Diego Comic Con. Executive produced by Ridley Scott (Prometheus, Blade Runner) and directed by Sergio Mimica-Gezzan (Falling Skies, Under the Dome), Halo: Nightfall will follow in the footsteps of the miniseries Halo 4: Forward Unto Dawn that preceded the video game Halo 4 with Nightfall leading into Halo 5: Guardians.
Halo: Nightfall will consist of five episodes that will launch on a week-by-week basis as streaming videos on Xbox One, Xbox 360, and Windows 8.1 devices this November. The official synopsis of the series is as follows:
Taking place between the events of Halo 4 and Halo 5: Guardians, Halo: Nightfall follows the origin story of legendary manhunter Jameson Locke (Mike Colter) and his team as they are caught in a horrific terrorist attack while investigating terrorist activity on the distant colony world of Sedra. Led by Locke, the Office of Naval Intelligence (ONI) agents are forced to coordinate with a Sedran commander with a remarkable history and deep-rooted mistrust of ONI. As the plot unravels, they're drawn to an ancient, hellish artifact where they're forced to fight for their survival, question everything, and ultimately choose between their loyalties and their lives. Agent Locke is a new character in the Halo universe poised to play a major role in Halo 5: Guardians releasing on Xbox One in 2015.
Scott told audiences at Comic Con that his work on Halo: Nightfall is the first time he has explored storytelling through video games. "With Halo: Nightfall, we're pioneering a new medium in terms of interactive storytelling on Xbox," he said. "It's going to be fun for long-time fans to see how the worlds come together with an ambition to attract new fans along the way with what we've created."
Starring alongside Mike Colter (The Good Wife, American Horror Story) are Christina Chong (24: Live Another Day), Steve Waddington (The last of the Mohicans), and Luke Neal (Wilderness). Halo: Nightfall is written by Paul Scheuring, the creator of Prison Break, and is being produced as a co-production between Scott's Scott Free Productions and Microsoft's 343 Industries.
The next year or so is shaping up to be an important time for the long-running Halo series. After Halo: Nightfall debuts this November, Halo 5: Guardians will be released on Xbox One in May 2015. Additionally, the live-action film version of Halo, long mired in development hell, has been given a jumpstart in the form of a live-action TV series produced by Steven Spielberg. Director Neill Blomkamp, who was actively developing the Halo film before studio issues led him to direct District 9, has been rumored to be involved with the series.
More From Entertainment Cheat Sheet: