Halsey and Suga Took a Picture at the Jingle Ball and BTS Fans Are Losing It
Christmas came early for fans of BTS and Halsey. Recently, Halsey released a single with Suga, entitled "Suga's Interlude." Within a few days, the song earned over a million streams on Spotify and now, the artists have a chance to celebrate at the Jingle Ball. Here's what fans are saying about Halsey and Suga's song and their adorable picture together.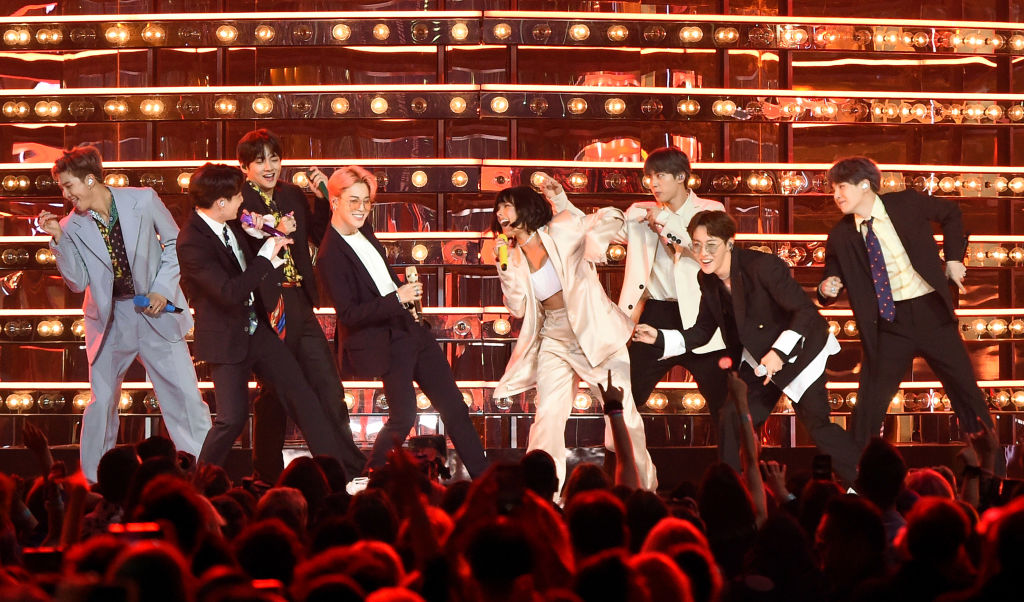 Halsey recently released 'Suga's Interlude' off of her album 'Manic'
Although we're still a few weeks away from Halsey's next full-length album, the artist offered a peek into the project with two singles — "Finally // Beautiful Stranger" and "Suga's Interlude," featuring Min Yoongi, a rapper from BTS.
Both singles premiered on Dec. 6, 2019. Since then, "Suga's Interlude" earned almost three million plays on Spotify and over three million views on YouTube. As a result, Halsey shared a message on her Instagram account.
"So unbelievably proud and happy with 'Suga's Interlude,'" Halsey wrote on her Instagram Story. "This song was very carefully crafted by us. Every production choice by all of us was intentional to provoke a feeling. I wanted Yoongi because I am a huge fan of his solo music and I knew he would be the perfect person to paint a picture that was beautifully tragic. And I am honored to have, on my album, such a song that transcends language and shows that the human experience is fundamentally the same universally. Especially amongst creatives. To be both blessed and tormented. Legend!"
Halsey and BTS' Suga met up at the Jingle Ball to celebrate the success of their song
Maybe it was luck, maybe it was fate, maybe it was a Christmas miracle, but both Halsey and BTS appeared at the iHeartRadio Jingle Ball Tour. There, Halsey and Suga took a picture, Halsey posting it to her Instagram account on Dec. 6, 2019.
This all happened on the same day "Suga's Interlude" dropped on most streaming platforms. As a result, some fans took to social media, writing their support of this new song and the artists behind it.
Halsey and Suga took a picture together and Halsey shared it on her Instagram account
Within a few hours, the picture earned over a million likes, mostly from fans of BTS and Halsey. Some even took to Twitter, sharing their love for these two musicians and their recently released song, "Suga's Interlude."
"Halsey's thoughts on her collab [wite] Suga adds to the mood of the song and to my elated adoration for our Min Genius. Yoongi, as all of BTS, has such a unique way of painting beautifully introspective reflections on the human psyche w/their lyrics. It's pure poetry," wrote one Twitter user.
"Halsey chooses very careful and accurate words whenever she talks about Yoongi or 'Suga's interlude.' It just goes to showcase that this is much more than just another collaboration, rather it's a story that everyone can relate to. I love this project and respect it so much," said another Twitter user.
Music by BTS, including Map of the Soul: Persona, is available on Spotify, Apple Music, and most streaming platforms.