Halsey Confirms She's Dating Evan Peters in the Most Horrifying Way
Singer-songwriter Halsey confirms dating rumors with Evan Peters after calling him her boyfriend on 'The Ellen DeGeneres Show' on Oct. 30.
In September 2019, rumors swirled when multiple publications reported Halsey and Evan Peters were dating. Ever since, neither the "Closer" singer nor the American Horror Story star disclosed the status of their relationship. However, Halsey and Peters were spotted together on multiple occasions, including the AHS 100th episode celebration on Oct. 26. But now, it seems Halsey openly confirmed Peters as her boyfriend. And it happened in the most terrifying way imaginable.
Halsey confirms Evan Peters dating rumors on 'The Ellen DeGeneres Show'
On Oct. 30, Halsey stopped by The Ellen DeGeneres Show, where she opened up about her Halloween celebrations. The "Without Me" crooner then shared her costume as Marilyn Manson with the audience.
"Oh, well, I really wanted to do something really glamorous and feminine. I like flowers and pink and stuff like that. So, uh, I went as Marilyn Manson," she said as DeGeneres displayed the costume taken from Halsey's Instagram.
The host also pulled up a photo of Halsey and Peters from the 100th episode celebration of American Horror Story. "I was Cher," Halsey said. And of course, DeGeneres had to ask about her date. "It's Evan Peters," Halsey responded.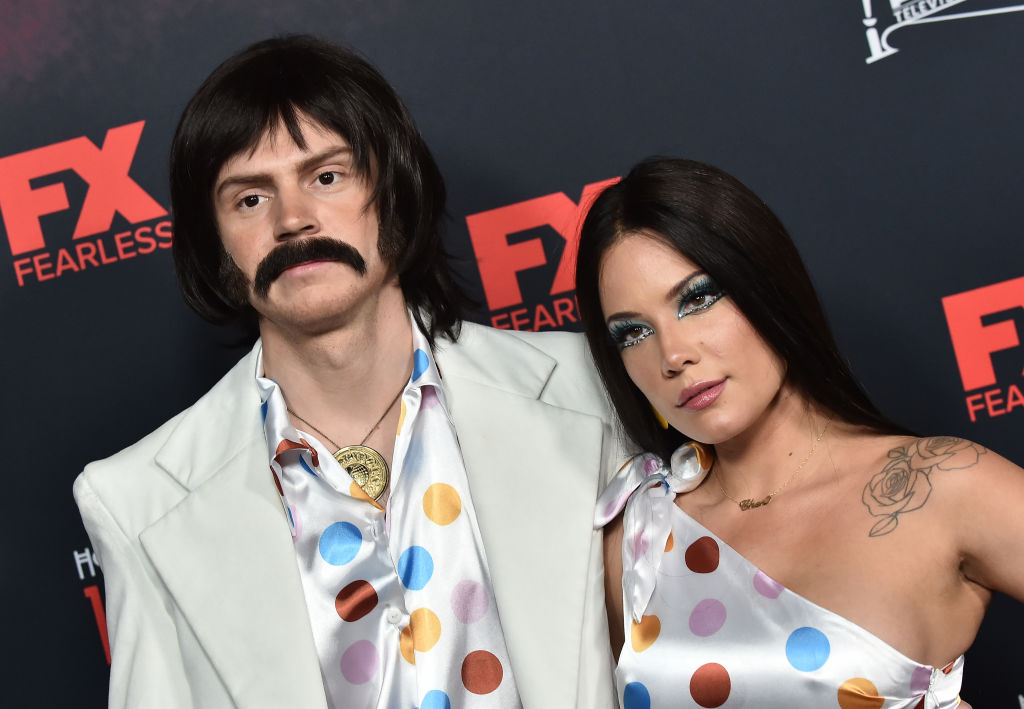 "And so you had two different outfits for –" DeGeneres continued as a man in a long, black wig jumped out and scared the living daylights out of Halsey — and the audience.
"You distracted me with the boyfriend question," Halsey exclaimed, regaining composure. "I wasn't ready!"
Now, this is the first time Halsey has publically labeled Peters as her boyfriend, thus officially confirming the dating rumors. And that notion wasn't lost on the singer.
"I don't know what's scarier though," she told DeGeneres. "Having to talk about my boyfriend on TV or having that happen. That was a double whammy."
When did Halsey and Yungblud break up?
Fans might remember Halsey dating English singer-songwriter Yungblud. However, when romance rumors sparked between Halsey and Peters, E! News revealed Halsey and Yungblud split in early September 2019.
"It was sort of abrupt and it was Halsey's decision to end the relationship," a source told the publication. "Halsey has been very busy with her work commitments and traveling a lot recently, and their relationship was getting rocky. She's been very busy and focused on her career, which took more of a priority."
Then on Oct. 29, Halsey addressed her breakup with Yungblud in a now-deleted tweet.
"Sometimes. People just break up," she wrote, according to People. "It doesn't mean someone cheated or something bad happened or someone f–ed up. Sometimes. It just happens. Because life is constantly changing. And adults stay friends and move on."
Following the tweet, Halsey added a follow-up. "Now u know what u know," she noted with a heart emoji.
What happened to Evan Peters and Emma Roberts' relationship?
Meanwhile, American Horror Story fans may also be wondering about Peters' previous engagement with his co-star Emma Roberts. According to E! News, Roberts and Peters split in May 2019, officially ending their 5-year on-and-off relationship.
"They have had their ups and downs for a while now and were really trying to make it work," a source told the publication at the time. "Their split was a long time coming."
Then on Oct. 24, Us Weekly reported Peters and Roberts experienced a toxic relationship when they were together. "Evan was so in love with Emma and their relationship became very toxic," the publication's source said. "They had the highest highs and then would not speak for days. He took a long time of figuring himself out again before he was ready to date."
Regardless of their past relationships, it seems Halsey and Peters are enjoying their time together. And now that the singer-songwriter and actor have confirmed their dating status, fans are wishing them the very best.
Check out Showbiz Cheat Sheet on Facebook!