Halsey And Evan Peters, Plus Other Celebrity Couples Who Are Doing Halloween 2019 Right
Yes, Halloween 2019 is upon us. And even when the holiday doesn't fall on a weekend, you can guarantee at least a week of incredible parties that celebrities get to dress up for. Here's a look at some of the best couple's costumes we've seen so far this year, and it's not even Oct. 31.
Halsey and Evan Peters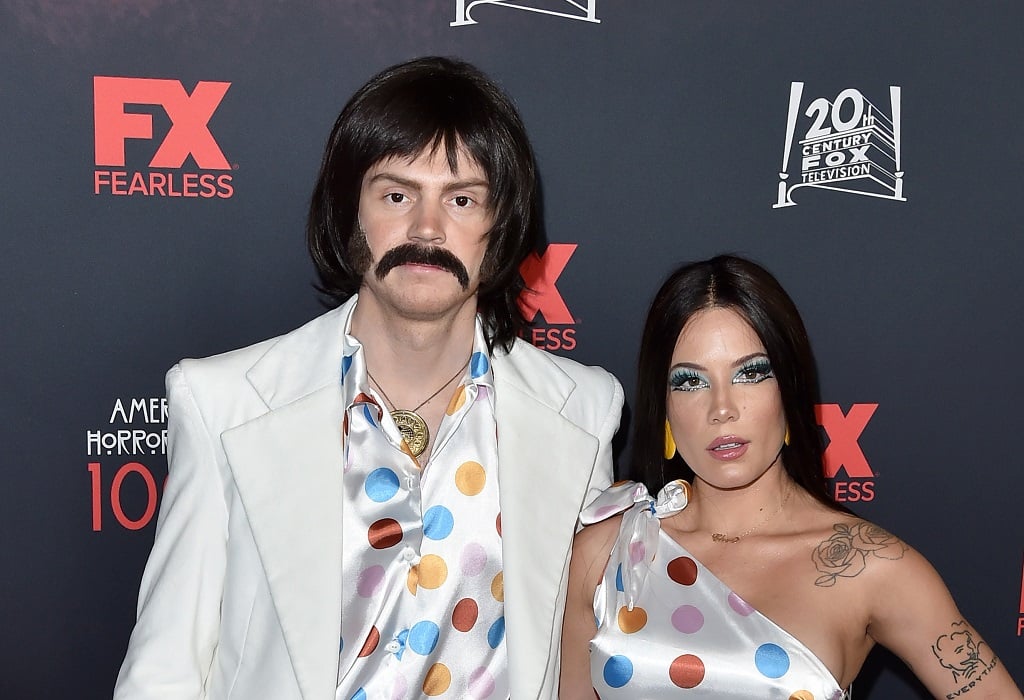 Actor Evan Peters and singer-songwriter Halsey have been a rumored couple for about a month now, but it wasn't until just recently that they confirmed their status. How did they do it? By attending the American Horror Story 100th Episode celebration dressed as Sonny and Cher. (And Yes, Peters' ex Emma Roberts was also in attendance. We hope that wasn't awkward.)
But they didn't stop there. Halsey shared photos of the two dressed up yet again. She went as Marilyn Manson in some very confusing makeup, while Peters wore clown makeup and a shirt as a member of Insane Clown Posse. Halsey then went on Ellen DeGeneres' Show and confirmed their relationship further,
Jessica Biel and Justin Timberlake
You may recall that, just about a week ago, actress Jessica Biel went on The Tonight Show with Jimmy Fallon, where she dropped this interesting tidbit of news: She was never much of an 'NSYNC fan growing up. Why is this so controversial? Because she's married to the group's frontman, Justin Timberlake.
The singer is known for being a bit of a prankster. And so to get his wife back for her comments, they wore a hilarious couple's costume: Biel as Timberlake during his famous era, and Timberlake as her extra-large microphone. Biel herself posted a photo on Instagram, and it's honestly hilarious.
Nicki Minaj and Kenneth Petty
Arguably the most popular costumes these days are superheroes. And just because someone is a celebrity, it doesn't mean they're immune from the craze. It just means they're able to pull off the look with even more elaborate costumes and makeup than the rest of us.
Rapper Nicki Minaj, who recently married her childhood friend Kenneth 'Zoo' Petty, got in on this comic book action. She dressed up as Harley Quinn from Suicide Squad, while Petty, naturally, took on Jared Leto's variation of the Joker.
Ciara and Russell Wilson
When you're choosing to honor royalty, you have to do it right. Singer Ciara knows this, and so she and husband Russell Wilson (an NFL athlete), pulled out all the stops as Jay-Z and Beyoncé from the "Apes**t" video, which was released all the way back in June 2018.
Ciara donned Bey's silky purple suit, elaborate jewelry, and high half-ponytail. Wilson managed to capture Jay's attitude in a fitting blue jacket and pants. They made it look like they were in the Louvre, as the Carters were. But instead of posing in front of the Mona Lisa, they stood before a photo of the Obamas. Seriously, they thought of everything.