Halsey's Upcoming Album Features BTS's Suga and We Are Shook
Halsey's new album Manic drops on Jan. 17, 2020. On Dec. 3, 2019, Halsey revealed the tracklist for her upcoming album. To the world's delight, BTS's Suga is featured on a track in the album.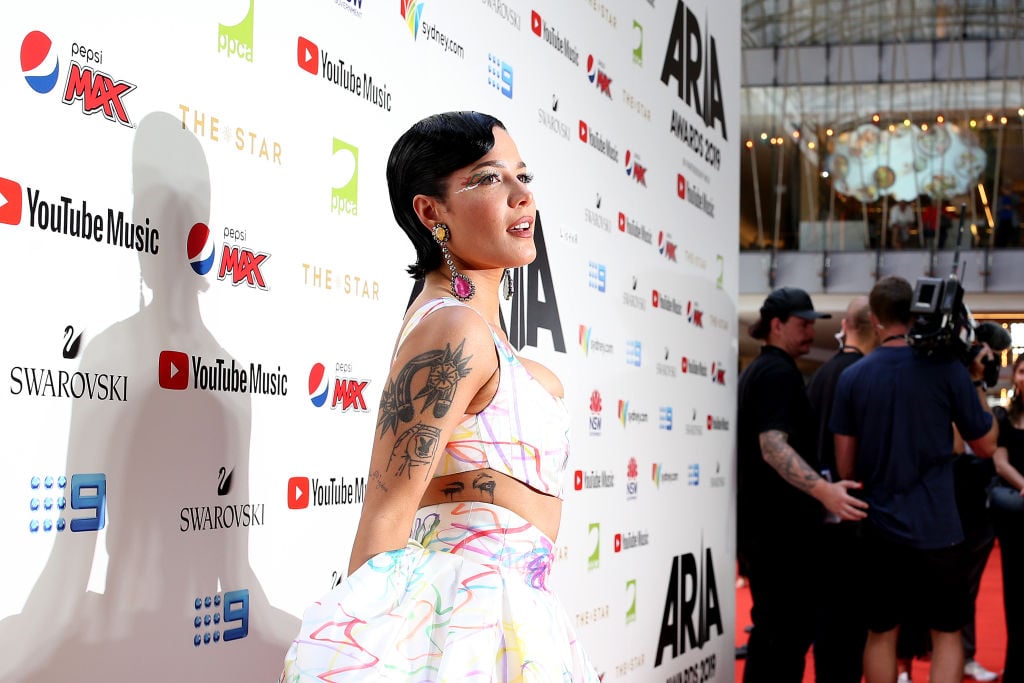 Suga will be on Halsey's album 'Manic'
On social media, Halsey posted a video of the herself writing out the tracklist for Manic in a notebook. Some of the songs have already been released as singles. So far, Halsey has released "Without Me," "Graveyard," and "Clementine."
The list includes 16 different songs, and track No. 13 is "SUGA's Interlude." Halsey has a close friendship with the members of BTS and she collaborated with them on their 2019 hit, "Boy With Luv." After Halsey posted the video on social media, BTS fans expressed their excitement for the upcoming collaboration.
One fan tweeted, "SUGA: INTERLUDE?!????!!??!?!!!"
"What a great day to be Army! It's Jin's birthday and we have news of a Suga Interlude in Halseys new album! Virtual hug fam," another fan tweeted.
Halsey explained why she wanted Suga on the album
After announcing the tracklist for Manic, Halsey held an Instagram live. In the Instagram live, Halsey explained the background of some of the songs. Halsey also explained why she wanted Suga on the album.
"Yoongi's like really introspective, and this really like intelligent perspective on you know, where we are and what we're doing in our unique lifestyles," she said.
Halsey also told fans more about what Suga's song will be like on Manic.
"One of them is Suga from BTS who is like an incredible, incredible musician," she said. "And he really fit like the sentiment like vibe of the album and like what it's about. So, I felt like I really wanted to include him."
Fans reacted to Halsey's Instagram video
Halsey and the members of BTS are known for their genuine friendship, and Halsey has always been swift to defend BTS. After Halsey held the livestream on Instagram, BTS fans posted their gratitude to Halsey for recognizing Suga's talents.
"Halsey talking about suga's feature in her upcoming album on her live. I love when she said 'he's an incredible musician' that warmed my heart, bc he really is," a fan tweeted.
"HALSEY JUST SAID ON INSTA LIVE THAT SHE WANTED TO COLABORATE WITH SUGA CAUSE HIS VIBE AND MUSIC IDEAS FIT WITH THE THE WHOLE ALBUM IM GONNA CRY," wrote a Twitter user.
"halsey said she included Yoongi because he fits the sentiment and the vibe of the album and in the live she also said Yoongi has an intelligent perceptive about the unique lifestyles. Maniac is personal to Halsey, I am so proud of Yoongi being in it," one fan tweeted.
Halsey's album will be an introspective one
Over the past few months, Halsey has given hints about what kind of tone Manic will take on. In an interview with Billboard, Halsey explained why her hit song "Nightmare" is not on the album and why "Graveyard" fits Manic better.
"I sat there to make this album and I was like, 'Yeah, I'm going to make an angry album. And I wasn't mad," she said. "It's exciting. … I'm closing a chapter in this record that I feel very much like I needed to put the final word on, put the nail in the coffin, if you will. Graveyard, marry it."
Suga released a solo mixtape in 2016 titled Agust D under his alter ego Agust D. In the mixtape, Suga used music to explore mental illness, pursuing his dreams, and his life in the industry. Because both Suga and Halsey use music in similar ways, it makes sense Halsey wanted him to be included on her upcoming album.