Which 'The Handmaid's Tale' Cast Member Has the Highest Net Worth?
The Handmaid's Tale has taken streaming by storm. The Hulu original series is based off of Margaret Atwood's best-selling novel. Now in its third season, the show doesn't seem to have any signs of slowing down. In fact, several new cast members joined the series this season. But which cast member has the highest net worth? Here are the six wealthiest actors and actresses of the series.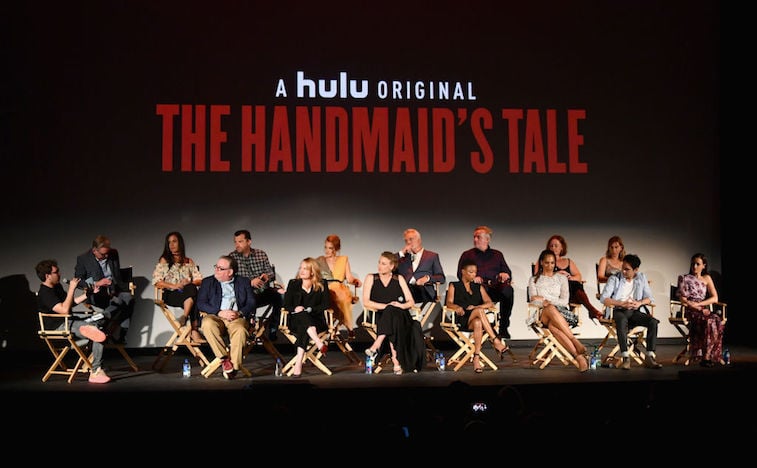 Samira Wiley (Mora/Ruby): $3 million
Samira Wiley's name became much more well-known after she landed the role of Poussey in Orange is the New Black. But she switched over from Netflix to Hulu to star in The Handmaid's Tale, and so far, it's paid off. Wiley got her first major acting gig back in 2011, when she starred in "The Sitter." Her streaming series appearances have created the bulk of her net worth; she's worth an estimated $3 million today.
Ann Dowd (Aunt Lydia): $4 million
Ann Dowd is mostly known for her supporting roles in American films, though she seems to have found her niche in The Handmaid's Tale. Dowd previously had roles in "Marley & Me," "Compliance," and "Captain Fantastic," but she has moved into the web series by taking on her current role. Her acting career has netted her around $4 million.
Alexis Bledel (Emily): $9 million
You probably know Alexis Bledel from starring in the longtime teen/young-adult series Gilmore Girls. Bledel was made famous for her role as Rory Gilmore, but she's found her way in other endeavors, too. She has starred in movies as well, including the film adaptation of "Tuck Everlasting" and as Lena Kaligaris in "The Sisterhood of the Traveling Pants." Her longtime acting career has earned her a net worth around $9 million.
Joseph Fiennes (Commander Fred Waterford): $10 million
Joseph Fiennes is a British actor who has had roles in "Shakespeare in Love" (arguably his most known role before The Handmaid's Tale) and the 1998 film "Elizabeth." He won awards for both performances. He was also in the second season of American Horror Story. Today, Fiennes is worth an estimated $10 million.
Yvonne Strahovski (Serena Joy Waterford): $12 million
Australian actress Yvonne Strahovski had roles in Chuck from 2007-2012 and Dexter form 2012-2013 before landing her lead role in The Handmaid's Tale. She's also received roles in other shows, such as 24: Live Another Day and The Astronaut Wives Club. Today she's worth $12 million.
Elisabeth Moss (June Osborne/Offred): $14 million
Elisabeth Moss has been in acting for decades, and she's most well-known for her roles in Mad Men and, of course, The Handmaid's Tale. She also starred in The West Wing, along with movies such as "Us" and "Get Him to the Greek." Moss has earned two Primetime Emmy awards and two Golden Globe awards for her acting. Moss practices Scientology, which some have questioned, especially with her role in The Handmaid's Tale. Her long acting history has earned her a net worth around $14 million.
Check out Showbiz Cheat Sheet on Facebook!