Hannah And Dylan Share The Secret To Finding Love On 'Bachelor In Paradise'
Hannah Godwin and Dylan Barbour developed a special connection on the most recent season of Bachelor In Paradise. Through the course of the show, the couple got to know each other, became friends, fell in love, and got engaged. Today, they're enjoying life as a newly engaged couple, currently gallavanting around Paris, sharing their love with the world on Instagram.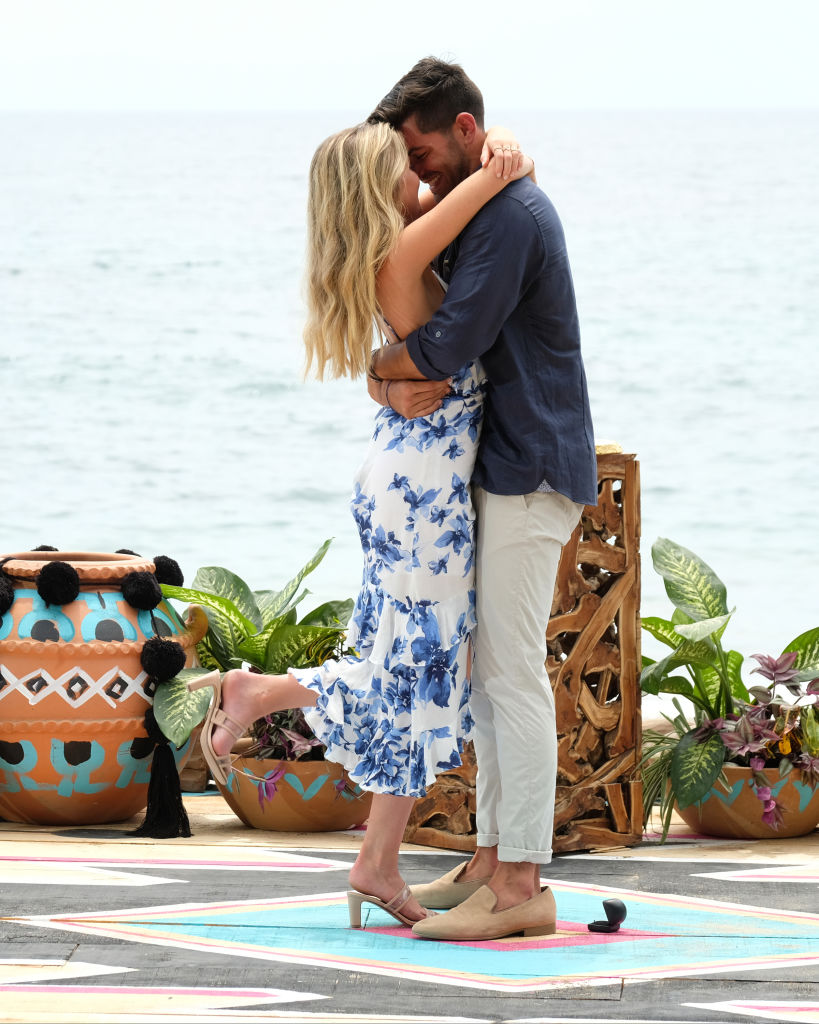 The Bachelor franchise doesn't have the best track record when it comes to successful relationships. But, of the dating shows, Bachelor In Paradise seems to deliver more lasting couples than its counterparts.
Of the couples formed on this most recent season of Bachelor In Paradise, Dylan and Hannah seemed to have the least amount of doubt moving forward as engaged.
So how did they do it? How did they wrap their heads around promising to spend the rest of their lives with someone after only getting to know them over the course of a few weeks?
Hannah G.'s tip for finding love on 'Bachelor In Paradise'
If you ask Hannah G., she'll say the first step, for her, was being completely herself.
"If you're not truly being yourself [on the show], then how can somebody fall in love with you?" she said in a recent interview with Glamour. "How can you open up enough and be vulnerable enough to let somebody in if they don't actually know you? If I was like, 'Oh, yeah, that was all fake, by the way,' it can't work like that."
Though Hannah swears she was truly being herself on BIP, Dylan feels her "entire personality" was essentially "cut out." So we'll just have to take her word for it.
Despite what was shown, Dylan promises that Hannah had just as strong feelings for him as he did for her.
"I've said it before, but I feel like a lot of people think Hannah is one person, but she's the complete opposite," he says. "She's hilarious, sassy, really smart, really driven. I didn't know what to expect, and when I got there, she just blew me away," he said during the same interview.
Dylan's tip for finding love on 'Bachelor In Paradise'
But Dylan agrees with his future bride about being your true self on the show. He thinks fully committing to the idea of falling in love on TV is imperative for a successful relationship.
"You just commit to it," he said. "I always call it committing to the process. The producers have a good saying: 'If you're going to be here, then be here.' Just be completely accepting of 'Yeah, you're going to be filmed. Just go for it.'"
Dylan and Hannah are probably both pretty happy that they committed to the process.
A luckily for them, they can rewatch their commitment any time they want.
"It makes it, at least for us, a lot more special because we can rewatch it," says Dylan.
Hannah agrees: "It's cool to watch our love story."
Read more: 'Bachelor In Paradise': Dylan Was Nervous Hannah G. Was Going To Turn Down His Proposal