Hannah Brown Hilariously Responds to Her PCA Win on Instagram: 'I Also Won the 2019 Most Awkward Person Award'
2019's Bachelorette Hannah Brown didn't finish her season with a fiancé, but she is already working towards bigger and better goals, like the Dancing With the Stars Mirror Ball.
Brown also won a People's Choice Award on Nov. 11, snagging The Competition Contestant of 2019 award for her captivating performance on The Bachelorette. She beat out two former boyfriends, Bachelor Season 23 lead Colton Underwood and Brown's season 15 runner-up, Tyler Cameron. Both men were also nominated in the category. However, Brown managed to win the hearts of PCA voters and took home the prize.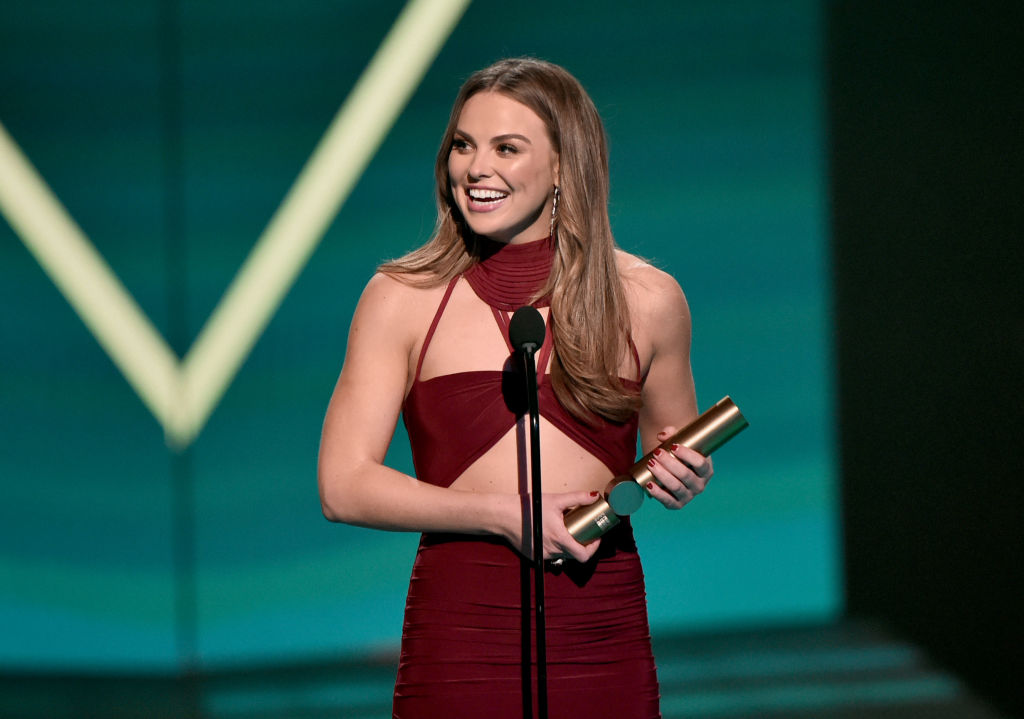 Brown took to Instagram to share shock and gratitude for her PCA award
On Brown's Nov. 11 Instagram Story, the DWTS contestant seemed to be in a state of disbelief. But the Alabama native effusively thanked her fans, as she has a lovely habit of doing on social media. But the reality star also didn't miss an opportunity to make fun of herself for being incredibly awkward around celebrities.
"I'm here back in my natural habitat," Brown said, snuggling up with her stuffed monster, and talking into her phone camera.
"Um, I just won a People's Choice Award," she said, stunned. Then the former Bachelorette adopted a classic Hannah-Brown curse-word placeholder: "that's fridgin' crazy."
"Thank you guys, so much," Brown told her Instagram followers."I'm really blessed to have a lot of people who care a lot about me and support me through all the wild and fun." She signed it off for the time being.
Hannah Brown and Alan Bersten are competing together on 'Dancing With The Stars'
"Speaking of that," Brown continued on Instagram, "I need to go to bed because I need to be up at 7 a.m. for another little thing I'm doing, Dancing With the Stars." Brown was paired with ballroom expert Alan Bersten.
"Trying to win that Mirror Ball," she said of the show's 1st place trophy. Let's make it happen." the celebrity contestant called on her supporters to help her stay on the dance competition show.
"I'm gonna do my part," Brown promised. "You guys can do your part tomorrow." Fans of DWTS vote on their favorite celebrity-professional couple each week.
Hannah B. reached the height of awkward, even for Hannah B.
Although Brown told her Instagram Story viewers she'd be heading to bed, she popped back in with another series of videos to recap the awards ceremony on Nov. 10. The former beauty queen even crowned herself with another title.
"Before I like, go to bed and take off this dress," Brown started. The Bachelorette alum attended the 2019 People's Choice Awards in an uber-sexy red gown, complete with a mermaid train and a cutout over her jealousy-inducing abs.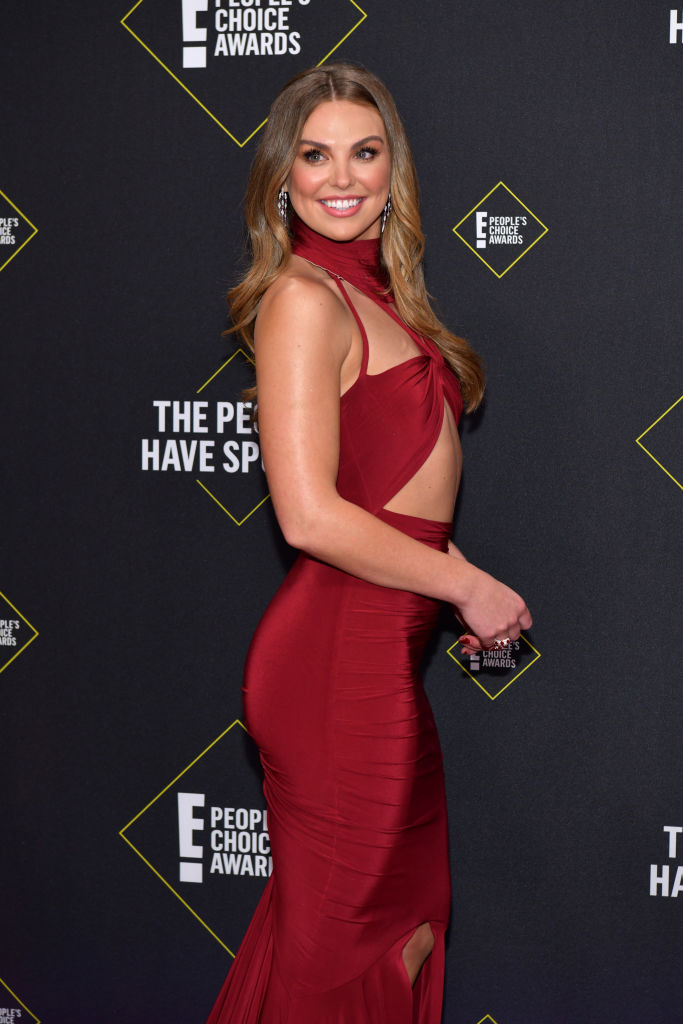 She was still wearing it in the second series of Stories. Brown took this opportunity to gift herself her own prize for the evening–albeit a much more self-deprecating one.
Brown admits she was "the biggest weirdo ever" with celebrities at the People's Choice Awards
"I also won 2019 Most Awkward Person Award when I introduced myself to Pink," she joked. "Then again, with Jimmy Fallon, then again with Adam Sandler," Brown went on. She seemed to not be able to believe what she said to the 50 First Dates actor.
"I told Adam Sandler that if he was able to let me meet Jennifer Aniston, I would sign whatever, I would sign my soul," she stopped, laughing at herself. "Not really."
Brown went on to say, "it was the weirdest thing." The Bachelor alum could only describe it in, well, demonic terms.
"I just had like an exorcism come over me of being the biggest weirdo ever," she said.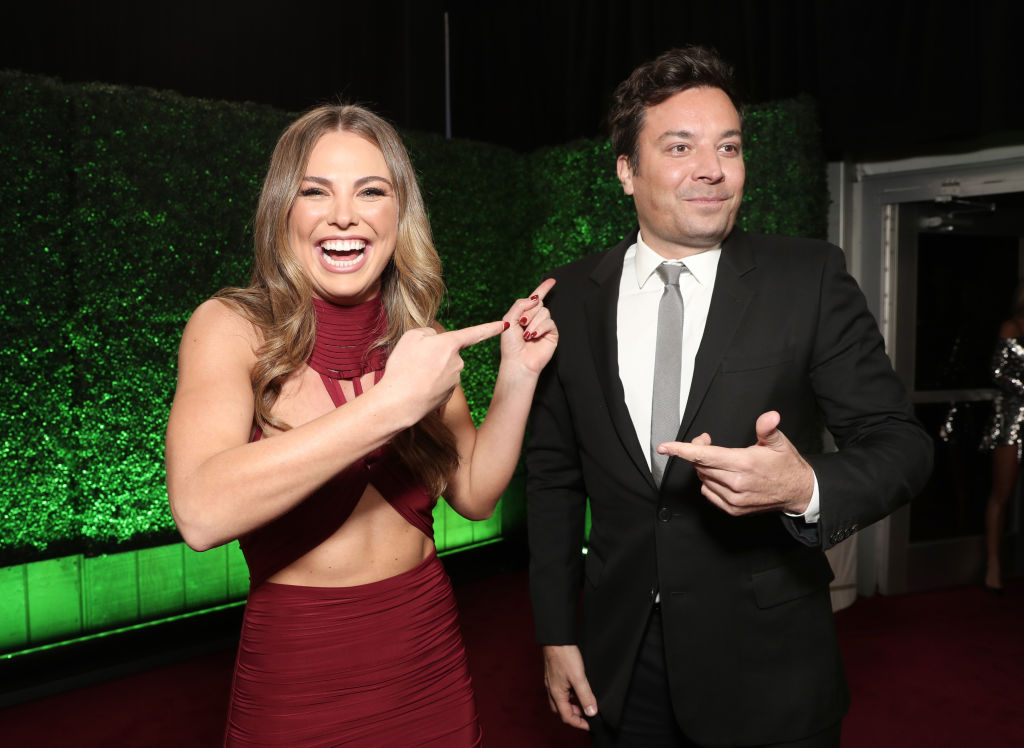 We all recall Brown's horrifying attempt at a toast on her first one-on-one date with then-Bachelor Colton Underwood. So we can understand how she felt this high-stakes social interaction was reminiscent of evicting demons.
Ever the beam of positivity, Alabama Hannah closed it out: "But it was still cool; it still happened."