Hannah Brown's Prediction for the People's Choice Awards Is So Hilariously Awkward
Roll tide, y'all. Hannah Brown from The Bachelorette and Dancing With the Stars is nominated for a People's Choice Award — along with her ex-boyfriends, Tyler Cameron and Colton Underwood. Now, members of Bachelor Nation might think the competition might be a little awkward, given their past on the ABC reality franchise. However, it seems Brown has a fun sense of humor and even predicted how her interactions with Cameron and Underwood will go down on Nov. 10. And yes, it's just as hilarious as you might think.
Bachelor Nation's Hannah Brown talks Tyler Cameron and Colton Underwood for the People's Choice Awards
When speaking to guest host Justin Hartley on The Ellen DeGeneres Show, Brown opened up about being nominated for a People's Choice Award for her leading role on The Bachelorette.
"They like you, they really like you," Hartley told the reality star.
"They love my drama," Brown clarified with a smile.
Brown then delved into her nomination for the "Best Competition Contestant" category alongside Underwood and Cameron. However, Brown doesn't seem bothered, noting she's honored to be up for a People's Choice Award at all.
"I am so honored to be nominated for this," she said.
Nevertheless, the former Bachelorette couldn't help but laugh about the possibility of sitting next to Cameron and Underwood at the show.
"It would be really weird if I had to sit in between them and stuff at the show. Wouldn't that be cool? Like, hey, what's up?" Brown said, pointing her fingers to the side, as if she were speaking to Underwood and Cameron at the People's Choice Awards.
"It would be good TV," she added.
Hannah Brown opens up about dating after 'The Bachelor' franchise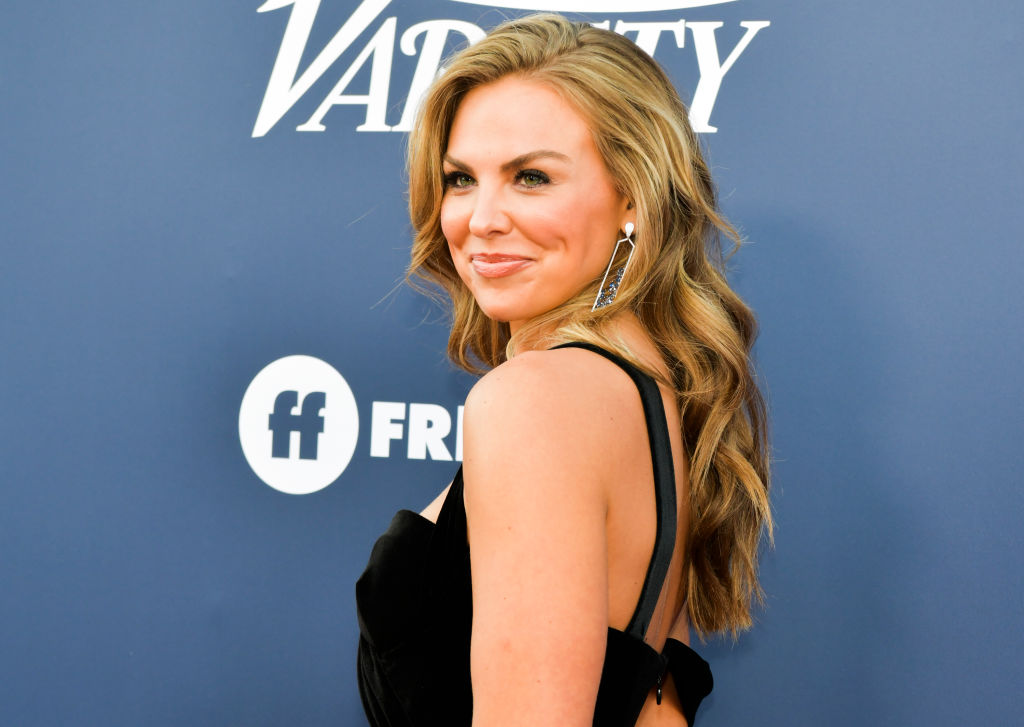 During The Ellen Show interview, Hartley asked Brown about dating after The Bachelor and The Bachelorette. And Brown confirmed she is single.
"I barely have time to get paper towels, and I don't have time to date right now," The former Bachelorette explained. Brown then noted she tried to date 30 men at the same time while on the show. "I spent a whole year of my life trying to date and it didn't work out," she said.
Hatley also wondered if Brown had any advice to give for the next reining Bachelorette. "Well, I don't know if we have time for all that," she laughed. "I think trying to date 30 guys at one time — it's a tough thing to do."
Regardless, these are harsh realities no one wants to deal with. And it seems Brown is ready to move forward with her life. "It was great, but I'm moving on," she said.
Hannah Brown shuts down dating rumors with Alan Bersten from 'Dancing With the Stars' and Tyler Cameron
Now, Hartley wasn't playing any punches. He simply asked questions Bachelor Nation has been dying to know. And it appears Brown just straight up answered them — no matter how uncomfortable.
Immediately after Brown said she was ready to move on, Hartley segued the conversation and asked how her current relationship status is with Cameron.
"I have been so busy, and I think he's been so busy," Brown said. "And I wish him well. I'm just focusing on me right now, because that's really important."
Hartley also asked Brown about dating her DWTS partner, Alan Bersten. But, the ABC reality star didn't play coy.
"No, I'm not," Hannah said firmly. "I'm not. We're great friends. He kind of has to be my best friend. So I make him be. He cries about it, but it has been an amazing experience."
That said, Brown finished off the conversation by making it clear she isn't planning to date anytime soon. In fact, the DWTS contestant revealed she has "trauma from dating" after The Bachelorette.
"So we're not going to date right now," Brown said. "We're going to dance."
Voting for the People's Choice Awards might be over, but Brown's statements already prove she's a winner. And although things didn't work out with Underwood or Cameron, fans should know Brown is ready to take the world by storm — and she's more than capable of doing it on her own.
Check out Showbiz Cheat Sheet on Facebook!