'The Bachelorette's Hannah Brown Reacts to Peter Weber's Accident on 'The Bachelor'
It seems The Bachelorette's Hannah Brown and The Bachelor's Peter Weber will always support one another — even if they aren't dating anymore. On Oct. 7, Weber suffered from a "freak accident" while filming the ABC reality series. Then on Oct. 13, Brown reacted to the mishap at the Girl Up #GirlHero Awards. And the 24-year-old did so while simultaneously keeping her future in mind.
What happened to Weber on 'The Bachelor'?
According to Radar Online, Weber split his head open during a golf game while filming The Bachelor in Costa Rica. "He went to step on the cart but fell and split his face open on two cocktail glasses he was carrying," a source said. The publication also reported Weber was rushed to the hospital and received 22 stitches.
Meanwhile, a source noted Weber's face injury wasn't as severe as some new outlets insinuated, as reported by CNN. Bachelor Nation host Chris Harrison then explained the situation on Instagram. He also clarified Weber was doing just fine.
"There's been some wild claims and rumors about Peter today," Harrison wrote. "Peter suffered a freak accident. He got a cut on his head, he did get stitches but he's 100% OK and production is already back underway. He's still the dashing, handsome pilot we've all dreamed of."
On Oct. 13, People reported Weber quickly returned to filming The Bachelor in Chile. He has also gotten his facial stitches removed.
Brown supports Weber and wishes him well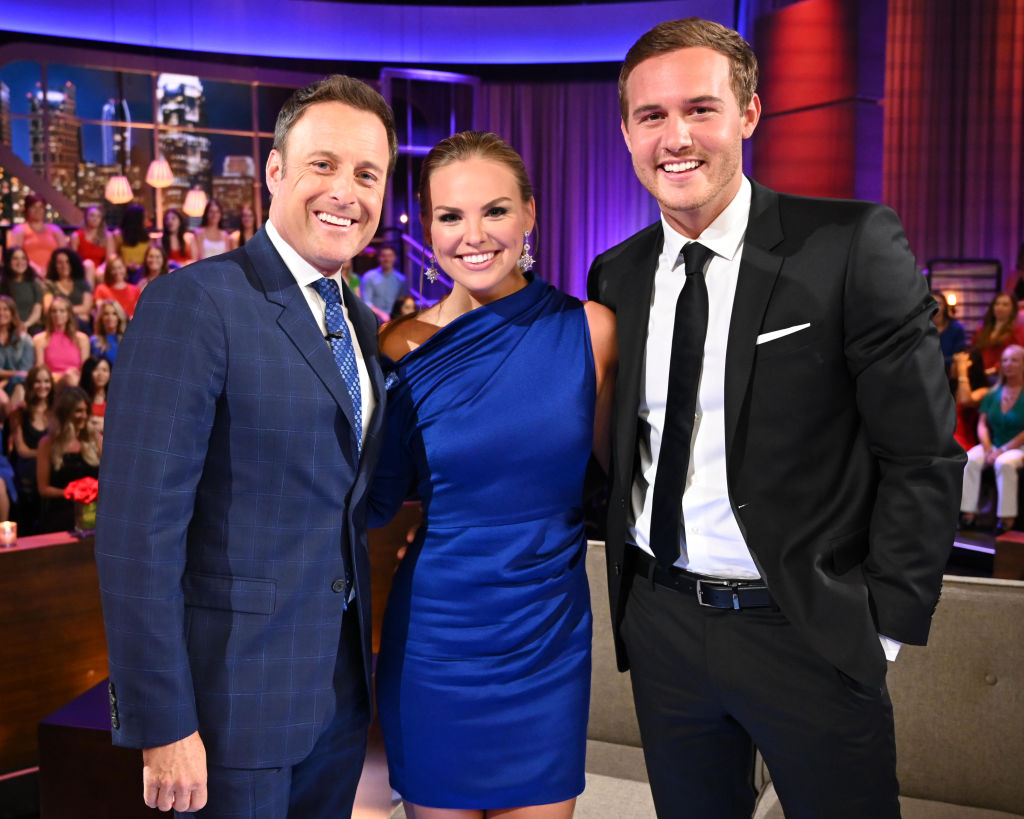 Following Weber's accident, Brown offered her support during a group interview at the Girl Up #GirlHero Awards. "I've heard that I think he's OK," Brown noted, according to Life & Style Magazine. That said, Brown admitted she wasn't completely up to date on Weber's status.
The former Bachelorette lead then continued to wish the current Bachelor well. However, she also made it clear she has been focusing on her career, rather than her ex-boyfriends from the ABC reality series.
"I really have been focused on this journey for me, I think that's really important, too, to know when it's time to really focus on yourself as a woman," Brown said. "I had for a year where I was focused on finding love — which I think is great — but now I'm going to love on myself and focus on myself."
"So that's what I've been doing so I wish him well," she continued. "But right now, I am working my butt off in the ballroom and that is where I'm putting all my energy."
Brown's previous comments on 'The Bachelor' lead
Quite frankly, Brown doesn't need to keep tabs on Weber. But, it's nice to see she is still wishing him well. That said, Brown's comments don't exactly come as a surprise. Brown hasn't shied away from being a strong and independent individual ever since she first appeared on Colton Underwood's season of The Bachelor. She then kept that title throughout her season of The Bachelorette and is killing it on her Dancing With the Stars run.
Nevertheless, Brown has consistently offered her support for Weber. Following her DWTS performance with partner Alan Bersten, Brown opened up to Extra about Weber's new role as The Bachelor lead.
"I'm really happy for him," Brown told the publication on Sept. 23. "He's a great guy and I know he will be able to give love to somebody. And I hope he finds that person."
Brown also offered her support for both Weber and Mike Johnson, who was also a frontrunner for The Bachelor title. "I think Mike and Peter would have been great," she said. "But, it is not my decision. So, I'm really excited for Peter and I'm excited for what's to come for Mike in the future, too."
Bachelor Nation might have been disappointed Brown didn't choose Weber during The Bachelorette. However, both reality stars still seem to care for one another, while also pursuing their own projects. Now, let's hope Pilot Pete continues to recover as The Bachelor resumes filming and Hannah Beast advances to the top on DWTS.
Check out Showbiz Cheat Sheet on Facebook!