Hannah Brown's Been So Busy She 'Still [Hasn't] Completely Dealt With' What Happened To Her On 'The Bachelorette'
When Hannah Brown first learned that she was going to be the bachelorette she was excited, but she was also terrified.
In the "Men Tell All" episode of her season, she said she was initially nervous that the contestants would be disappointed to see her in the lead role.
"I will never try to say that the feelings that I had for [Luke Parker] weren't real because they were. It was the closest thing that I had to feeling love at first sight. But I think a lot of that came from being really insecure about being the bachelorette in the first place. I remember that when I got the call from [Chris Harrison] I was so excited but also I had this doubt of Oh my gosh are the guys gonna be disappointed? And am I gonna be able to live up to this standard that I thought I had to live up to?" she said.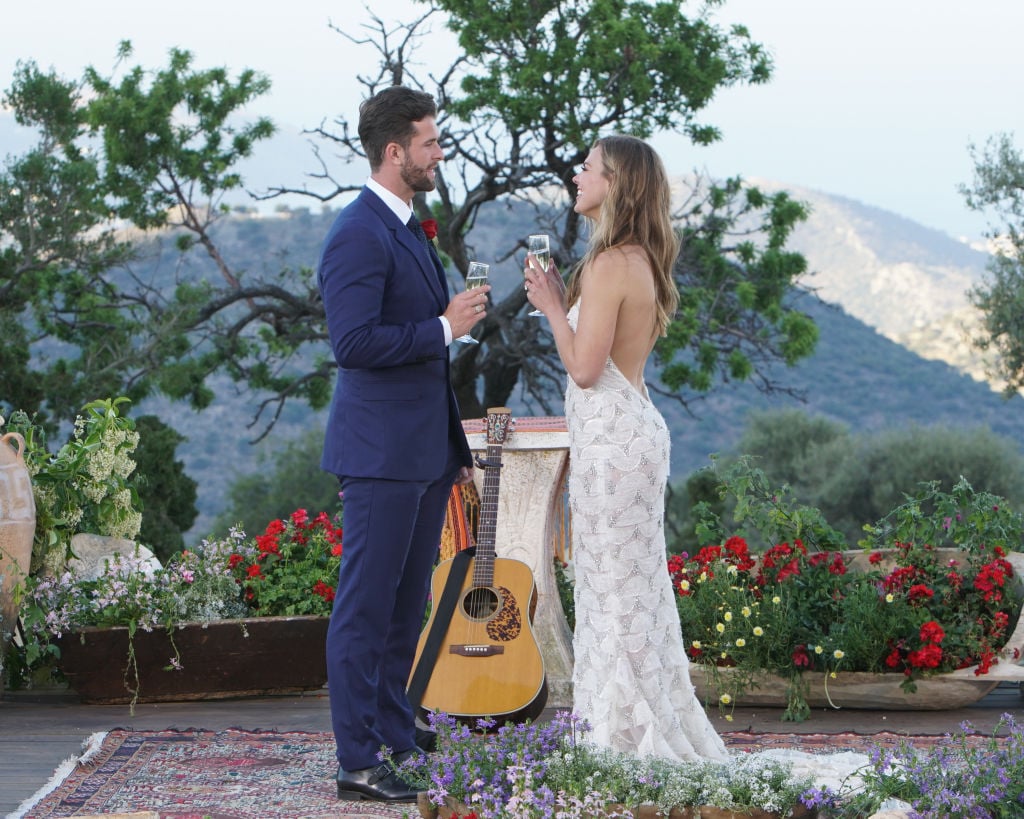 As The Bachelorette audience isn't soon to forget, Brown did go on to find love with Jed Wyatt–only to learn later that he'd come on the show with a girlfriend waiting for him back home.
After her season The Bachelorette finished airing, Brown dove right into competing on Dancing With The Stars. She thought it'd be a great way to move forward with her life, begin the next chapter. But she's still very much struggling with what happened to her at the end of her season.
Hannah Brown's 'DWTS' contemporary dance inspired by her relationship with Jed Wyatt
During the semi-finals of DWTS, Brown's world's collided when she performed a dance inspired by the heartbreak she suffered at the hands of Wyatt.
"This contemporary dance is going to be really hard for me. I'm doing it to "Lose You To Love Me" by Selena Gomez. I've had breakdowns throughout this process of dancing that have definitely stemmed from my heartbreak(s), but in those times I would have a cry and set it aside," Brown wrote in her week 10 DWTS diary for Bustle.
She continued: "This dance, though, has to channel that emotion. Alan is asking for that, and it's making me really nervous. I told him I don't know if I'm ready to do that. Basically, I'm just realizing how much I still haven't completely dealt with everything that happened to me on and after The Bachelorette."
Brown's partner, Alan Bersten, used the emotions Brown felt in her breakup with Wyatt to choreograph the dance.
"When we're creating this story for the dance and Alan is asking me what it felt like when all the events of The Bachelorette happened so we can use those feelings in the dance, I just started crying. I cried a lot. This is going to be a tough one, but I know it deserves my all, because what I went through definitely resonates with a lot of other people who have been through similar heartbreaks, even if they weren't on national television," she wrote.
Hannah Brown realizes her bigger purpose
Though Brown was nervous to perform her contemporary dance, she remembered that all the bad things that have happened to her in the past year have lead her to where she is today.
"I heard people screaming my name. I thought, you know, people know my name now. And I had to lose all of the things that I wanted to gain such an incredible opportunity and influence that will allow me to do a lot of good," she wrote.
Read more: 'DWTS': Hannah Brown Reveals The Reason Carrie Ann Inaba's Criticisms Have Really Gotten To Her