Hannah Godwin Shares A Funny, Kind Of Disgusting Memory From 'BIP' With Dylan Barbour
Hannah Godwin and Dylan Barbour got engaged on the most recent season of Bachelor In Paradise. Fans have collectively decided that they're #couplegoals and, looking at them together, it's easy to see why.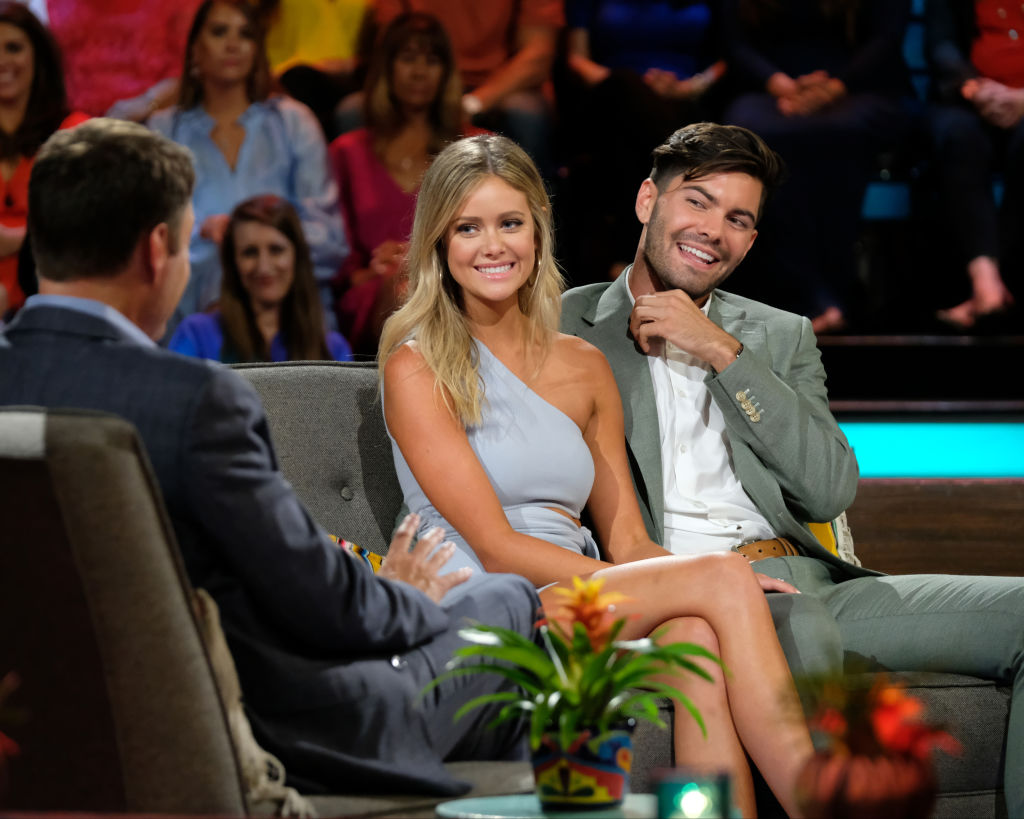 Hannah Godwin and Dylan Barbour share their tips for finding love on 'Bachelor In Paradise'
In an interview with Glamour, Godwin shared her secret to finding love on Paradise: be completely yourself.
"If you're not truly being yourself [on the show], then how can somebody fall in love with you? How can you open up enough and be vulnerable enough to let somebody in if they don't actually know you? If I was like, 'Oh, yeah, that was all fake, by the way,' it can't work like that," she said.
Barbour's tip for other members of Bachelor Nation hoping to find love on Paradise someday is, unsurprisingly, to go all in.
"You just commit to it," he said in the same interview. "I always call it committing to the process. The producers have a good saying: 'If you're going to be here, then be here.' Just be completely accepting of 'Yeah, you're going to be filmed. Just go for it.'"
Watching Godwin and Barbour on social media and in interviews together, the couple seems to be over-the-moon happy. They're always somehow intertwined–Godwin and Barbour both consider "physical touch" to be one of their stronger love languages, always giggling, and always looking into each other's eyes with a deep sense of adoration and understanding.
One of Hannah Godwin's favorite 'BIP' memories with Dylan Barbour
Godwin recently did a Q&A on her Instagram–"ask me anything! I've got like 30 min til my flight," she wrote.
"Favorite BIP memory with Dylan besides proposal," one fan wrote in.
"all the funny parts that you guys didn't see," Godwin wrote back. "our first time in the hot tub together I had a runny nose and i didn't know what to do so I blew my nose in my skirt and we joke about how dumb it was all the time"
Gross! But it says a lot that they were, seemingly, pretty unfazed by Godwin's nose-blowing.
Godwin wasn't the only Bachelor In Paradise contestant feeling uner the weather during the first bit of filming. Barbour had a sinus infection when the couple first kissed.
"I was sick the first week because I went in the ocean the day before and we went to the beach and I got sick. So I had a sinus infection and we didn't know if it was contageous… I was like 'why don't we just find out,'" Barbour told Extra.
"And that was his cue and he just went for it and I didn't get sick," Godwin added in the same interview.
"Great line," said Barbour.
And the rest, as they say, is history.
Read more: Former Bachelorette Kaitlyn Bristowe Responds To Criticism That She's 'Pressuring' Jason Tartick To Propose To Her