Hannah Godwin and Dylan Barbour Share The Disgusting Thing That Happened To Them During The 'Bachelor In Paradise' Finale
Hannah Godwin and Dylan Barbour got engaged on Bachelor In Paradise this summer. During the season finale, something… gross occurred when they were in the hot seat with host Chris Harrison. In a recent interview with Entertainment Tonight's Lauren Zima on "Roses and Rose," the couple talked about the incident.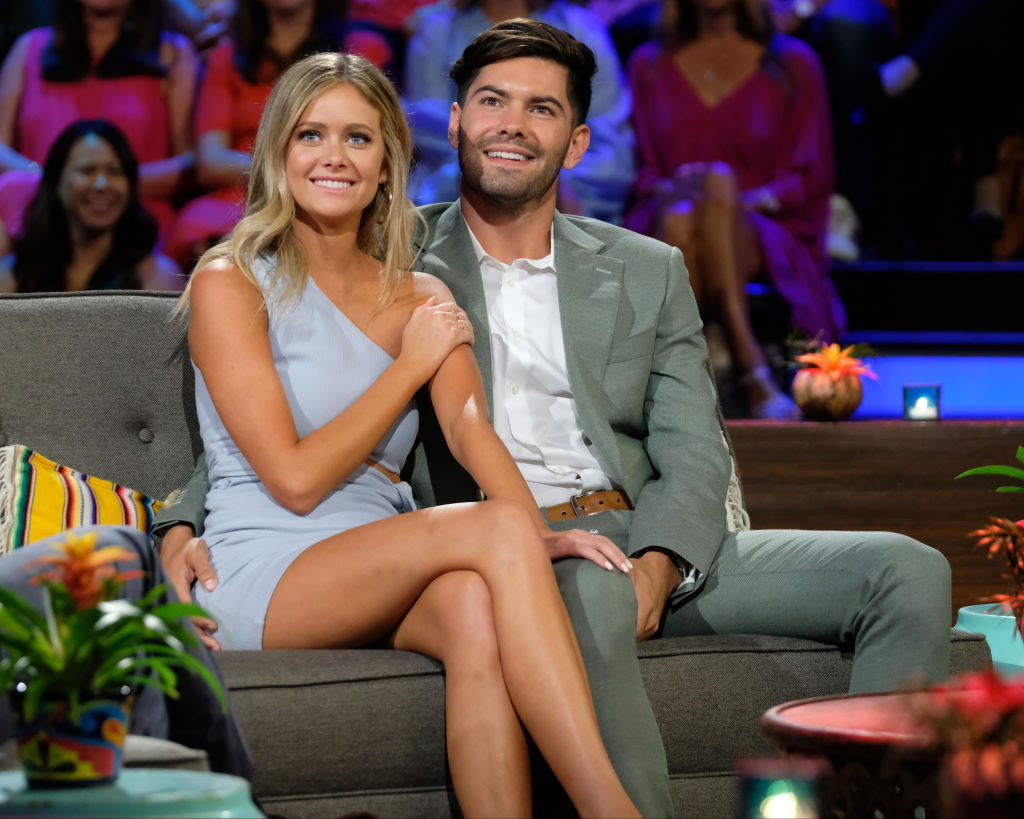 Zima asked them about "the most embarrassing moment for you to watch yourself back on television."
"When we were at the finale with Chris, the Paradise finale, we were up in our little hot seat and a booger fell out of my nose," admitted Barbour.
Godwin laughed, remembering.
"It didn't air. I'm not kidding. I've never laughed so hard. It was our first time as an engaged couple going to talk to Chris, right? And you know, we're sitting there and I kind of, out of the corner of my eye, I'm answering a question, and Dylan is like picking his nose," recalled Godwin.  
"It was risky," said Barbour.
"I looked over and he said, 'I think there's a booger in my nose.' He breathes and it fell right here," Godwin continued, pointing to Barbour's chest.
"Just fell on my shirt," Barbour confirmed.  
"And Chris, I'm sure he was like, 'What are they doing right now?' And I flicked it off. And we just kept goin'," said Godwin.
How Hannah Godwin and Dylan Barbour are keeping their long-distance relationship strong
Though Godwin and Barbour see each other about three to four times a week, they are technically long-distance. Godwin lives in Los Angeles and Barbour lives in San Diego.
Zima asked them the secret to their "relationship's success."
"I think we just place our relationship above everything else. We make an effort to see each other probably three to four times a week and talk every day non-stop," said Barbour.
Godwin also shared that she and Barbour make a point to never go to bed angry.
"We never go to sleep like angry or mad. It's just like always putting it out on the table even if it doesn't sound great, just like how we feel. I feel like that's been good," she said.
When Zima asked them who needs to have the "last word" when they argue, Godwin looked at Barbour and said "I think you probably want it."
"I think you probably want it," Barbour laughed. "You get it." 
The couple said that they don't "fight" very often.
"It's more like joking. Like I feel like if we've ever had a disagreement we end up laughing at the end of it just because we're like, 'this is going nowhere,'" said Godwin.  
"We just talk through it," Barbour agreed.
"It's just the most unedited way coming out of our mouths. It's like whatever we have just putting it out there," added Godwin.
Dylan Barbour is still all over Hannah Godwin
The couple also confirmed that Barbour is just as touchy-feely with Godwin today as he was on Bachelor In Paradise.
 "I'm just as all-over her and in love with her as I was," he said.
Barbour admits he loves PDA.
"It's not the fact that it's PDA–I just, I'm in my own little world," he said, adding that he wasn't always this way in relationships–Godwin just brings it out of him.
Read more: 'BIP': Hannah Godwin and Dylan Barbour Reveal Who Of Bachelor Nation Will Be Invited To Their Wedding