Hannah Godwin Responds to 'BIP' Fans Questioning Her Feelings for Dylan Barbour
With all the breakups between Bachelor in Paradise couples in the past few months, fans are more concerned than ever about Hannah Godwin and Dylan Barbour. Alongside Caelynn Miller-Keyes and Dean Unglert, they remain the last of the couples who found love in paradise this Summer. Additionally, Godwin and Barbour are the only engaged couple left from the most recent season of the popular show.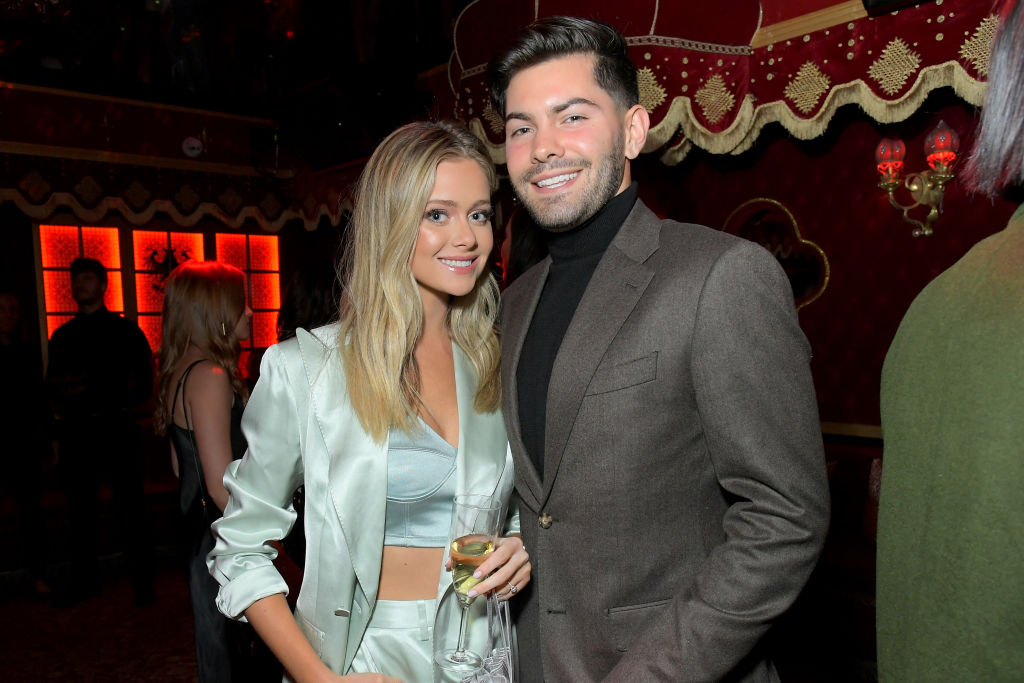 Because the start of Godwin and Barbour's relationship started out on national tv in front of millions of fans, their relationship has intense scrutiny. Fans and critics alike feel compelled to comment on every aspect of their relationship. Everything from their body language, to their social media activity, to their current living situations, is completely dissected. Bachelor in Paradise fans often jump to conclusions about the status of their relationship after seeing a simple Instagram picture or video.
Hannah Godwin posts a video to Instagram
Recently, Godwin felt compelled to defend her love for Barbour to some skeptical fans. On December 18, 2019, Godwin took to her Instagram page to share a video of her and Barbour to her 1.5 million followers. In the video, the engaged couple is embraced in a hug. Barbour pecks Godwin on the lips before she breaks away. "Thanks for making everything fun @dylanbarbour a leeettle snippet from a vlog I'm making right now!!" Godwin captioned the video that has already been viewed by more than 1 million people.
Critics question the Bachelor alum's feelings
What was a seemingly innocent and cutesy video immediately caused some fans to question Godwin's feelings for Barbour. Citing that she pulled away from the kiss "quickly" they wondered if her feelings for her fiancé were starting to dwindle. "You can tell you pull away from him when he gives you extra PDA. Hope you're not losing your feelings," one Instagram user commented on the video. "Nah we're good I'm just awk I think," the 24-year-old Bachelor alum quickly commented.
Fans defend Hannah Godwin and Dylan Barbour
Of course, Godwin's fans were quick to rush to her defense and defend her very normal behavior. "Lol I feel like it wasn't immediate it was normal lmao," one person wrote. Other fans mentioned that they were happily married and displayed similar behavior with their husbands. "I act the same I'm just awkward w PDA. Love my hubs tho," one Instagram user wrote. "@hannahg11 I love my husband of 8 years and I still do the same thing. #awk," another person co-signed.
Other people commented that Barbour and Godwin no longer had the chemistry that the saw on Bachelor in Paradise. "Awkward kiss where's the chemistry gone," one person sated. "@lovepdl maybe just awkward ppl!!?" Godwin wrote back defending herself and her partner. Again, people jumped to the model's defense stating they didn't find anything odd or awkward about the video. "I actually thought this was so cute!!! Not even awkward just a small special moment☺️," one person wrote.
No trouble in paradise
"@hannahg11 hmmm it's funny I don't usually comment or read into anything but I actually thought you were the opposite, not awkward at all and you were 100% there for the Xo! These comments are too much! Continue to have fun and enjoy every minute!" another Instagram user wrote,clearly supporting Godwin's relationship. It certainly seems like there's no trouble in paradise for the engaged couple at the moment. Time will tell if they go the distance and officially tie the knot.