Harlan Coben Has Written the Perfect Part for Liam Neeson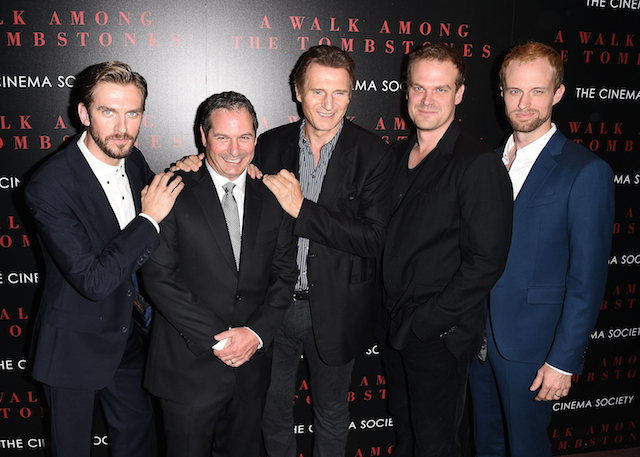 Just as Liam Neeson's next butt-kicking action movie, A Walk Among the Tombstones, is set to open this weekend, the studio behind that film is looking to nab the actor for another thriller-novel adaptation that could help turn best-selling writer Harlan Coben's long list of books into a source for Hollywood movies for the first time. According to a report from Deadline, Universal is working on adapting Coben's Tell No One for the screen, with Oscar-winning Argo writer Chris Terrio doing the screenplay and the studio hoping that Neeson will get on board to star once that screenplay is completed.
Coben has been a mystery writer for many years but has yet to see one of his books be adapted into a big Hollywood blockbuster the way many less-popular writers of his genre often do. Tell No One was made into a French film by director Guillaume Canet, and it was a hit in the that country. The success of the French version gave Universal the confidence to plop down the money for an Oscar-winning screenwriter and to court a star like Neeson.
Tell No One is the story of a couple who, shortly after their marriage, returns to the spot in their hometown on Lake Charmaine where they had their first kiss when they were 12 years old. During that trip the wife is kidnapped and brutally murdered, her body discovered in a ditch. The killer is quickly found and persecuted, but the husband never really gets over her death. Then, eight years later, more murders occur on Lake Charmaine, and the husband starts getting some creepy messages from someone who knows intimate details about he and his wife's first kiss.
The lead role of the husband, pediatrician Dr. David Beck, sounds like the perfect part for Neeson. The actor famously proved in Taken that he can play the kind of guy who's tough, but only when pushed to being the tough guy by awful events surrounding him. Beck is a beleaguered, mourning doctor who will do anything to find out the truth about his wife's death. The whole capable-of-anything-against-the-odds thing has become Neeson's calling card in action movies like Taken and Non-Stop, and it looks like his part in A Walk Among the Tombstones is in a similar vein. Given Neeson's appeal in those type of roles, plus Coben's name recognition among mystery readers and the likelihood of a great script, Tell No One is shaping up to be a successful movie.
Deadline pointed out that Coben has a few different novels optioned at Hollywood studios right now, meaning that film versions of Missing You at Warner Bros. and Six Years at Paramount are in the works as well. Deadline did say that it could be a little while before Tell No One finally gets off the ground, but if it does well, then that could motivate studios to pick up the pace on the other Coben projects floating around.
All three of those books are standalone novels, but the author's Myron Bolitar series is also fertile ground for film adaptation. The 10 books in the popular series follow a former basketball player-turned-sports agent who ends up having to solve murders and do other detective work involving the athletes he works with. If Neeson helps make Tell No One a success, a franchise around Myron Bolitar, a character who has already proven to be very popular with readers, is another possibility.
Follow Jacqueline on Twitter @Jacqui_WSCS
More from Entertainment Cheat Sheet:
Want more great content like this? Sign up here to receive the best of Cheat Sheet delivered daily. No spam; just tailored content straight to your inbox.