'Harlots' Season 3, Episode 7: Things Are Heating up on Greek Street
This week on Harlots has things heating up for everyone on Greek Street. Lydia Quigley (Lesley Manville) forces Kate (Daisy Head) to make a choice. Lady Fitz (Liv Tyler) takes matters into her own hands and gets back at her brother in the best way. Emily Lacey's (Holli Dempsey) secret finally comes out to Hal (Ash Hunter). Even more went down, so read on only if you are caught up on Harlots because this article contains spoilers.
Lydia Quigley bends Kate to her will
In episode 6, Kate runs to Justice Knox (Jack Greenlees) and it's revealed in episode 7 that they shared an intimate time together. He begs her to stay. "Don't be a rich man's toy," Knox pleads with her. Kate replies, "And be your washer woman?" Kate rushes back to Quigley, who already knows something is up.
"I wanted a moment of freedom," Kate tries to explain to Quigley. "I've given you freedom. Everything had been your choice," Quigley replies. "Well, the time has come when your choice is this, leave, or serve our aim." And with that, Quigley has shown Kate that she must choose from here what she wants. She chooses Quigley, even though they are both distrustful of each other at this point. Kate ends up going to live with the prince as his mistress.
Lady Fitz steals her brother's child
In a truly Charlotte-like moment, Lady Fitz takes her brother's child to safety. She does this partly to get back at him for all the years of abuse and because she hopes to trade the child for information on her own daughter, Sophia (Hannah Dodd). She reunites mother and child and she feels truly empowered from the situation.
When the Marquess of Blayne (Julian Rhind-Tutt) comes to retrieve his child, Nancy (Kate Fleetwood) promptly slaps him in a true power move. Lady Fitz kisses Nancy for her efforts, and Nancy is truly taken aback by this and leaves. There seems to be a romance brewing between the two who have been spending quite a lot of time together.
Emily Lacey's part to play in Isaac's death comes out
Lacey is betrayed by Rosamund (Kirsty J. Curtis) and Hal learns that she had a part to play in Isaac's (Alfie Allen) death. In true Emily Lacey-style, she manipulates the situation in her favor. She explains to Hal that she was terrified of Isaac and that Margaret (Samantha Morton) pulled the trigger all on her own. "I'd never hurt you," Hal says to her. "I know," Lacey responds.
Lacey reveals to Nancy that Hal killed Charlotte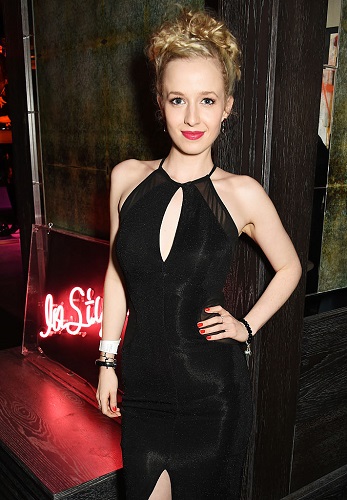 Lacey accidentally reveals to Nancy that it wasn't Isaac that killed Charlotte (Jessica Brown Findlay), but Hal. Nancy is immediately sick with grief and guilt. She knew that Isaac loved Charlotte, and she feels terrible for pulling the trigger and taking his life. It's unclear how this guilt will affect her in the near future, but she is visibly shaken.
Quigley gets Lucy sent to debtors' jail
To take care of the problem Lucy (Eloise Smyth) has become for Quigley, she gets her sent to debtors' jail. Quigley has it written in the paper that Lucy is dead broke. Lucy tries to literally run away on a horse to get away from the situation. In a heart wrenching moment, Lucy runs to her old home looking for Charlotte. The episode ends with no solution to the situation and Lucy is still stuck behind bars.
In the future, hopefully Lucy will escape and take her revenge on Quigley. Only time will tell. Fans can watch episodes of Harlots on Hulu.