What Is the Hulu Series 'Harlots' About And Will There Be a Season 3?
Though it continues to float under the radar, the Hulu series Harlots has been renewed for a third season. The drama, set in 18th century London, follows a feud between the madams of two brothels and how it affects their families, clients, and everyone else around them. If you're interested in giving it a try, here's what you need to know about Harlots and the upcoming new season.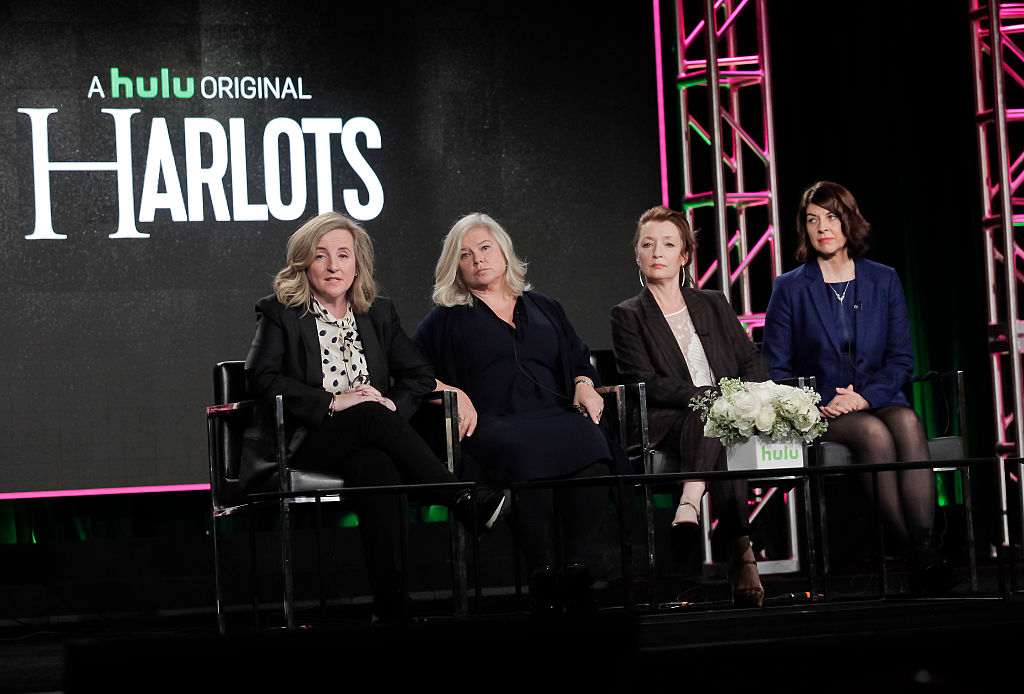 What is Harlots about?

The period drama is focused on Margaret Wells (Samantha Morton, Minority Report), the owner of a brothel. Along with her partner, William North (Danny Sapani, Penny Dreadful), she works to create good conditions for her "girls" while protecting her own daughters, Charlotte (Jessica Brown Findlay, Downton Abbey) and Lucy (Eloise Smyth, The Frankenstein Chronicles). She's frequently at odds with Lydia Quigley (Lesley Manville, Phantom Thread), the owner of a more well-to-do brothel, and her former madam.  

Season 1 sets the stage

The first season of the show set the groundwork for the feud between Lydia and Margaret's homes. It also showcased Margaret's brothel's move to Greek Street, the auctioning off of Lucy's virginity, and Charlotte's complicated relationship with Sir George, who is looking to make her his official mistress. Other notable characters include the religious blind woman, Mrs. Scanwell (Dorothy Atkinson, Call the Midwife), who disapproves of prostitution, and the corrupt Justice Cunliffe (theater actor Richard McCabe).

In Season 2, the drama escalates

I'll keep this as spoiler-free as possible, but Season 2 brings a lot more drama with it. There are harlots as double agents, a new noblewoman with a secret (Liv Tyler's Lady Fitz), and a new justice (played by Star Wars: The Force Awakens' Sebastian Armesto) whose morals are tested. Margaret Wells and Lydia are still at each other's throats, but there's a lot more at stake than in the previous season. The final episode is shocking, to say the least.

Season 3 is coming to Hulu

With such a massive cliffhanger ending, fans have been eager for news about Harlots Season 3. On March 7, 2019, Hulu announced that the first episode of Season 3 will premiere on July 10. The subsequent seven episodes will land on the streaming service each Wednesday after that.

A new casting announcement

It appears as though much if not all of the main cast is scheduled to return, even Morton and Manville, whose characters found themselves in very precarious situations in the finale. Tyler is back, and will likely continue her newfound friendship with Charlotte, who is dealing with a lot more than she's used to as a madam.

Additionally, two new additions to the cast have been announced. Alfie Allen (Game of Thrones) and West End performer Ash Hunter will portray "ambitious pimp brothers," who will likely prove to be a challenge for Charlotte.

Acclaim for the show

Though it's not as popular as other series on the streaming site like The Handmaid's Tale, Harlots has received a lot of positive criticism since it's 2017 debut. Both aired seasons have very high Rotten Tomatoes scores, with many praising its female-driven angle as unique for such a period piece. Let's hope that Season 3 stays the course.