'Harry Potter' Author J.K. Rowling Is the Subject of a New Twitter Meme
J.K. Rowling has had quite an interesting journey as a public figure. She exploded onto the scene in the early '00s when the Harry Potter books first came out. The series was quickly optioned and became the beloved film franchise we know today. After the seventh novel came out, she informed everyone that she was done with the greater Harry Potter universe — but that proved to be far from the truth.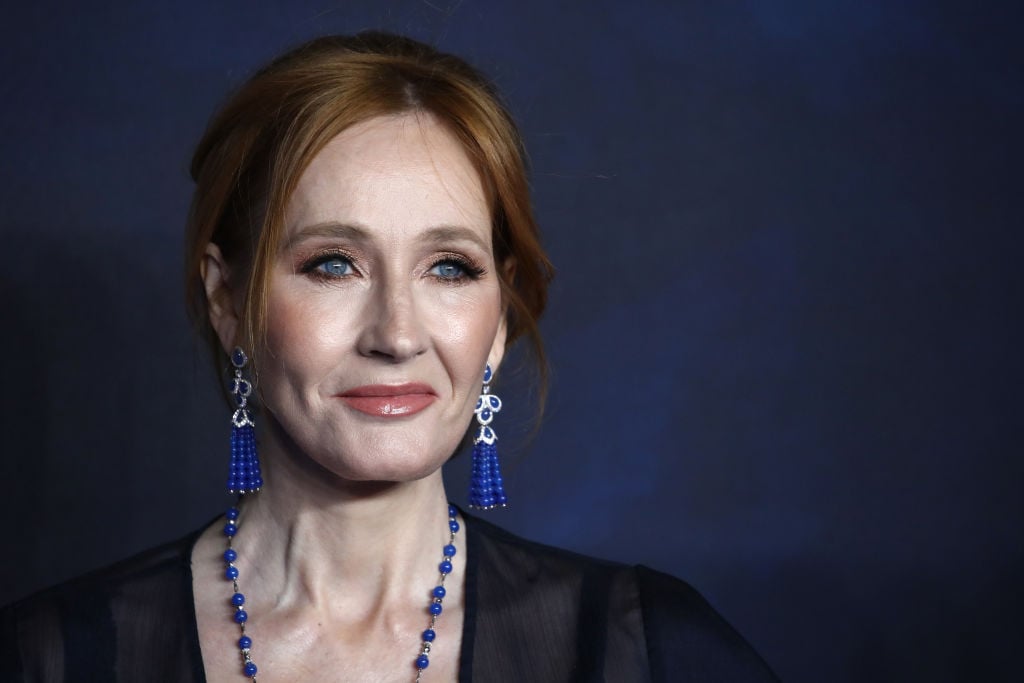 From the website Pottermore to the play Harry Potter And The Cursed Child to the Fantastic Beasts And Where to Find Them film franchise, Rowling has continued to have her hands in all things Harry Potter over the last several years. But her most interesting habit has been revealing facts about the characters and the wizarding world at seemingly random times, often on Twitter or in interviews. Here's the latest information she has shared, and how it became a meme.

Why is everyone talking about J.K. Rowling?

According to Radio Times, Rowling has revealed some intriguing details on the Blu-Ray special features for Fantastic Beasts: The Crimes of Grindelwald, which is due out March 18, 2019. Speaking about the relationship between Albus Dumbledore and Gellert Grindelwald, Rowling said it was "incredibly intense," "passionate," and "a love relationship."

Previously, Rowling has clarified that Dumbledore, who becomes Harry Potter's headmaster and mentor, was gay, and that he was in love with Grindelwald. But this is the first official confirmation that they were romantically involved.

Rowling has frequently shared new details about the Harry Potter universe

As previously noted, this is far from the first time Rowling has opened up about unknown details from the wizarding world. While Pottermore satisfied many fans' curiosity about how things expand beyond the U.K. and Europe when it comes to wizarding schools and the like, other, more random facts have come straight from Rowling's mouth, as writer Chuck Wendig reminds us.
These are some of the funniest examples of the meme

After this latest bit of news, a meme surfaced, poking fun at Rowling's tendency to give audiences new details they weren't really seeking out.

Many of the tweets are specifically referring to the sexual tendencies of the main characters, some of which are very strange and detailed.

One tweet, from actress and writer Quinta Brunson, highlights the strangest part of Rowling's comments. Everyone knows that Dumbledore is gay, and likely presumed that he had had sex with a man at some point. So why was it necessary for her to clarify this in the commentary in the odd way that she did?
As Daily Dot writer Gavia Baker-Whitelaw points out, Rowling says explicitly that she's "less interested in the sexual side" of Grindelwald and Dumbledore's relationship, and skates over it to focus on the emotional aspects. What this reveals is that she isn't interested in the representation that a gay relationship in this world could provide. She offers up the nugget of information that they were in a sexual relationship as if it's almost a gift to the audience when that's not what anyone was asking for.
Has Rowling read what people are saying on Twitter?
So the question becomes: Is Rowling out-of-touch with her audience? There seems to come a time with these ever-expanding universes in entertainment when they go beyond the original creator and seem to belong more to the fans or those who are currently creating the latest iteration. Though Rowling may be "an extremely online person," it may be that she isn't paying attention to her audience the way she once did.