Harry Styles' 'Fine Line' Album Is Coming Out On Taylor Swift's 30th Birthday–Here's What Fans Think It Means
Harry Styles tweeted a mysterious website on November 3 that left fans reeling: Doyouknowwhoyouare.com. At first, the site prompted visitors to input their names, which caused this message to appear: 'YOU ARE PATIENTLY WAITING FOR SOMETHING TO HAPPEN. TPWK [treat people with kindness]. LOVE, H.'
Then, on November 4, Styles announced that his new album, "Fine Line," would be released on December 13.
If you visit Doyouknowwhoyouare.com today and enter your name, this message appears: [name entered], YOU ARE A FINE LINE. TPWK. LOVE, H."
Fans are, of course, ecstatic for a new Styles album. But many Stylers can't help but zero in on the release date: December 13. The day happens to be another musician's birthday–none other than Taylor Swift, who Styles dated back in 2013.
This year, Swift is turning 30 (a pretty big birthday). So the fact that Styles would release his album on his ex's birthday, of all days, is proving to be quite suspicious.
Harry Styles, Taylor Swift fan theories about 'Fine Line'
There seems to be two main fan theories about how Swift could be involved with "Fine Line."
First, fans are hoping and praying for a collaboration between the two artists.
"Harry Styles dropping his new album Fine Line on December 13th… Taylor Swift having a blue stamp on December 13th in her 2019 Calender… If we get a collab I'm never going to shut up about it. Imagine a continuation to Style and Two Ghosts," wrote one Twitter user.
"harry styles ft taylor swift like fr that would be good publicity for cats the movie ummm spare collab," tweeted another.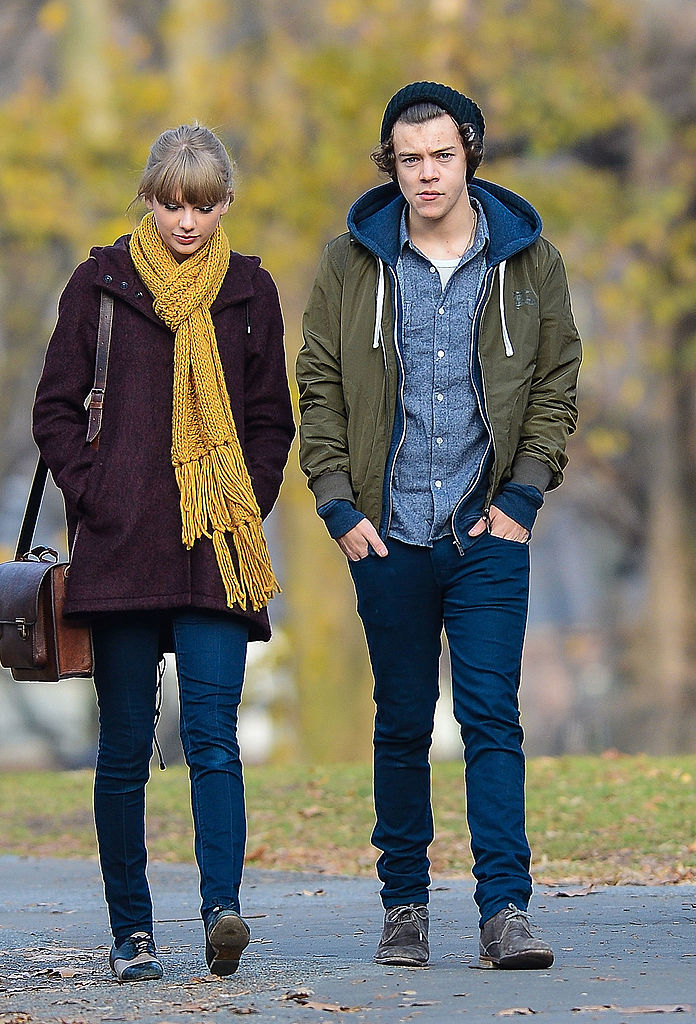 The other fan theory is that some of the songs on "Fine Line" will be about Swift.
"Harry's new album comes out on December 13th. DECEMBER 13TH!!!!!!!
There must be songs about Taylor," tweeted another Twitter user.
A look back at Harry Styles and Taylor Swift's relationship
The former One Direction singer spoke to Rolling Stone back in January 2016 about breaking out on his own and his fling with Swift.
The publication asked him what he'd say to Swift today (at the time).
"Maybe, this is where you write down that I left! I don't know. Certain things don't work out. There's a lot of things that can be right, and it's still wrong. In writing songs about stuff like that, I like tipping a hat to the time together. You're celebrating the fact it was powerful and made you feel something, rather than 'this didn't work out, and that's bad.' And if you run into that person, maybe it's awkward, maybe you have to get drunk … but you shared something. Meeting someone new, sharing those experiences, it's the best shit ever. So thank you," he said.
As for Swift's songs, "Out Of The Woods" and "Style," Styles isn't even sure they're about him (she's since confirmed that they are).
"I mean, I don't know if they're about me or not… but the issue is, she's so good, they're bloody everywhere. I write from my experiences; everyone does that. I'm lucky if everything [we went through] helped create those songs. That's what hits your heart. That's the stuff that's hardest to say, and it's the stuff I talk least about. That's the part that's about the two people. I'm never going to tell anybody everything," he said.
Styles is set to perform on the November 16 episode of Saturday Night Live. Fans are hoping he'll drop a few more hints about his upcoming album, particularly hints about how (if at all) Swift will be involved.
Read more: Taylor Swift Reportedly Has 'No Regrets' About Speaking Out Against Scooter Braun