Are Harry Styles and Kacey Musgraves Friends?
They're two music icons. Harry Styles, known for his work with One Direction, branched off and found success as a solo artist and as an actor. Kacey Musgraves took home a few Grammy Awards last year with her album, Golden Hour. Put them together for a duet, and you have a viral moment that has fans asking questions. Are Harry Styles and Kacey Musgraves friends? Are the two performers dating? Here's what we know about their relationship.
Harry Styles and Kacey Musgraves sang 'You're Still the One' by Shania Twain in 2018
One of the first times fans saw these two perform together was in 2018 when the artists briefly toured together. During one of Harry Styles' performances in New York, he invited Kacey Musgraves onto the stage. They sang a duet of "You're Still the One" by Shania Twain and, naturally, fans went crazy.
"I love the challenge of being put with an artist that you normally probably wouldn't think to put me with. I think it's a brilliant combination, especially considering where his album … the direction that went. When I got asked to [tour with Harry Styles,] I was like, 'Yes, I can totally see this being so fun and making sense,'" Kacey Musgraves said during an interview with the Sun Sentinel.
This wouldn't be the first time Kacey Musgraves performed live with another artist. In the past, the Musgraves sang "Girls Just Want To Have Fun" with Hayley Williams from Paramore. She invited the winners of RuPaul's Drag Race: All-Stars 4 to dance with her during "High Horse." For the final performance of her Oh, What a World: Tour II, Kacey Musgraves and Maggie Rogers sang "I Wanna Dance With Somebody."
"Shoutout to the powerful force that is [Kacey Musgraves] for having the beautiful idea to close out our album cycles together. Golden hour has meant so much me and soundtracked so many essential moments this year. I couldn't imagine any better way to celebrate," Maggie Rogers wrote on Instagram.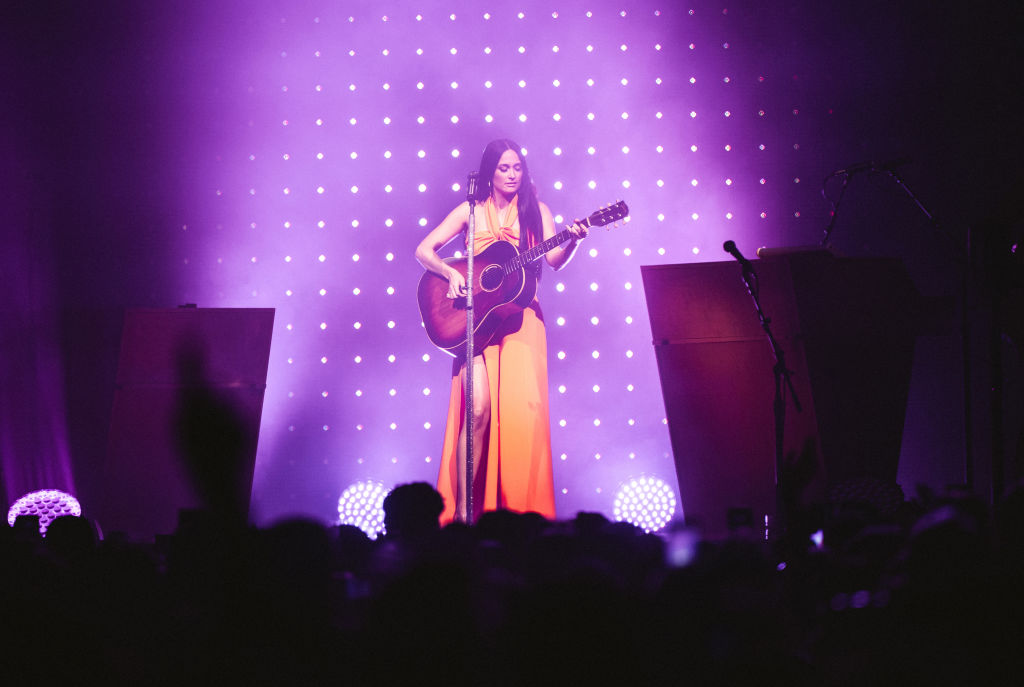 Kacey Musgraves invited Harry Styles back to another concert, to sing 'Space Cowboy'
Although their tour together ended over a year ago, these two are still performing. For the final concert in Kacey Musgraves' Oh, What a World: Tour II, on Oct. 25, 2019, she invited Harry Styles onto the stage. Together, they sang Kacey Musgraves' song, "Space Cowboy." Later, the two artists posed for photo booth pictures together. Fans of both performers took to Twitter, sharing their love or this version of the song.
"Harry was the one who flew all the way from London to Nashville to headline Kacey's tour but thanked her before kissing her forehead. He's such a ride or die kind of friend," joked one Twitter user.
Are Harry Styles and Kacey Musgraves dating?
As much as we'd love to believe they're dating, Harry Styles and Kacey Musgraves are just friends. Kacey Musgraves has been married to singer-songwriter Ruston Kelly since 2017. Though there have been rumors, Harry Styles is most likely single and releasing an album soon.
Music by Kacey Musgraves, including her Grammy Award-winning album Golden Hour, is available on Spotify, Apple Music, and most major streaming platforms.