Has Prince Harry's Decision to Step Back From Royal Life Tarnished His Relationship With His Grandfather, Prince Philip?
Following Prince Harry and Meghan, Duchess of Sussex's bombshell announcement to "step back as senior members of the Royal Family" a lot of fans and experts alike have wondered how that major decision will affect Harry's relationship with his family members going forward. And many have questioned what his relationship is like now with his 98-year-old grandfather, Prince Philip.
Here's more on that and what the Duke of Sussex had to abandon that likely upsets Philip the most.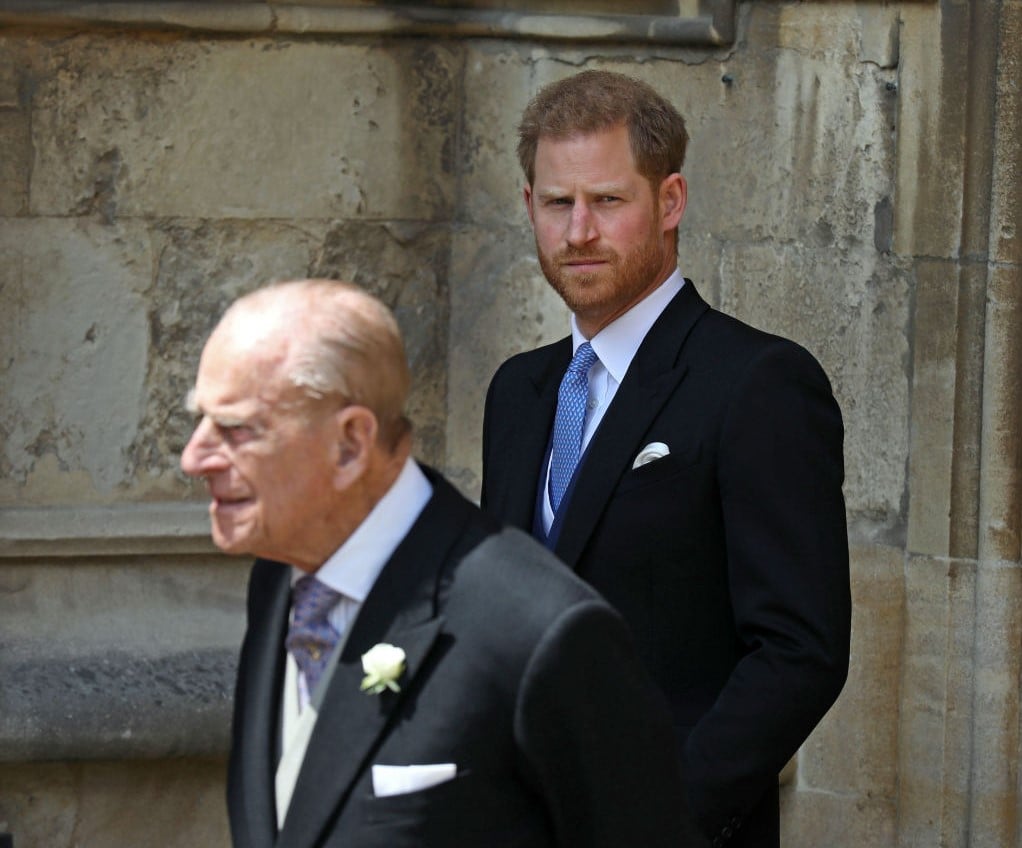 What Philip's relationship with Harry has been like over the years
The Duke of Edinburgh has always been very close with Prince Harry. In fact, when Philip retired from his royal duties in 2017, it was Harry who was appointed and took over his grandfather's role as Captain-General Royal Marines.
In April 2018, Philip had hip replacement surgery just a few weeks before Harry married Meghan. It was reported that the younger prince wanted nothing more than his grandfather to be at his wedding. Philip then became determined to be at the church and see his grandson tie the knot so he really focused on his rehab and recovery to ensure that he wouldn't miss it.
"He made a massive effort to be fit to walk into church for Harry's wedding to Meghan," said former royal reporter Philip Dampier.
How Prince Philip reacted to Megxit
The first time Prince Philip was seen out in public since the news of what's been called "Megxit" was the day Queen Elizabeth II called for a meeting with Princes Charles, William, and Harry. The monarch's husband was spotted leaving the estate ahead of the royal summit and did not look happy.
When Philip heard about the Sussexes' plans, he was reportedly shocked and shouted, "What the hell are they playing at?"
Another source who spoke to The Sun explained, "To say that the duke feels let down would be a considerable understatement. A lot of Philip's anger comes from seeing Her Majesty upset."
The role Harry took over for Philip is now vacant
Likely the biggest blow to Prince Philip is that Harry will no longer be Captain-General Royal Marines and will have to be replaced by someone else.
"The Duke and Duchess of Sussex are grateful to Her Majesty and the Royal Family for their ongoing support as they embark on the next chapter of their lives. As agreed in this new arrangement, they understand that they are required to step back from Royal duties, including official military appointments," a statement from Buckingham Palace read.
There is no doubt that the Duke of Edinburgh is disappointed in Harry for not fulfilling that role, but only time will tell how much it will affect their relationship going forward.
Prince Philip reportedly would like his daughter, Princess Anne, to take over the position.
Read more: How Prince Harry and Meghan Markle Have Been Enjoying Life Away From the Royal Family