Hasan Minhaj Just Hit 1M Instagram Followers But This Person In His Life Doesn't Care At All
If you've been paying attention to what's going on over at Netflix lately, you may have noticed a show called Patriot Act is getting a lot of attention. The weekly comedy news show makes use of a format made popular by the likes of The Daily Show and Last Week Tonight with John Oliver. However, at the Patriot Act, 33-year-old Hasan Minhaj is putting his own spin on a tried-and-true formula to make something legitimately unique. Even if you haven't heard of Minhaj yet, you're going to soon, because he just hit a whopping one million Instagram followers so you can expect him to just get bigger and bigger in the near future.
Who is Hasan Minhaj?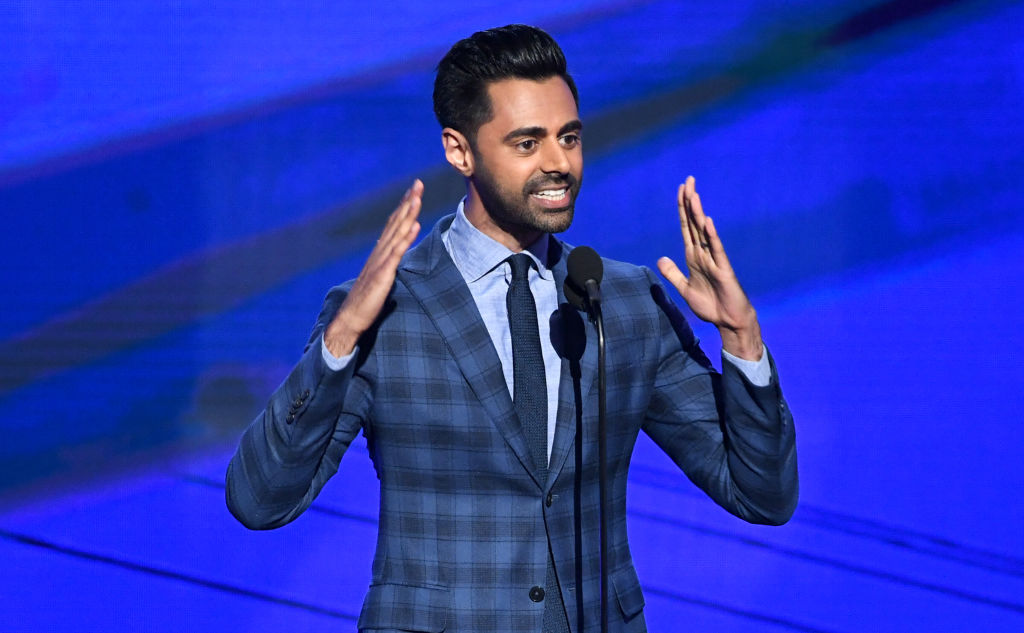 It's not surprising that Minhaj's new show is a bit like The Daily Show considering that's where he basically got his start in Hollywood. In fact, as Newsweek explains, he was one of the last correspondent's Jon Stewart personally hired before departing the show in 2014.
A few years later, Minhaj made a splash at the 2017 White House Correspondent's dinner, which helped him land his own stand-up comedy special on Netflix called Homecoming King in 2018. Netflix must have liked what they saw in Minhaj because they gave him a shot at his own weekly comedy news show, and the Patriot Act was the result.
Patriot Act premiered in October of 2018 and has been steadily gaining popularity over time. That success has lead Minhaj to gather more and more followers on social media, which is why he just recently hit the coveted 1 million followers mark over on Instagram.
This important person in Hasan Minhaj's life isn't all that impressed
When Minhaj hit that ultra-special 1 million mark, he did what any of us would do: He made an Instagram post about it!
The hilarious post included a text-message screenshot convo with his dad, in which Minhaj said: "Hit 1 million followers dad! Hope you're proud." His dad's reply: "That's 17 million less than Shah Rukh Khan."
As BuzzFeed clarifies, Shah Rukh Khan is an Indian super megastar actor and producer in Bollywood, who has a huge South Asian and international following. The LOL-worthy exchange got a lot of positive feedback in the comment section and on Twitter, where many said that Minhaj's dad's response reminded them of their own hard-to-please Desi — the broad term for South Asian people — parents.
One million followers is objectively a whole bunch of people, and it obviously must be mind-boggling to know that every time you post something from your life, that many people are going to see it. Still, Minhaj has about 16M followers to go before he impresses his dad.
Hasan Minhaj's star will continue to rise
Minhaj's Instagram success is a sign that the comedian is poised to become even more famous in a major way. Patriot Act continues to get increasingly more dynamic with Minhaj scoring more and more high-power interviews, including with world leaders.
In fact, Desi dads proved a valuable source of comedy again for Minhaj recently when he sat down with Canadian Prime Minister Justin Trudeau. Though Minhaj showed off his journalistic skill while pressing the world leader on issues like climate change and Canada's continued economic relationship with Saudi Arabia, he also took a moment to play a funny game in which Trudeau had to guess if the picture Minhaj was holding up was a world leader or just one of Minhaj's friends' dads.
There's no doubt that there is a lot more in store from Minhaj in the years to come. We can't wait to see how far he goes and just how big he'll get — especially if his hilarious dad sticks around to provide some wickedly funny commentary along the way!