Haus of Gaga: Everything You Can See in Lady Gaga's New Museum
For the first time, Lady Gaga is opening her fashion vault: Outfits, wigs, accessories, and more are on display at Haus of Gaga Las Vegas, a mini-museum featuring the singer's most iconic looks. Gaga has always been known to walk the red carpet in some of the most bizarre outfits on record. Here's everything fans can see in her new museum.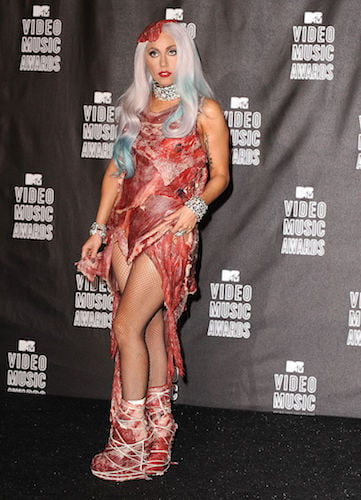 Lady Gaga's outfits are officially on display in Las Vegas
There will never be another Gaga. Since the pop singer stepped onto the music scene more than a decade ago, she's made some of the celeb world's boldest fashion choices. Most recently, Gaga wore four different outfits to the Met Gala, which were all set on top of one another. She had props for the outfit, too, including an old cell phone, umbrella, and more. Now, for the first time, Gaga is opening up her closet, and her best outfits will be on display in a mini museum. The museum opened May 30 at the Park MGM in Las Vegas, adjacent to where Gaga is doing her Las Vegas residency. The museum is free to enter.
Her iconic meat dress is now a jerky dress
Who can forget the fashion statement Gaga made when she arrived at the 2010 MTV Video Music Awards in a dress made entirely of sirloin steaks? The dress, designed by Brandon Maxwell, has gone down in history as one of the most memorable fashion choices of any celebrity. And now, nearly a decade later, it's back — in the form of jerky. According to Vogue, Nicola Formichetti, the creative head of Haus of Gaga, said the dress was literally turned into jerky. "It's been dried and we've preserved it all this time, but it has another life now in this experience, all of these clothes do," Formichetti said.
Her blood-stained 'Paparazzi' performance outfit will be on display
In 2009, Gaga made a statement with her hit song "Paparazzi." The song essentially expresses how too much fame can be a bad thing. Its lyrics say, "I'm your biggest fan; I'll follow you until you love me," which shows the intrusion that celebrities are faced with and the downside to being one of the biggest names in the industry. Gaga performed the song at the 2009 MTV Video Music Awards, where she wore a costume that was bloody, she could barely walk, and she eventually "died" at the end of the performance. Now, the outfit, which was a statement in itself, will be on display at Haus of Gaga.
You can see her sunglasses made entirely out of cigarettes from her 'Telephone' video
Fashion was more than just expression for Gaga; it actually shaped her as an artist. Who can forget her sunglasses made entirely out of cigarettes in her "Telephone" music video? Those will be on display, along with the headpiece she wore in the same video. Plenty of Gaga's tour outfits are included as well, and Formichetti says he worked with her fans as best he could to make sure to include all of Gaga's fan-favorite looks.
Check out The Cheat Sheet on Facebook!