Have Khloé Kardashian and Jordyn Woods Actually Made Peace With One Another?
Many of us can agree that the whole Tristan Thompson/Jordyn Woods scandal was definitely the most entertaining thing that happened in 2019.
While we weren't surprised that "Third Trimester" Thompson was caught cheating on Khloé Kardashian again, it did come as a shock that he hooked up with someone the reality star was exceptionally close with.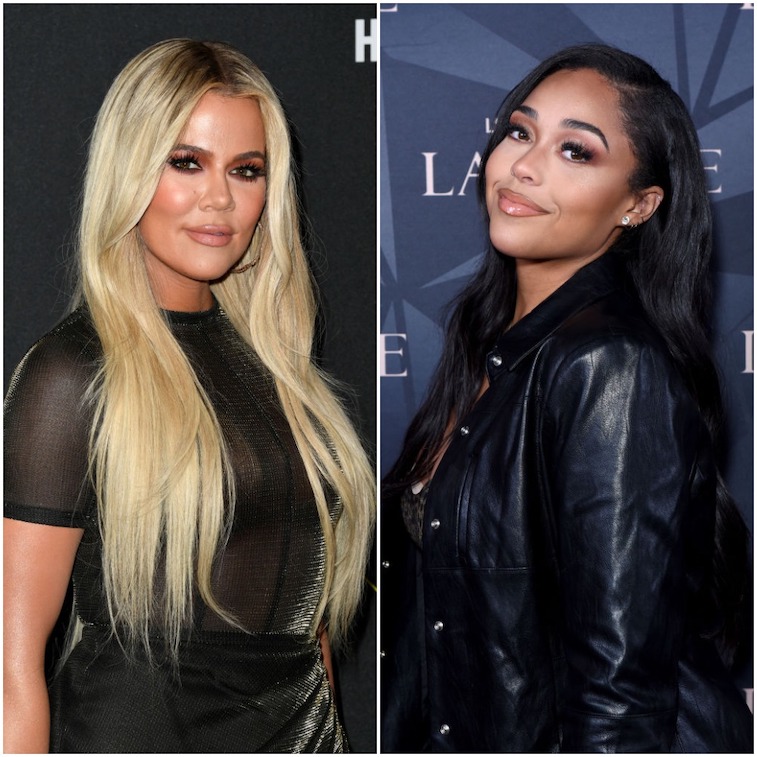 While Kardashian made it clear that she wanted nothing more to do with Woods or Thompson following the scandal, she's ready to move past the drama and forgive everyone she once harbored ill-feelings for.
Kardashian forgives everyone who's done her wrong in the past
Khloé Kardashian is definitely taking this "New Year, New Me" mantra to heart.
The Keeping Up with the Kardashians star recently took to Instagram to open up about forgiving others, especially Tristan Thompson and Jordyn Woods following their cheating scandal that took place earlier this year.
In a lengthy post shared to her Instagram Story, Kardashian opened up about showing forgiveness and embracing positivity after she was criticized for her friendly treatment toward the NBA player on Sunday night's episode of Keeping Up with the Kardashians. 
While the reality star made it clear that she can forgive anyone she wants and doesn't need to hold grudges, she also touched upon the fact that people keep trying to make drama out of nothing and she's sick of it.
"I'm seeing a lot of commentary about last week's episode of Keeping Up with the Kardashians. As much as I hate speaking on all of this because I'm sure everybody is over it, as am I, but I'm frustrated that people try to create something that's not really there," she began her post.
Kardashian went on to explain that though she's been hurt by people close to her, she can still wish those individuals well and give off positive vibes.
"I'm also allowed to wish people well and sincerely mean it," Kardashian continued. "Doesn't mean I have to be their best friend. I want nothing but beautiful blessings for EVERYBODY that has ever been in my life. Regardless of what they have done or not done to me."
The reality star has extended an olive branch to Woods
Seeing as though Kardashian is on a forgiving spree, it would make sense that she'd try to bury the hatch with two people who caused her the most distress in the past.
In a follow-up post, Kardashian explained that her message about forgiveness was not only meant for Thompson, but also Woods.
"That message is for Jordyn. It's for anyone else who has ever hurt me," she wrote in her second post. "For some reason people want to assume that I'm talking only about Tristan. This message applies to ALL parties involved in situations that have ever hurt me. I have moved on, found forgiveness and wish you only happiness and joy!"
While many people didn't think that Kardashian would ever bring herself to forgive Woods, she refuses to let her life "be consumed with hate." This is why Kardashian has decided to put her ill-feelings for the model aside and finally make peace with her.
Fans think Woods full-out shaded the reality star's peace offering
While Kardashian is trying put the drama behind them, it seems like Woods isn't trying accept the olive branch that is being extended to her.
Shortly after the Good American founder shared her lengthy posts, the model took to her Instagram Story to share some feelings, which many fans interpreted to be about Kardashian. 
"Someone somewhere is still discussing the old you because they don't have access to the new you," the re-posted quote read, with Woods adding "Facts" followed by the 100 emoji. 
After sharing the post, Woods then took to Twitter to clarify that she wasn't shading anyone in particular and just like Kardashian, only wants to spread positivity.
"Not every quote that is posted is a sub or a 'clap back' and not everything posted is directed towards one person in general," she tweeted "I deal with a lot of different shit daily. It's all love. Only positive vibrations."
While many people think that Woods completely ignored Kardashian's peace offering, it seems like she just wants to move past this tumultuous year.
As of now, both of the stars have made it abundantly clear they're ready to move on for good and we hope this will finally be the end of their ongoing drama.