HBO Gears Up to Set the Bar on Sci-Fi Quality With Latest Casting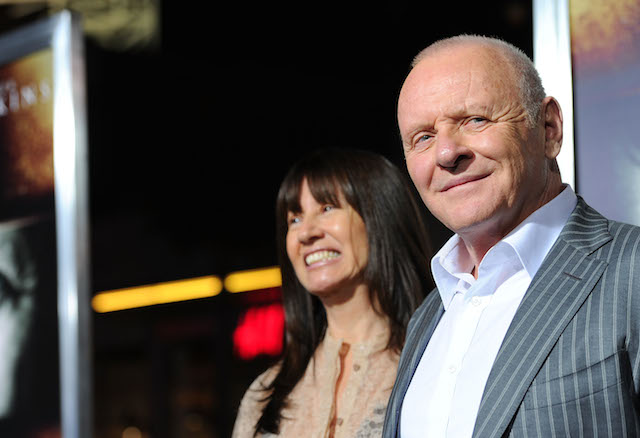 HBO has ordered a pilot for a new series based on the 1973 Michael Crichton science fiction film Westworld, about an adult amusement park set in the near future in which human-like androids occupy three different historical periods for the entertainment of amusement park guests. Oscar winner Anthony Hopkins and Evan Rachel Wood are set to star in the series, which was created by Dark Knight writer and Person of Interest creator Jonathan Nolan and written by his wife, Lisa Joy Nolan. J.J. Abrams' production company, Bad Robot, is producing alongside Warner Bros. TV.
Deadline reports that the television series will keep the setting of the original film, which was the Wild West area of the amusement park in which tourists could challenge the cowboy androids to duels they were guaranteed to win and even sleep with Old West prostitutes that were programmed to be unable to turn down suitors. Deadline describes the show as "a dark odyssey about the dawn of artificial consciousness and the future of sin."
The film — which starred Yul Brenner, Richard Benjamin, and James Brolin — is a cult classic known for its creepy take on how humans will manipulate artificial intelligence technology and its pioneering use of digital image processing.
Deadline said that Hopkins will play Dr. Robert Ford, the mastermind behind Westworld who serves as the park's chief engineer, creative director, and chairman of the board. Ford has a clear vision for what he wants Westworld to be and is willing to use any means necessary to achieve that vision. This will be the first television role for Hopkins, who is best known for his portrayal of serial killer Hannibal Lecter in Silence of the Lambs.
Wood will play one of the androids that populates Westworld, the "provincial, beautiful, and kind" character Dolores Abernathy who lives on the Western frontier and eventually discovers that her life is a lie constructed by the amusement park. Wood has worked on HBO before, with a recurring role on the sexy vampire drama True Blood and co-starring with Kate Winslet on the miniseries Mildred Pierce. Deadline reported that James Marsden is also in talks to star on the show.
While HBO has been successful in the fantasy realm with shows like True Blood and Game of Thrones, the premium network doesn't have a serious science fiction series currently airing. Picking up an Abrams-approved sci-fi show could help the network gain fans of the genre, in which Abrams is considered to be a bit of a god. Given the cult status of the Westworld film, almost anyone who's into science fiction should be interested in checking out HBO's Westworld series.
Westworld isn't the only effort the network is making toward science fiction content, either. It was announced earlier this summer that HBO had commissioned director Darren Aronofksy to adapt novelist Margaret Atwood's MaddAdam trilogy for an HBO miniseries, the first time that writer's work has been adapted for the screen.
The trilogy includes the novels Oryx and Crake, The Year of the Flood, and MaddAddam, which together are a critique of capitalism set in a creepy post-apocalyptic world. Aronofsky is best known for films like Requiem for a Dream, Black Swan, and The Wrestler. His films are characterized by a dark, depressing tone and visuals, making him a great choice to work on bringing these novels to the screen. Both the Atwood adaptation and Westworld will help HBO pick up fans of the works those shows are based on and the science fiction genre in general.
Hopkins is joining the likes of Matthew McConaughey, Woody Harrelson, and Billy Bob Thornton as a big movie star taking to the small screen. HBO set the bar pretty high for itself with this year's True Detective starring McConaughey and Harrelson, and it seems to be looking to reach that bar again with the strong players involved in Westworld.
Many actors and others in the film industry have noted the increasing shift toward smarter storytelling on television than in Hollywood movies in recent years — hence the flood of big-name actors on the small screen. Hopkins' move to HBO's Westworld is only the most recent example of this shift, which will likely become more pronounced unless the film industry decides to put more faith in financing riskier, smarter movies.
More from Wall St. Cheat Sheet:
Follow Jacqueline on Twitter @Jacqui_WSCS
Want more great content like this? Sign up here to receive the best of Cheat Sheet delivered daily. No spam; just tailored content straight to your inbox.