HBO's Love Affair With Danny McBride Continues With New Series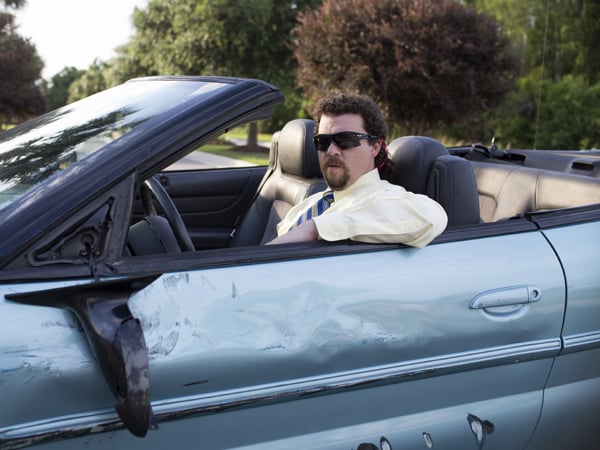 Danny McBride, who played the crass, vulgar former MLB pitcher Kenny Powers (partially based on the notorious jerk John Rocker) in Eastbound & Down, has just signed on to star in a new HBO series. Eastbound & Down ran for four season, gradually accruing some minor critical acclaim and a small but dedicated cult following.
In the first season McBride's character, adorned with a curly schlock of mullet dangling from the back of his big head and a beer gut protruding from his frame like a dome turned sideways, took up a job as a gym teacher at his old middle school after being forced into retirement "by his own jerkiness." He stays with his brother's family, often yelling obscenities at the children and, on at least one occasion, tries to hire a hooker to come to the house so he won't have to pay for a hotel room.
Over time Kenny Powers actually becomes a worse person, contrary to the normal arc for sitcom characters. He leaves his family in season two and becomes a cock fighter in Mexico, which, alas, does not help him get back to major league baseball. The show's crude humor and brick-to-the-face bluntness is only successful because McBride manages to, somehow, bring a bit of empathy to the awful Powers.
Eastbound & Down co-creator and director Jody Hill has a good working relationship with McBride, and the two will again be working together on Vice Principals, the new show they're creating for HBO. Eighteen episodes have been greenlit, which will probably be spread over multiple seasons. The show depicts the non-adventures of the guys who "almost" run a high school, the vice principals.
Save for Hill, the only other directors on Eastbound were Adam McKay (Anchorman) and respected indie director David Gordon Green (George Washington and this year's excellent Joe). Green transitioned to mainstream comedy with 2008′s Pineapple Express, which featured McBride in a supporting role. There's no word yet if McKay and Green will be participating in Vice Principals.
McBride also has a scene-stealing cameo in the tar-black, excessively mean (and uproarious) comedy Observe and Report, in which McBride plays a drug-dealing father with a tattoo "of his seed" (aka his son) on his chest. He is promptly beaten-up by Seth Rogen's sociopathic security guard.
In an official statement, HBO Chairman Michael Lombardo said, "Danny McBride and Jody Hill have created a smart, rowdy and unpredictable style of comedy that we can't get enough of. The idea of them setting their minds on high school was irresistible."
More from Wall St. Cheat Sheet: