15 Heartwarming Times Fans Proposed in Front of Celebrities
There's nothing quite like a good wedding proposal. They might take a lot of planning and require a risk of putting yourself out there, but they're typically worth it and often make a good story later. There are many celebrities who have had adorable proposals that made us swoon.
But what about the fans? Well, many of them have been bringing their favorite celebrities into their proposals, either by surprise or by asking them to help plan it. Some have even been able to share a stage with their favorite singers while popping the big question. Others wait in line for hours in order to meet their favorite celebrity and then get down on one knee in front of their significant other.
So which celebrities have fans chosen to be a part of one of the biggest moments of their lives? Here are 15 heartwarming times fans proposed in front of their favorite celebrities.
1. Celine Dion
The singer has some iconic love and heartbreak songs, so it's easy to see why she'd be a great celebrity to share your love with. At least that's what this couple chose to do when they went to a pre-concert meet and greet at Caesar's Palace.
Nick Janevski got down on one knee to propose to his girlfriend, Austin McMillan, according to BuzzFeed News. "I didn't even say yes," McMillan told BuzzFeed News. "For like two whole minutes, I was just shocked. I just looked at Celine Dion and then we both looked at him … I just kissed him."
The couple definitely got some good engagement announcement pictures from the special moment.

2. Kesha
Kesha was performing at Disney World when this special moment happened. The singer brought up two fans during her concert — one of which was initially blindfolded. The big question was then asked on stage, and the pop star was so happy to help two fans have a memorable proposal.
3. Chris Evans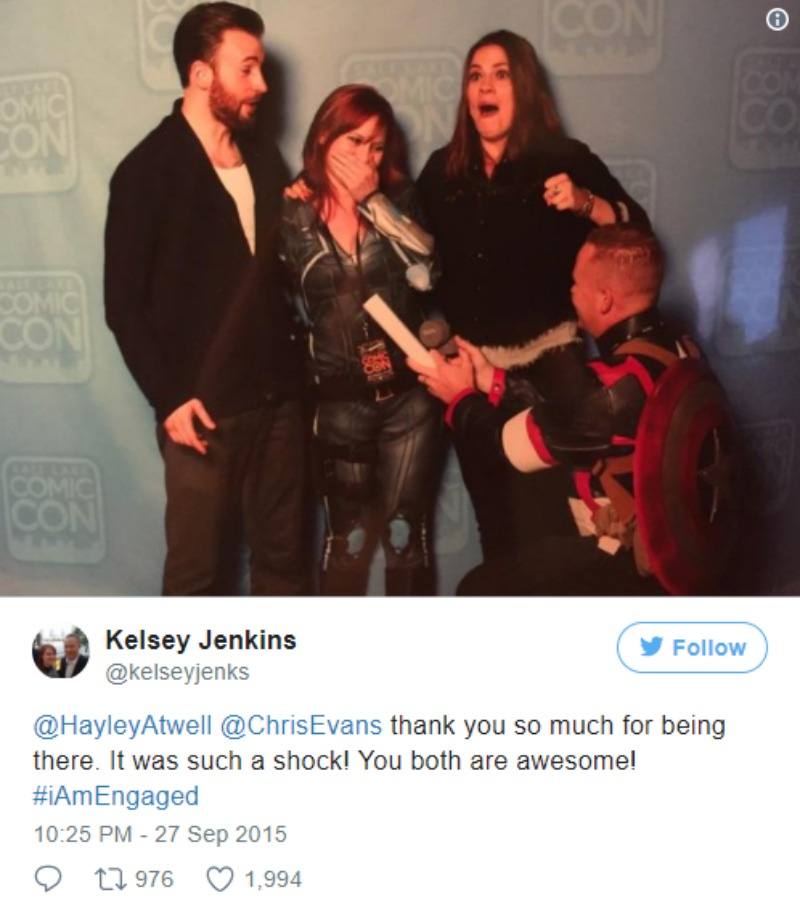 What would make a proposal even more exciting for a cosplaying couple? Doing it in front of Captain America! These Marvel fans got dressed up as Black Widow and Captain America for their special moment. This looks like a perfect match.
4. David Tennant
Once again, a couple decided to get in matching ensembles to meet their favorite actor. Once they got in front of David Tennant, the man got down on one knee, making for a great picture. The Doctor Who star looked really surprised to witness this proposal.
5. Sebastian Stan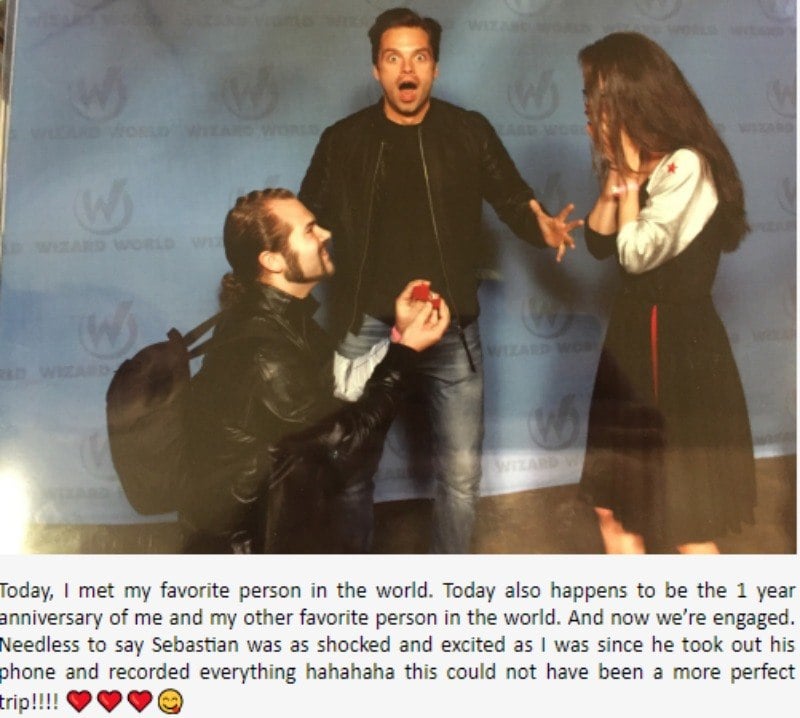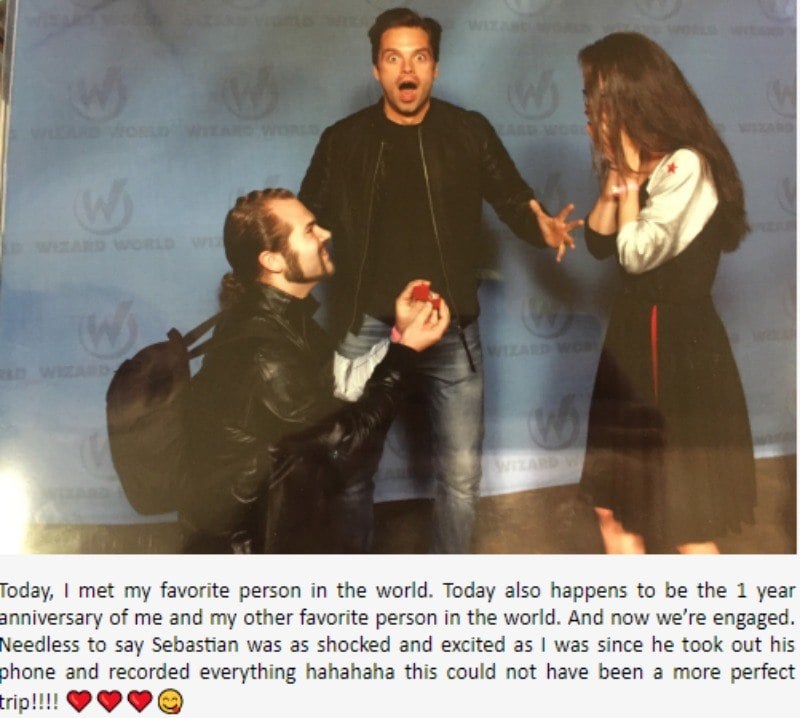 The Bucky fans waited in line to meet their favorite person, but one of them couldn't imagine what was going to happen next. John Felix was so happy to share this special moment with their favorite celebrity and propose to his girlfriend, Natasha Marrero.
6. Kelly Clarkson
Alex Malerba went to Kelly Clarkson's meet and greet at The Venetian in hopes of surprising his boyfriend. The powerhouse looks so happy to have the opportunity to witness the big moment.

7. Mariah Carey
Mariah Carey was performing at The Angel's Advocate Tour when she pulled two fans on stage. The couple had been together for three years and always wanted to meet the diva.
As seen in the clip, the proposal even included a reference to Carey and former husband, Nick Cannon.

8. Ed Sheeran
The crooner has many love songs on his resume, so it makes sense that he would be a romantic and want to help others with their proposal. Case in point: He stopped performing in the middle of his concert in order to let a fan give a speech to his girlfriend before officially popping the question.
9. Justin Timberlake
Justin Timberlake also stopped his Louisville concert to bring a couple on stage. While doing so, he explained, "Josh called me earlier. He's got something he wants to tell you."
It was then that Josh popped a question to his girlfriend on stage.
10. One Direction
If you can't marry a member of One Direction, the next best thing is probably having them help you with your proposal.
During one concert, Harry Styles pointed a fan named Bradley out in the crowd. Bradley then got to ask his girlfriend to marry him with the whole stadium watching.
11. Lady Gaga
While performing at ArtRave in 2014, Lady Gaga stopped to call up a man named Jay, along with his boyfriend, on stage.
Jay then got down on one knee in front of all the other Lady Gaga fans. It turns out Jay is not actually just a fan, but also a friend of the icon!
12. Adele
This wasn't exactly a proposal, but it was so unique, we had to include it! Adele brought a fan on stage and found out she proposed to her boyfriend on leap year earlier.
So the powerhouse gave her fiancé a shoutout and congratulated the engaged couple.
13. Matt Smith and Karen Gillan
Tennant isn't the only Doctor Who star to witness fandom love at a meet and greet. Matt Smith and Karen Gillan also cheered on as a man proposed in front of them.
Smith looked pretty hesitant at first, but celebrated when the woman says  yes.
14. Bruce Springsteen
Bruce Springsteen also took a break during one of his concerts to invite a couple on stage. He was then kind enough to hand over the microphone and had the band continue to play soft music as the fan gave a touching speech to his new fiancée.
15. Demi Lovato
The pop star took a moment to bring a fan on stage, who goes on to explain that her boyfriend has been disappearing all night. It turns out it was because he was conspiring with Demi Lovato to propose on stage.
Follow Nicole Weaver on Twitter @nikkibernice.
Check out Entertainment Cheat Sheet on Facebook!