Henry Cavill to Play Sherlock Holmes: Can He Rival Robert Downey Jr.?
Robert Downey Jr. has been the face behind Sherlock Holmes since first appearing in the modern franchise's inaugural film back in 2009. He portrayed the character again in 2011's Game of Shadows, and will likely close out the franchise with 2021's Sherlock Holmes 3. However, this last film will premiere on the heel's of an alternate interpretation — Henry Cavill will take on the iconic detective in 2020's Enola Holmes.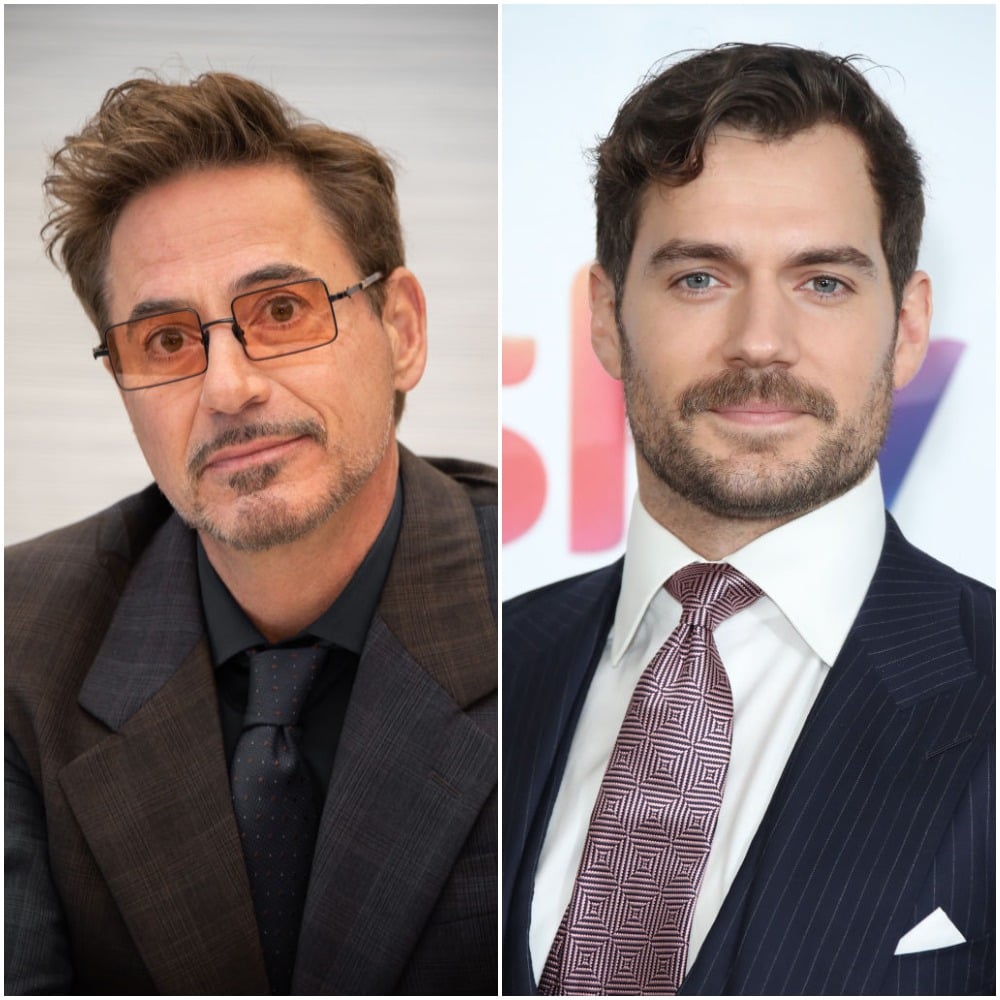 Enola Holmes will focus on Sherlock Holmes' younger sister and trace a similar narrative to the ones put forth in Nancy Springer's children's fiction series, The Enola Homles Mysteries. While Enola will be at the story's center, Henry Cavill will play her elder brother, Sherlock, which will likely open up a public conversation concerning Downey and Cavill's respective interpretations. 
The main question lurking: Does Cavill have what it takes to bring life to a character Downey has so exquisitely shifted into the modern era? As Sherlock, Downey carries a contemporary relatability that simultaneously breathes new life into the character while paying homage to the source material's original depiction. What will Cavill do with the role? How will the script choose to portray the dashing man? Let's take a look at the actor's respective careers, accomplishments, and portfolios to see if Cavill has what it takes to give Downey a run for his top hat and cigar.
Comparing Robert Downey Jr. and Henry Cavill's careers
Both Henry Cavill and Robert Downey Jr. are intimately connected to specific superheroes: Cavill is most known for his turn as Superman, while Downey's run as Iron Man has received critical and audience adulation.
Now striving to separate from such portrayals to avoid future typecasting, both actors are taking on roles divergent from their DC and Marvel counterparts. RDJ is set to play Dr. Dolittle, while Henry Cavill will appear in Enola Homles. However, prior to their current situations, Downey has had a bit more experience, as he's been in the industry a bit longer. 
Before taking on Iron Man, Robert Downey Jr. portrayed Charlie Chaplin, and he was nominated for an Oscar for his performance. He also received an Oscar nomination for his performance in Tropic Thunder, and he is a three-time Golden Globe Winner for Sherlock Holmes, Ally McBeal, and Short Cuts. Considering Downey received a Globe for Sherlock, Cavill has some tough competition. 
As for Henry Cavill, he has yet to receive Golden Globe or Oscar nominations, but he did snag a Critics' Choice nomination for his performance in Man of Steel. Henry Cavill has mostly starred in action-oriented movies, which will make Enola Holmes a stark departure from his norm. He may have less experience across genres when compared to RDJ, but he also has yet to receive an opportunity to prove his skills outside the punch and kick space of cinema. 
Cavill must strike a unique chord, hoping to dodge comparisons altogether
Taking all factors into account, it's likely that Cavill will have a hard time rivaling Downey when it comes to Sherlock Holmes; however, if he makes the character all his own and proves his competence in a mystery and drama-oriented tale, it will be worth it. 
Will people favor Cavill's performance? Downey is perfectly at home as Sherlock and has multiple films cementing his legacy as the character, but if Cavill can provide the character something new — if he can be so different as to nullify comparisons and create critical and audience reception unique to his take — he may manage to grab a best-supporting actor award, becoming another Sherlock fans know and love. However, this is no easy task.