Here's a First Look at Travis Scott's Birthday Gift to Kylie Jenner
When you date someone like Kylie Jenner, it means you have to deliver some Kylie Jenner-worthy presents when the big day comes around — and Travis Scott's birthday gift to the makeup mogul for her 22nd birthday on Aug. 10 did not disappoint. Get ready for some major FOMO as we discuss what the ASTROWORLD rapper gifted his lady for her big day.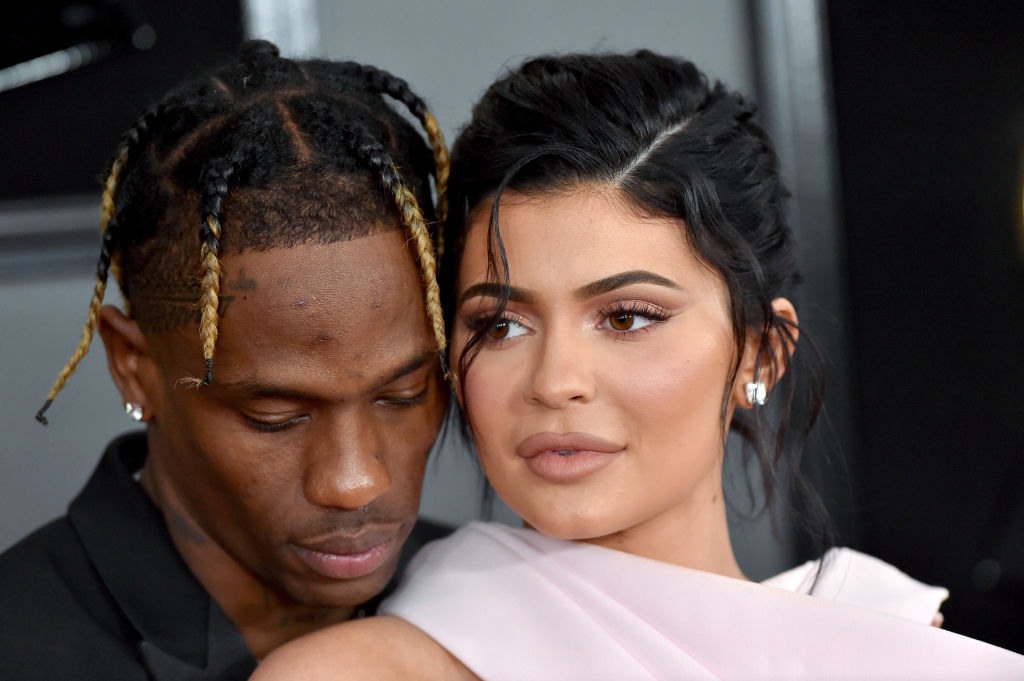 Scott's gift to Jenner is fitting
Scott gave Jenner a diamond-encrusted Cuban link necklace featuring a sparkly set of "dripping" lips. It seems to be an ode to the reality star's signature Kylie Cosmetics logo, which we must say is pretty adorable.
Jenner posted a photo and a video of the chain on the morning of Aug. 10. The posts show her wearing a feathery hot pink dress with the necklace hanging around her neck. "Omg @travisscott," she wrote, adding a series of lovey-dovey emojis.
Now she's got something to match the sparkling diamond-encrusted designer watch Scott gifted her back in May. According to People, the watch carries a price tag of $45,000, but Scott customized it, jacking up the total to around $100,000.
Scott started celebrating Jenner's birthday early
On Aug. 5, the "SICKO MODE" rapper covered Jenner's house with red roses in honor of her birthday. "My house is covered in ROSES! @travisscott And it's not even my birthday yet!!!!!" Jenner captioned a video of the scene.
The video shows her walking through a sea of red roses while her and Scott's daughter, Stormi, plays with the flowers in the background. It also features a card, in which Scott wrote that the party was "just getting started" — and he clearly was not kidding.
They're currently enjoying an Italian getaway
This year, they've jetted off to Europe for Jenner's birthday. They're reportedly on a $250 million megayacht named "Tranquility," along with Kris Jenner, Corey Gamble, Scott Disick, Sofia Richie, Yris Palmer, Stassi Karanikolaou, and a couple of others.
The ship features a beauty salon, a sauna, theater, steam room, swimming pool, and more. It costs $1.2 million to rent, but that's small change to the self-made billionaire.
Fans actually believed that Scott planned on proposing to Jenner during the trip. The speculation only grew after the Kylie Skin mastermind was seen boarding a plan with what appeared to be a wedding dress. However, sources have said the two aren't planning on marrying any time soon.
"Kylie and Travis have discussed getting married before, but it is not happening tomorrow," an insider told Us Weekly on July 23. "Kylie's business career is booming like crazy with Kylie Skin and right now she honestly can't add that life chapter into her book at this moment in time."
But that's not the only reported reason that Jenner and Scott aren't rushing to the altar. "Her and Travis are very happy with where they're at in their lives and relationship and with Stormi," the source added of the two and their 17-month-old daughter. "They aren't trying to rush into a marriage."
That makes sense. From the looks of things, these two are already living in romantic bliss anyways. That said, let's see what other stops Scott pulls out during the remainder of Jenner's birthday trip.