Here's How Justin Bieber and Hailey Baldwin's Families Really Feel About Their Engagement
Even though Justin Bieber and Hailey Baldwin jumped on the bandwagon of quickest celebrity engagements in 2018, the whole world is seemingly on board. Some might not have even been that surprised, considering in a 2016 interview with GQ magazine, Bieber suggested that the two could get married. "What if Hailey ends up being the girl I'm gonna marry, right? If I rush into anything, if I damage her, then it's always gonna be damaged," he said when they briefly dated before splitting.
Not long after they rekindled their romance, Bieber popped the question on July 7, 2018 during a trip to the Bahamas. Fans may be all in for Bieber and Baldwin — but what do their families think about the whirlwind romance?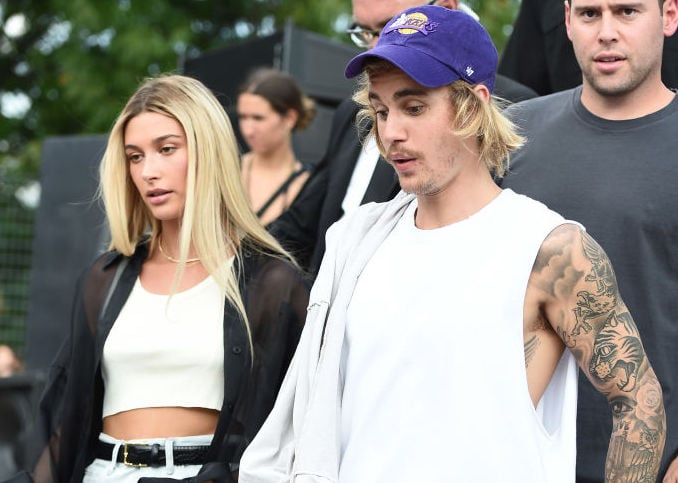 Stephen Baldwin gave his blessing
As soon as the news of their engagement broke, dad Stephen Baldwin took to Twitter to express his excitement for his daughter. "Sweet smile on my face! me&wife (Kennya) Always pray 4 Gods will !! He is moving in the hearts of JB&HB Let's all pray for His will to be done…Love you 2 so much !!! #Godstiming #bestisyettocome Congrats @JeremyBieber @pattiemallette #PraiseJesus," he shared.
Stephen was clearly anxiously anticipating the proposal, as Bieber reportedly asked for his daughter's hand in marriage the traditional way. A source told ET, "Justin wanted to respect tradition, so a couple weeks ago, while him and Hailey were visiting New York, Justin set aside some time to talk with Stephen."
The source continued, "Justin and Stephen have always had a close relationship, and Justin wanted to show his future father-in-law how serious he is about his future with Hailey."
Both of Bieber's parents couldn't contain their excitement
Baldwin's father wasn't the only parent getting excited for their wedding. Bieber's father, Jeremy Bieber, wrote on social media, "@justinbieber Proud is an understatement! Excited for the next chapter!"
His mom, Pattie Mallette, had one word to say: "Love Love Love Love Love Love Love."
Ireland Baldwin paid Bieber a tribute in her congratulations
More than just Bieber and Baldwin's parents have expressed their well wishes on social media. Even Ireland Baldwin (daughter of Alec Baldwin) had her own special post to share on Instagram — while paying tribute with lyrics from Bieber's 2009 song, "One Less Lonely Girl."
She captioned an adorable childhood photo (including the bride-to-be's little sister, Alaia Baldwin), "There's gunna be one less lonely girl … and only one lonely girl left." She continued, "My other chicken is soon to be a beautiful bride. congratulations to the two of you @haileybaldwin @justinbieber."
Baldwin and Bieber's bond is 'stronger than ever'
It's not surprising that Baldwin and Bieber can't seem to stop raving about each other. While both shared their excitement on their social media pages, sources have spilled details on their happiness surrounding their engagement.
"Justin decided to propose to Hailey in front of a group of people in the Bahamas, but had been planning to ask her for a couple weeks now," a source told ET. "The ring is gorgeous and Hailey is over the moon with joy. The two can't stop telling their friends and family how excited they are for their journey together. The two have always had a great bond, and it is stronger now than ever."