Here's How Much Ivanka Trump and Jared Kushner Really Spent on Their Wedding
The lavish wedding of Donald Trump and Melania Trump in 2005 received gobs of media attention. The press called it one of the most expensive weddings of modern times. Fast forward four years, and Donald's daughter Ivanka Trump, 27, married Jared Kushner, 28, in their own opulent ceremony. The media estimated this star-studded affair cost at least $1 million.
Here we'll look at various aspects of Ivanka's 2009 wedding, including photos and price tags for the handmade dress, custom jewelry, exotic honeymoon, and more. Fast forward several more years and — well, you know how the story unfolds. We'll share photos that show what the couple's life looks like now with kids and a home in Washington D.C. (pages 10 and 11).
1. Wedding venue: Trump National Golf Club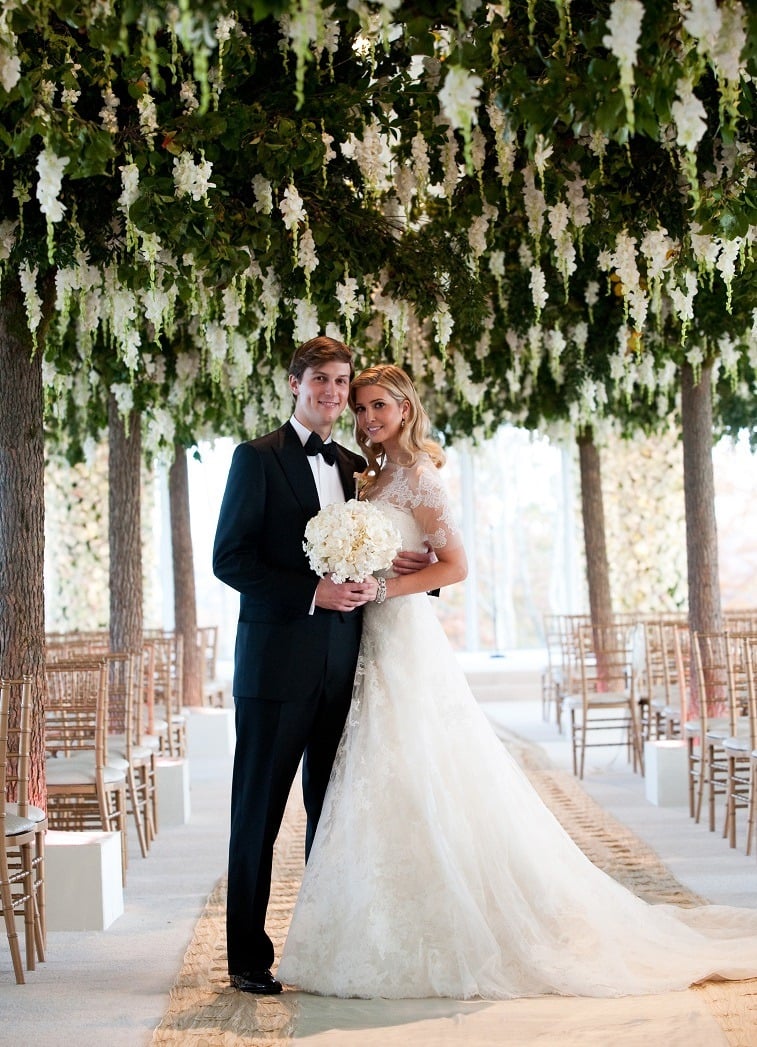 Average cost for a wedding there: $54,000-$62,000
Ivanka and Kushner the knot at a star-studded Jewish ceremony at the Trump's golf club in Bedminster, New Jersey, with 500 in attendance. The Georgian Revival-style mansion sports a red brick façade and large white columns. Surrounding country club amenities include two golf courses, practice greens, eight tennis courts, a pool, and a restaurant.
Next: A gown inspired by Grace Kelly
2. The wedding gown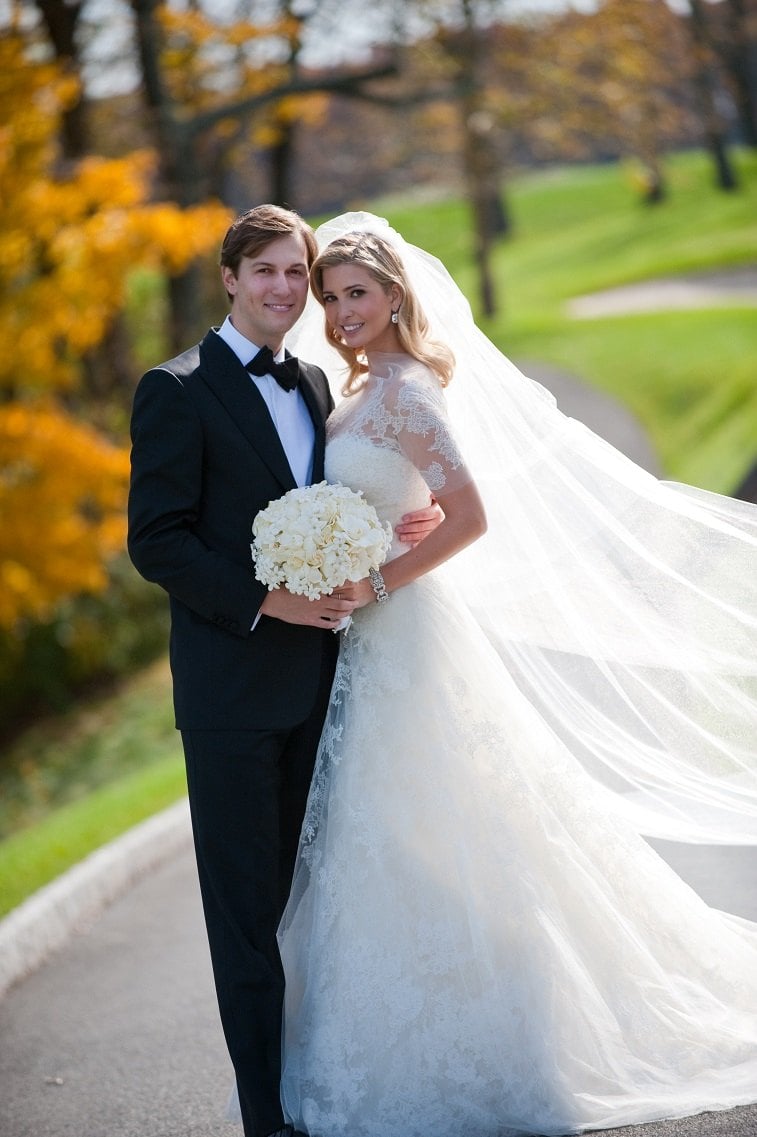 Estimated price tag: $50,000
The bride walked down the aisle in a custom-made Vera Wang dress inspired by Grace Kelly. It featured layers of Chantilly and Lyon lace and three-quarter sleeves. The bridal party (consisting of Donald Trump Jr.'s wife Vanessa Trump and Ivanka's half-sister Tiffany Trump) wore dusty lavender Caroline Herrera gowns. The groom wore a Brioni tuxedo.
Next: Jewelry from her own personal line
3. The bling
To accessorize her gown, the bride was dripping with diamonds from the Ivanka Trump jewelry collection. Here's the lowdown:
Platinum mixed-cut clustered diamond earrings: $130,000
Art Deco link platinum-diamond bracelet: $90,000
Platinum-diamond hairpiece to accent the veil: $45,000
Next: See the celebrity guest list.
4. The reception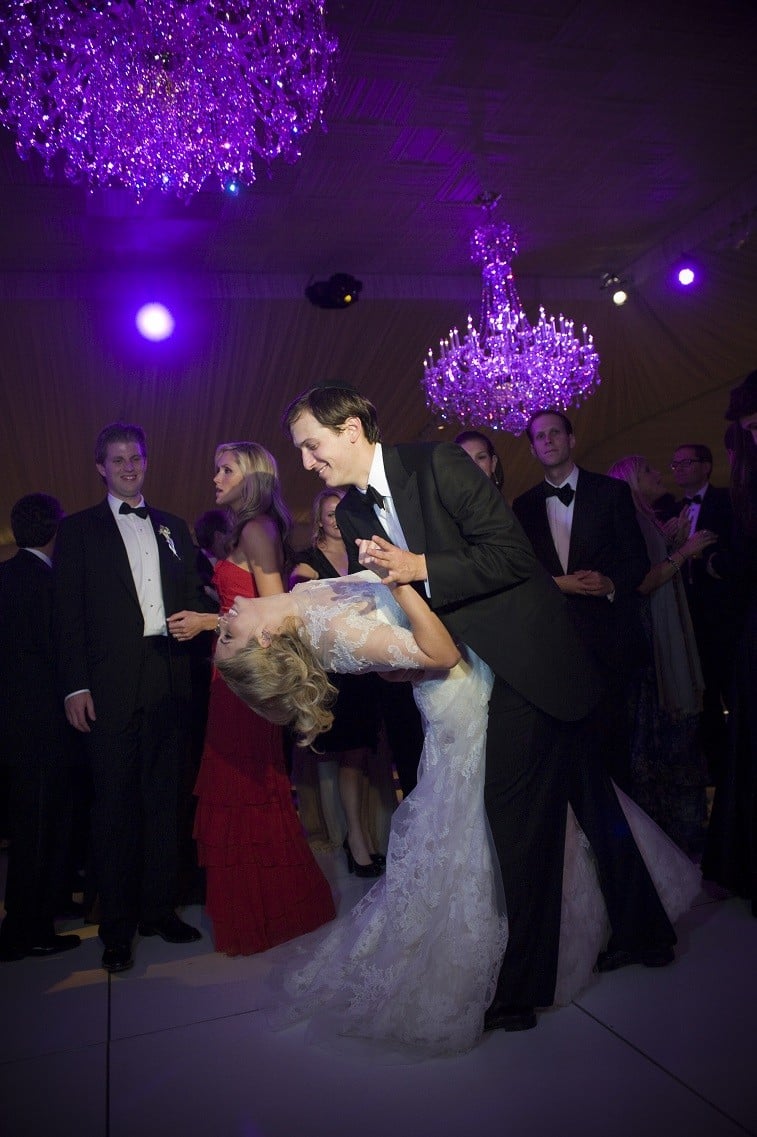 The star-studded guest list included politicians like Rudy Giuliani, Andrew Cuomo, and Pennsylvania Gov. Ed Rendell. Friends from the entertainment world included Barbara Walters, country singer Jamey Johnson, and actress Emmy Rossum and her Counting Crows beau Adam Duritz.
The newlyweds spent most of the night dancing, People reported. Donald had brought in chandeliers from his D.C. golf club for the event. The reception tent had see-through sides and was situated in the middle of the golf course for a view of the trees and changing leaves.
Next: Here's what the parents of the bride wore.
5. Parents of the bride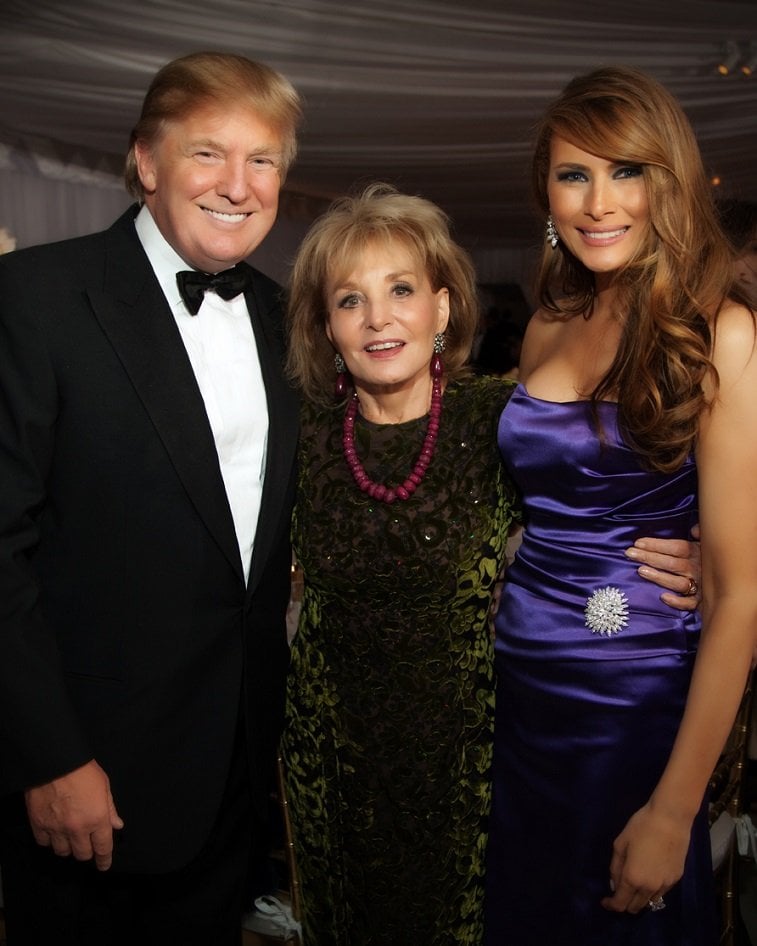 Price of Melania's dress: $100,000
Ivanka's stepmother Melania Trump wore a purple Dior Haute Couture gown. It cost around $100,000, weighed 50 pounds, and required 28 seamstresses to make. Ivanka's mother Ivana Trump wore pink, as did the mother of the groom.
As for the father of the bride, Donald gave a short toast at the reception, saying, "Be happy and enjoy your life." Later, he told People, "It was a great wedding. I'm very happy. They're really a beautiful, smart couple. I think you'll hear a lot of great things from them in years to come."
Next: See the 13-layer cake.
6. The cake
The wedding cake was 70 inches tall with 13 layers. It was adorned with flowers like roses, peonies, baby's breath and lilies of the valley in colors like pink ivory, white, and cream. Each of the 500 guests chose between slices of chocolate, almond, yellow, and carrot flavor cake. The confection was created by Sylvia Weinstock. "Each layer was ringed with flowers," Weinstock said.
Next: Everyday gift items mixed with luxury ones
7. The bridal registry
Total price of 75 items: $9,000
The couple's registry was pretty down-to-earth, including practical items like Crate & Barrel glasses at $7.95 each, lapis placemats at $4.95 each, and lapis napkins at $3.95 each. They also registered for bakeware items at Williams Sonoma like a $36 rolling pin and $34 Bundt cake pan.
They registered for more luxurious gifts at Tiffany: A sterling silver, scalloped, footed bowl for $1,350 and sterling silver picture frames for $500, $415, and $295. Other more pricey gifts on their wish list included two $175 silver bottle stoppers, two $325 silver cake servers, and a $325 carving knife.
Next: The safari honeymoon
8. The African Safari honeymoon
Estimated price tag: Five to six figures
While they married in October, the couple waited until December to take their honeymoon in Africa. Ivanka initially tweeted about their delayed flight, but soon enough she was gushing about their safari.
"Our first day of safari and we've already spotted 2 lionesses, 10 hippos, 3 rhinos, 3 giraffes and a group of baboons!" she tweeted. "What an adventure!" She also shared a honeymoon photo of a vineyard.
Next: What the couple did before the White House
Careers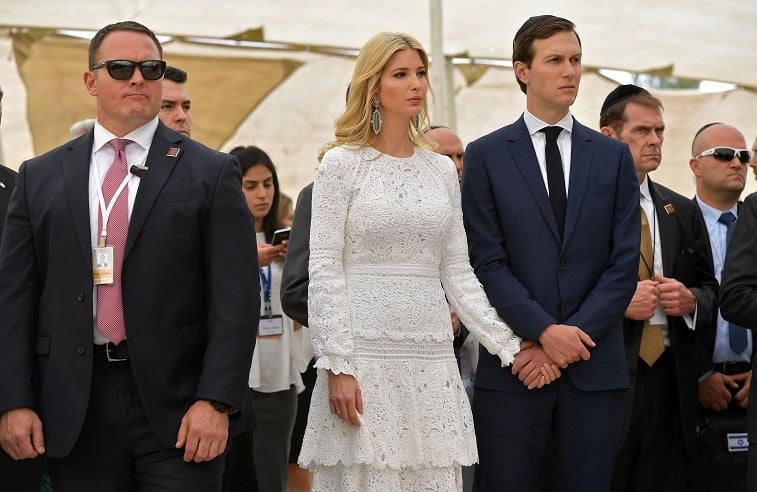 While currently they both have roles in the White House, in recent years Ivanka worked as an executive for the Trump Organization. She also created a lifestyle brand of clothing and accessories. She also co-hosted The Celebrity Apprentice.
Prior to becoming an advisor to the president, Kushner was publisher of the New York Observer newspaper. He also worked as a real estate developer who took over the family business when his father Charles Kushner was imprisoned amid a financial and political scandal.
Next: See the kids who came along.
The kids
Fast forward seven years, and the couple are parents to three kids: Arabella (born July 2011), Joseph (born October 2013), and Theodore (born March 2016). "The most important job any woman can have is being a mother," Ivanka said in an ad for her father's presidential campaign.
She's talked about the challenges of being a working mom. "My life is chaotic right now," she told People. "I'm exhausted 90% of the time." The family prioritizes weekends for reconnecting as a family, she said.
Next: Here's their D.C. home.
The D.C. home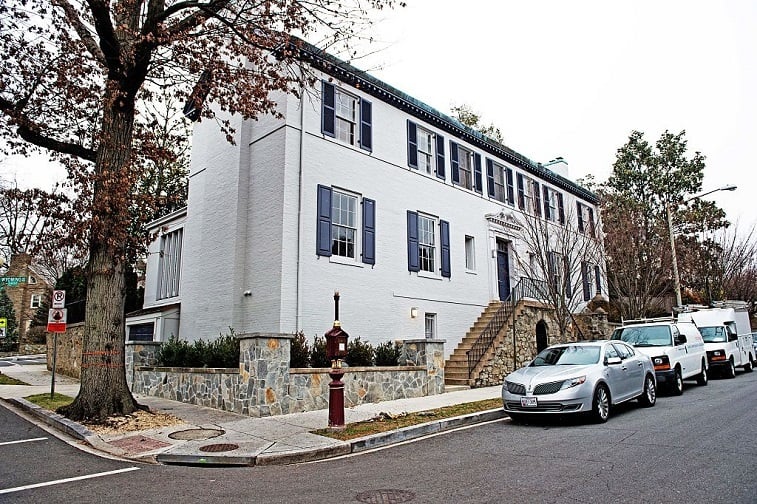 Value of home they're renting: $5.5 million
Shortly after Donald was inaugurated president, Ivanka, Kushner, and their kids moved from New York Washington D.C.'s tony Kalorama neighborhood. They rent a $5.5 million home near the White House, while they work as advisors to the president. Other bigwigs who live in their neighborhood include former President Barack Obama and Amazon CEO Jeff Bezos.
Secret Service agents protect the family and are a constant presence. This hasn't sat well with some of the neighbors, who have to walk around barriers erected in front of the house. Others have complained their vehicles regularly violate restricted parking rules.
Check out The Cheat Sheet on Facebook!