Here's the Female Robin to Ben Affleck's Batman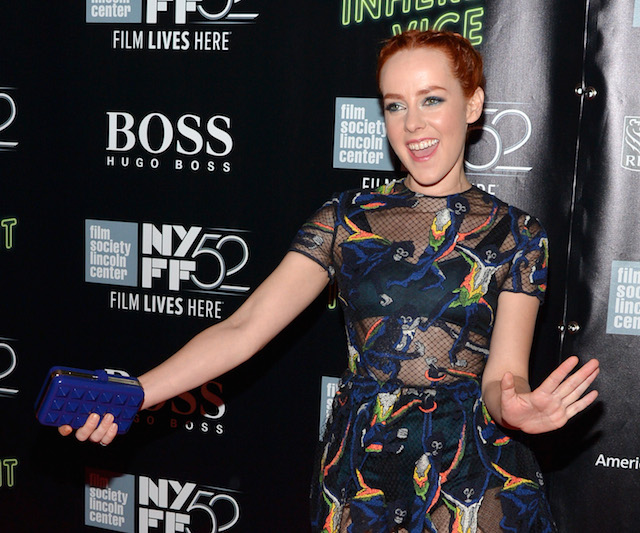 The latest rumors surrounding Zack Snyder's upcoming Batman vs. Superman: Dawn of Justice movie, which has been one of the most-rumored-about films of the year, involve a young up-and-coming actress whose face you might recognize, but name you may not. Jena Malone has toiled away in indie films and supporting roles for years, and the 29-year-old might now be getting her big break with a role as a female version of Batman's sidekick Robin in the blockbuster. It's a breakout that's been a long time coming for the actress, but Batman vs. Superman in combination with her supporting role in The Hunger Games franchise could turn her in to a major Hollywood star.
The rumors that Malone would be in Zack Snyder's Justice League film began when the actress was spotted visiting the movie's set in Detroit late in the summer. Then earlier this month, she posted a picture of herself on Instagram with her hair dyed fire engine red. That, in combination with Ben Affleck's recent comments to MTV News that Snyder's film is heavily influenced by Frank Miller's comic The Dark Knight Returns has led to speculation that Malone could be playing a female Robin, as that book has Batman's right-hand man as a woman.
Those rumors were all but confirmed by an extra on the set, who spoke to local Michigan news station WILX-10 News Detroit while the movie was filming at Michigan State University in Lansing. Warner Bros. declined to comment, but it's been additionally rumored that WILX is facing a $5 million fine for reporting the story due to breaking a nondisclosure agreement the news station had signed, according to Variety. Malone is already getting a ton of publicity for the role when it's not even confirmed and the movie doesn't even come out until March 2016. This could be a landmark moment in the young actress's career.
In Miller's landmark 1986 graphic novel, the sidekick character is a woman named Carrie Kelley and she's the first major female version of Robin in the Batman universe. Kelley has cropped red hair to match Malone's new 'do. Some liberties are being taken, though, as in the comic Kelley is just 13 years old, but overall, casting Jena Malone as Robin still seems like a better choice than making Ben Affleck Batman.
Malone is most famous for playing the brutally frank Johanna Mason in The Hunger Games franchise and Snyder fans will recognize her as Rocket from the director's widely panned Sucker Punch. Malone has also been in well-received non-genre movies, including playing the mysterious girlfriend of Jake Gyllenhaal in Donnie Darko, the main character Mary in the dark indie comedy Saved!, and the sister to Emile Hirsch's delusional hippie character in Into the Wild. Malone typically plays tough and enigmatic young women, opting for more serious characters in independent films or fantasy and science fiction genre movies. Thus, up until this point, she's been more of an under-the-radar type working actress than a big star, but Batman vs. Superman in addition to the wider audience she's gained with The Hunger Games could change that.
The actress is keeping more serious indies in mind along with fantasy and sci-fi blockbusters, as she has a role in the anticipated Paul Thomas Anderson film Inherent Vice alongside Joaquin Phoenix. Other upcoming movies from the actress include the Victorian thriller Angelica, the two Hunger Games: Mockingjay films, the otherworldly mystery Bottom of the World, and the romantic comedy Claire.
Follow Jacqueline on Twitter @Jacqui_WSCS
More from Entertainment Cheat Sheet:
Want more great content like this? Sign up here to receive the best of Cheat Sheet delivered daily. No spam; just tailored content straight to your inbox.