Here's What Chrissy Teigen Cooks Every Year on Thanksgiving
Chrissy Teigen might be a super model, but she loves some delicious Thanksgiving food. She loves any kind of food, really, as told in her two cookbooks. But when it comes to Thanksgiving, she doesn't skimp on those delicious holiday dishes. One interesting thing about Teigen: She absolutely hates turkey. But what does she replace it with? Here's Teigen's epic Thanksgiving Day menu.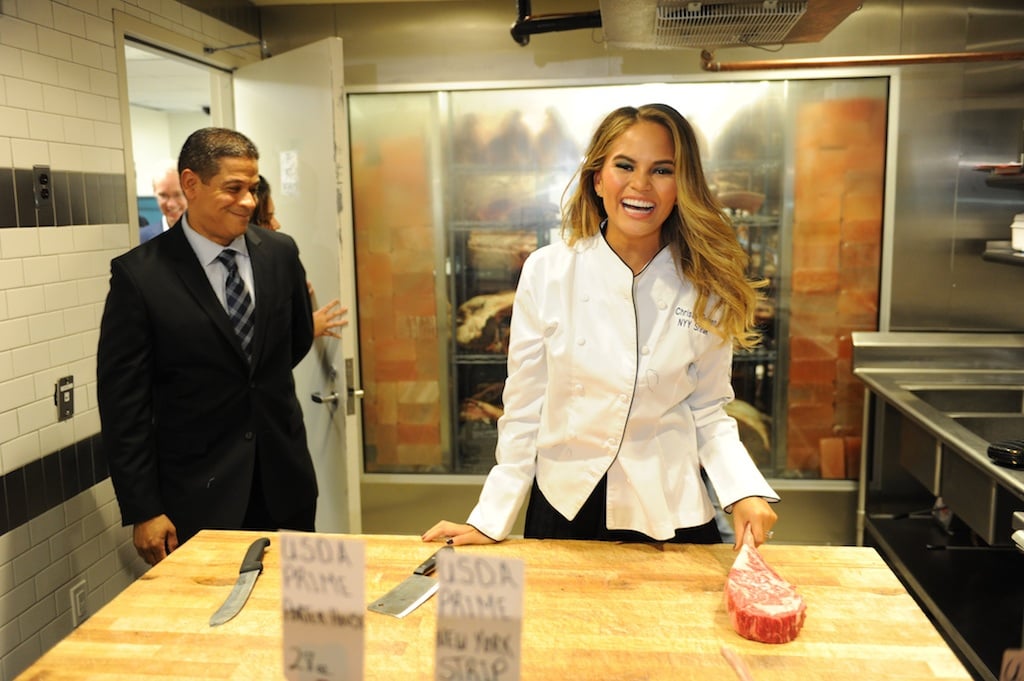 Teigen hates turkey
Teigen has not been shy on social media about her distaste for the holiday bird. "We need to replace turkey with ribs on Thanksgiving and all laugh at the days we pretended to like turkey for 2 hours," she once tweeted. She jokingly noted she'd prefer to eat dog food or candle wax over turkey, and has said the best thing it can be is "not dry."
Turkey definitely isn't for everyone. In fact, according to Huffington Post, between turkey, chicken, pork, and beef, turkey is consistently the least popular meat of choice among Americans. In 2012, the average American was eating close to 60 pounds of both beef and chicken per year. But turkey averaged less than 20 pounds per year per person.
She replaces turkey with whole butter-roasted chickens
Teigen might not be a turkey lover, but she definitely has some love for chicken. She told InStyle in 2017 that she chooses to use whole-roasted chickens instead of cooking turkey. "… Chicken is so much better and you can still get a great gravy out it," Teigen said. She suggested that people force themselves to eat turkey on Thanksgiving (which for some is likely true) and that guests would overall be much happier if they were surprised with chicken. On her Snapchat story in 2017, she noted that she was making four chickens and one turkey for her family that year — maybe there was one turkey lover in the house.
She's a big fan of sweet potato pie and other Thanksgiving classics
While Teigen might stray from tradition by cooking chicken, she is still a fan of many other Thanksgiving classics. She told CNN in 2016 that she has plenty of people over for Thanksgiving — most of her family, along with her husband's family. (Teigen is married to singer John Legend.) That means the dinner table is filled with people, and Teigen needs to cook to keep up with the crowd.
Teigen posted photos on Snapchat of candied yams, fluffy biscuits, and of course, her whole-roasted chickens. She even snapped a picture of Legend helping her prep. Back in 2015, she posted an Instagram photo of sweet potato streusel pies she cooked for her Thanksgiving guests. The classics are important, but Teigen also adds margaritas to the mix, too. After all, anyone would need a cocktail with all that cooking.
As far as what time the Teigen-Legend family sits down for dinner, Teigen doesn't like things to be too early. She doesn't like when people eat Thanksgiving dinner before 5 p.m. — she feels late afternoon is too soon. Dinner is served in her home between 7 p.m. and 8 p.m., and throughout the day, she serves light snacks.
Check out The Cheat Sheet on Facebook!